There's nothing like the feel of your own balcony when staying in a hotel. Being able to open the doors and relax with the fresh air on your face and the views of the city around you just can't be beaten. When people think of city breaks they tend to think they have to forgo a balcony, yet this isn't necessarily the case. In fact, there are many London hotels with a balcony that prove you can have a stay in the capital with your own outside space too.
Whether you are heading away on a romantic break with your other half, a weekend away with friends or to spend time with family, there are a host of options for you to choose from. From those with a bath for languid evenings sipping champagne and looking over the skyline, to those that beg for afternoons spent playing cards, chatting and taking in the atmosphere, you're spoilt for choice. 
Read on to find out more about some of the best London hotels with a balcony that will tick all the boxes on your next trip away. The hardest part will be choosing between them all! 
London hotels with a balcony
Nobu Hotel London Portman Square – Deluxe Balcony Room 
Nobu Hotel London Portman Square Deluxe Balcony
Only a short walk from the famous Oxford Street and Regent Street, Nobu Hotel London Portman Square exudes class and comfort. Each room is as luxurious as the next but their deluxe balcony room takes your stay to the next level. Enjoy the added space the deluxe room offers over other rooms, as well as its wonderful views of Marylebone. The bathroom is large and features a walk-in shower with Grown Alchemist bathroom amenities, a nice touch when getting ready. When you are feeling hungry, don't forget to dine at their exquisite Japanese restaurant before enjoying a cocktail at their terrace bar. 
Where: Nobu Hotel, 22 Portman Square, London, W1H 7BG
ME London 
Travel to Covent Garden and check into one of ME London's energy terraces for your own private balcony. Two different room types are available, Energy River Terrace and Energy Urban Terrace, the difference being the side of the building you are at. Both are located on the 8th and 9th floor of ME London and offer beautiful views of the city. The rooms are modern and stylish, offering a calming stay. Each room features a luxurious feather bed and superior quality Egyptian bed linen as well as a nicely sized bathroom. When you're ready to head out, be sure to explore Covent Garden and don't forget to book yourself into a theatre show. 
Where: ME London, 336-337 The Strand, London, WC2R 1HA 
Sea Containers Riverview Balcony Suite London
The Riverview Balcony Suite at the Sea Containers London
When it comes to London hotels with a balcony, the Sea Containers is a must visit. Bringing you some of the best views of the River Thames, the Sea Containers is a stone's throw away from London Blackfriars. Check into their Riverview balcony suite and you'll be greeted with wall-to-wall windows, allowing plenty of light, a fully furnished private balcony and a large open plan living space to relax in. Once you are done in the room, you're in the perfect position to walk along the Thames, choosing one of their many bars and restaurants to grab a snack or a drink along the way. At the hotel, be sure to book into The 12th knot and enjoy a cocktail in their rooftop bar before finishing the evening with dinner at their all-day, dining restaurant. 
Where: Sea Containers London, 20 Upper Ground, South Bank, London, SE1 9PD
London Marriott Hotel County Hall
The view from a balcony suite at the London Marriott Hotel County Hall
Relax on your private balcony, sip on a glass of champagne and take in the beautiful views of the London Eye, Westminster Bridge and Big Ben at London Marriott Hotel County Hall. This hotel is steeped in history having been opened in 1922 by King George V and Queen Mary as the headquarters of the local government in London. The room is complete to a high spec with a separate lounge area, a marble bathroom with a walk-in shower and bath and suite guests have M Club Lounge access. Book yourself an experience on the London Eye as well as The London Dungeons, both of which are a very short walk from the hotel.
Where: London Country Hall, Westminster Bridge Road, London, SE1 7PB
Eccleston Square Hotel
Balcony room at the Eccleston Square Hotel. Image Credit: https://www.ecclestonsquarehotel.com
The Eccleston Square Hotel is ideally located near London Victoria, a short walk away from Chelsea and within close proximity of many shops, restaurants, museums and landmarks. It boasts its very own Balcony King Room that is stylishly designed and comes with a Hästens bed with massage settings and an in-room tablet that controls most things within the room. During your stay, you will have access to Eccleston Garden so if the weather is nice we recommend bringing an afternoon tea picnic hamper with you to enjoy here – perfect for a date night! 
Where: Eccleston Square Hotel, 37 Eccleston Square, London, SW1V 1PB
The Berkeley
The Grand Terrace Suite by John Heah
In Knightbridge you'll find The Berkeley, an exquisite and iconic five-star hotel with a host of stunning rooms and an atmosphere to match. Whether you are looking for one night away, a mid-week break, a week or more, you'll find just what you're looking for here. The hotel features a number of suites with balconies as well as standard balcony rooms. These are designed by Robert Angell and feature an outdoor seating area for dining, relaxing and taking in the views of St Paul's Church and Wilton Place. At 398 sq ft, you've got plenty of space to relax in before exploring the neighbourhood and enjoying your break away.
Where: The Berkeley, Wilton Place, Knightsbridge, London, SW1X 7RL
The London Edition 
The penthouse room at The London Edition. Image credit: Nikolas Koenig
Included in our list of top London hotels with a balcony is The London Edition. Located in Fitzrovia on the edge of Soho, the boutique hotel boasts carefully thought-out interiors with thoughtful design and a truly luxurious feel. During your stay, you can dine in their on-site restaurant, Berners Tavern, headed by Michelin-starred chef Jason Atherton. Be sure to also enjoy a pre or post-dinner tipple in their stylish bar, where you can experience their twist on an array of classic cocktails.
With oak floors, wood-panelled walls and custom furnishings, each of the 173 guest rooms and suites are designed to envelope you in luxury and comfort.  Select suites, including the Penthouse, feature oversized, furnished terraces with London views, providing the perfect spot to relax with a glass of fizz after a long week.
Where: The London Edition, 10 Berners Street, London, W1T 3NP
The Zetter Hotel in Clerkenwell
The rooftop signature room at The Zetter Hotel in Clerkenwell Rooftop
This hotel with balconies in London is one of the more affordable options when compared to some of the ones in this article, but you wouldn't believe it when looking around. The Zetter Hotel in Clerkenwell is home to 59 uniquely styled rooms – seven of these being balcony rooms, some with a seating area and even a bathtub overlooking the London skyline (as pictured). Their Rooftop Room categories provide floor-to-ceiling windows with their own balcony space ideal for soaking up the views. These interiors take inspiration from the 19th-century warehouse that the building used to be and are elegantly designed using soft colours and period-style furniture. The bed is a Hypnos Beds helping you get the best night's sleep after a day of exploring the city.
Where: The Zetter Hotel in Clerkenwell,  86-88 Clerkenwell Road, London, EC1M 5RJ
Apex Temple Court Hotel 
Enjoy a glass (or two) of champagne on your balcony!
If you are looking for an undeniably quirky hotel, that is tastefully designed, well located (only a 5-minute walk from London Blackfriars and City Thameslink) and is spacious with plenty of large rooms and bathrooms, then the Apex Temple Court Hotel is the one. Families looking to explore the city or couples looking for a romantic getaway will love the uniquely designed balcony rooms, which are all packed with a host of features. Guests of the hotel can enjoy the 24/7 gym, sample a host of elegant wines in their Lazy Ballerinas wine bar and have dinner at The Chambers. Suite guests have the added privilege of being able to access their own exclusive club lounge. 
Where:  Apex Temple Court Hotel, 1-2 Serjeant's Inn, Fleet Street, City of London, London, EC4Y 1AG
The Soho Hotel 
The Terrace Suite at the Soho Hotel
Although The Soho Hotel is located on a quiet street, that doesn't mean it's not perfectly located for all the attractions, theatres, restaurants and bars that London has to offer. Just a short 5-minute walk and you can be shopping in Oxford Street or enjoying a cocktail in a rooftop bar. 
This luxury hotel boasts 96 bedrooms and suites, all uniquely designed in a fresh modern English style. All the rooms are elegant and flooded with light through their stunning floor-to-ceiling warehouse-style windows. Several of the rooms have their own private balcony that you can relax on in the evening before or after going out and exploring Soho. 
Where: The Soho Hotel, 4 Richmond Mews, Westminster Borough, London, W1D 3DH 
The Corinthia 
Musicians Penthouse Terrace at The Corinthia
We included The Corinthia in our round-up on UK hotels with private hot tubs and had to include them in this article on London Hotels with a balcony. Whenever talking about the top hotels in London, The Corinthia is one of the first many people will mention. This five-star luxury hotel has it all – an award-winning spa, a restaurant run by Michelin-starred chef Tom Kerridge and many suites with their own balcony or terrace. The Hamilton Penthouse in particular has its own private hot tub on the terrace for you to relax and take in the panoramic views of London. This is an expensive hotel to stay in but you'll receive the ultimate service when visiting which makes it all the more worth it. 
Where: The Corinthia, Whitehall Pl, London SW1A 2BD
Nobu Hotel London Shoreditch
The exterior of the Nobu Hotel Shoreditch is uniquely designed.
This uniquely shaped hotel by Nobu is located in Shoreditch, a short walk from Liverpool Street Station and the famous Brick Lane. Housing 164 guest rooms and suites, the Nobu aims to marry an effortlessly luxurious and minimal Japanese tradition into the concept of a lifestyle hotel. On the 6th floor, you can stay in their new Yuhi and Yuhi skyline bedrooms, some of which offer step-out balconies. These rooms are a new concept with unique decor to what you would normally see from a Nobu hotel. Inside the hotel, you can enjoy award-winning food, an array of creative cocktails and make the most of their spa and wellness offering.
Where: Nobu, 10-50 Willow St, London EC2A 4BH
One Hundred Shoreditch – Studio Suites
One of the studio suites at One Hundred Shoreditch
One Hundred Shoreditch is a distinctive hotel, with a calming design to make you feel refreshed and relaxed. It's your home away from home, where you can forget about the hustle and bustle of everyday life. Bring your family members along or enjoy a city break with your loved one. If you have a dog, they are more than welcome to stay here too.
The hotel is based in Shoreditch High Street, only minutes away from the creative area of the city – meaning you won't fall short of things to do. Home to 258 hotel bedrooms and suites, you can stay in a standard room or upgrade to their Studio loft rooms which have large windows with Juliette balconies. Looking for even more space? For London hotels with a balcony that you can't miss, you'll want to stay in their Studio Suites that come with their very own terrace. 
Where: One Hundred Shoreditch Hotel, 100 Shoreditch High Street, Shoreditch, E1 6JQ
Mondrian Shoreditch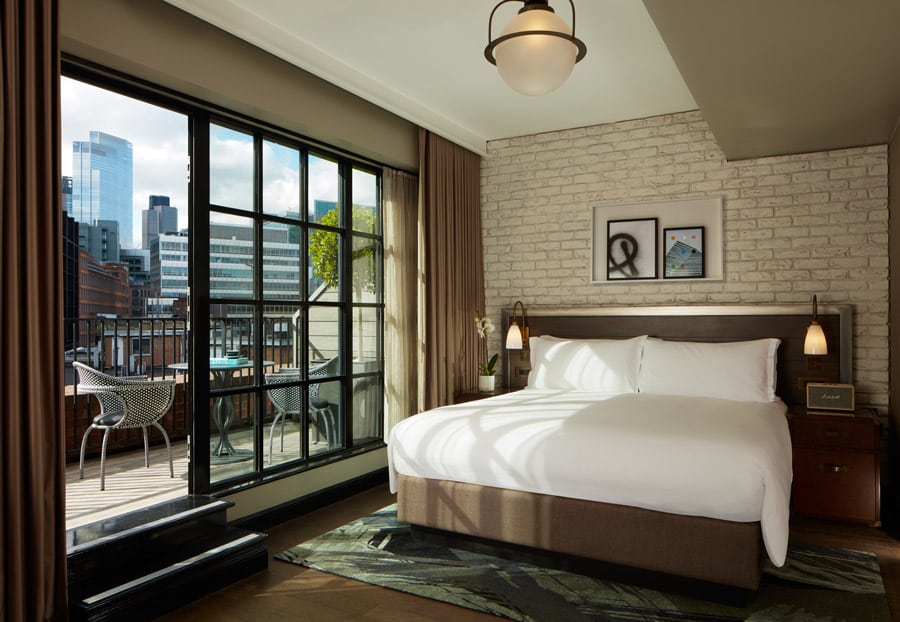 Located in the heart of London's creative and cultural hub, The Mondrian Shoreditch encapsulates the best of East London's cool and quirky vibe, adding in a good dose of luxury and a dash of panache. Trendy in design it emulates a warehouse design, peppered with luxury nuances throughout. From the moment you arrive you will feel like you're part of something special.
Interior designers Goddard Littlefair have worked their magic on the decor with a host of burnished metal features, modern art and a holographic selfie-room. There are 120 bedrooms – some of which are suites that boast enviable balconies – each designed with slate tiled floors, whitewashed brick walls and luxurious marble bathrooms. The beds are sumptuously comfortable and small touches such as the carefully selected artwork on the walls and rugs adding a cosy touch to the floor make it feel like a home from home. Be sure to check out their rooftop pool – a rarity in London – before retiring to your own slice of outside space in your room. As far as London hotels with a balcony go, this is one you don't want to miss.
Where: The Mondrian, 45 Curtain Rd, London EC2A 3PT
Sydney House Chelsea
Deluxe Double with Balcony at Sydney House Chelsea
Chelsea is in a fantastic location for guests who want to be able to easily explore London. Sydney House Chelsea is an intimate hotel with 21 stylish rooms and the deluxe double room with a balcony is certainly a room you want to consider when looking for London hotels with a balcony. It's modern, tastefully designed and lets plenty of light in. There's nowhere better to soak up the views and atmosphere of the surrounding area than here.
The Sydney House Chelsea is just a short walk away from the Science & Natural history museum and a 20 minute stroll from Harrods, the popular shopping destination. There are plenty of restaurants dotted within walking distance of this stylish townhouse, plus you'll want to stop off at some of the coffee shops after a long day of exploring.
Where: Sydney House, 9-11 Sydney St, London SW3 6PU
Each of these hotels with balconies has their own individual offering. What might be best suited for you, could be very different to another person. Take a browse through the fifteen hotels and book yourself a balcony hotel in the city! 
Have you stayed in a hotel with a balcony in London? Are you going to be staying in any of the above hotels? Which one of them is your favourite? Let us know in the comment box below.