 A few years ago, a list of the best vegetarian restaurants in London would have been pretty short compilation, one that would be even shorter outside the capital. Now, however, not only do most restaurants offer a decent selection of delicious veg-focused dishes to choose from, but the number of all-vegetarian and has exploded.
Meat-free menus have come a long way. Instead of something boring or lacking in flavour and texture, vegetarian diners can expect flair, creative combinations and carefully considered dishes. Say goodbye to boring salads and bean burgers, and hello to cauliflower shawarma, aubergine schnitzel and oyster mushroom skewers.
There are many chefs to thank for pushing the boundaries of vegetarian cuisine to where it is now. But this journey isn't over. In fact, vegetarian food is only getting better and more exciting. Many previously meat-eating chefs have made the switch and enjoy the new challenge.
It's true that most veggie restaurants in London are casual eateries serving better-quality versions of things you might cook for yourself at home, but there are a few fancy veggie restaurants too. These critically-acclaimed restaurants owe their success to stunning menus that sit at the forefront of vegetarian cuisine. In fact, some are so impressive that even the most avid carnivores are making reservations there. So, whether you're a full-time meat denouncer, or just looking to cut down on the amount of meat and fish you eat, there's something for you in our round-up below. 
To make things easier we've divided the restaurants into different categories, so no matter what type of vibe you're looking for, you're bound to find one you love. From fancy vegetarian restaurants to more relaxed spots, there's a little bit of everything on offer for our plant-loving pals. So, next time you're thinking "where are the good vegetarian restaurants near me?", just come back to this list!
SKIP TO THE BEST SECTION FOR YOU
Special occasion vegetarian restaurants in London
Traditionally, fancy restaurants serve elegant European food that's often centred on a fine cut of meat followed by something rich and creamy for dessert, but thankfully that's no longer the case. Plenty of fancy restaurants in London are actually exclusively vegetarian. See below for our top picks.
Tendril, Soho
What: Tendril has brought a whole new level of vegetarian dining to London's food scene since it first opened as a pop-up in 2021. Now with a bricks and mortar site, the team here turns out exacting plates of veg-forward dishes. The majority is actually plant-based, with the odd addition of a lovely piece of cheese to finish things off nicely, for instance. With brunch, lunch and early-bird menus, there's something for everyone here. To get the full experience though, we'd recommend the tasting menu which changes seasonally but might include starters or beetroot, black garlic and smoked paprika – for instance – and mains of salt and pepper celeriac terrine with a mustard dressing and chive oil.
Where: 5 Princes Street, W1B 2LQ
Book now: Tendril
Farmacy, Notting Hill What: Its deceiving line-up of burgers and ice-cream sundaes is perfect for carnivores looking to ditch the meat and dairy, as Farmacy is actually entirely vegan. (We know this round-up is all about vegetarian restaurants, but we couldn't help but include it.) The juicy burgers are made from millet, black bean and mushroom so you can enjoy all the taste with zero guilt.
Where: 74-76 Westbourne Grove, W2 5SH
Book now: Farmacy
The Gate, Hammersmith, Marylebone and Islington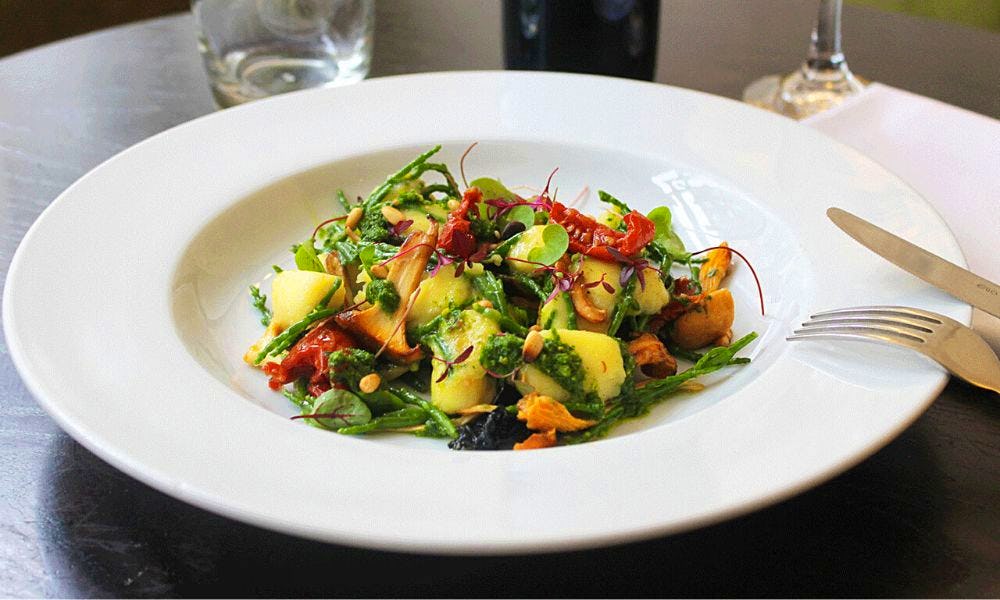 What: The prettiest location for this mini-chain has got to be Seymour Place in Marylebone (though there are also sites in Hammersmith and Islington). Whichever location you visit, you can look forward to an excellent selection of internationally inspired vegetarian food. We recommend the wild mushroom risotto cake, and the spicy, bean-stuffed tacos.
Where: 22-24 Seymour Place, W1H 7NL; 370 St John Street, EC1V 4NN; 51 Queen Caroline Street, W6 9QL
Book now: The Gate Marylebone, The Gate Islington, The Gate Hammersmith
Mildreds, various locations What: Mildreds has been going strong since the eighties and now has four locations across London. The menu is both interesting and comforting thanks to dishes such as mock tandoori chicken slathered in a flavoursome tikka marinade, and its beetroot and white bean burger with pickled red cabbage, gherkins and aioli, served in a brioche bun.
Where: Various locations across London
Book now: Mildreds
Casual vegetarian restaurants in London
The steep rise in folks choosing a vegetarian or vegan diet has meant an explosion of new plant-based restaurants that are as suited to quick, weekday lunches as they are to evenings out with friends. We've rounded up our favourite casual vegetarian restaurants below (and a couple of vegan-only eateries too)
VE Kitchen, Clapham What: If there's one thing vegetarian and vegan restaurants sometimes lack, it's variety. At VE Kitchen, however, this couldn't be further from the truth. Instead, you'll find a plethora of plant-based plates, including soup, snacks, salads, rice bowls, risottos, pastas, burgers and desserts. On top of this, there's a great selection of cocktails and juices and even an alfresco terrace out front.
Where: 39 Northcote Road, SW11 1NJ
Book now: VE Kitchen
Bubala, Spitalfields and Soho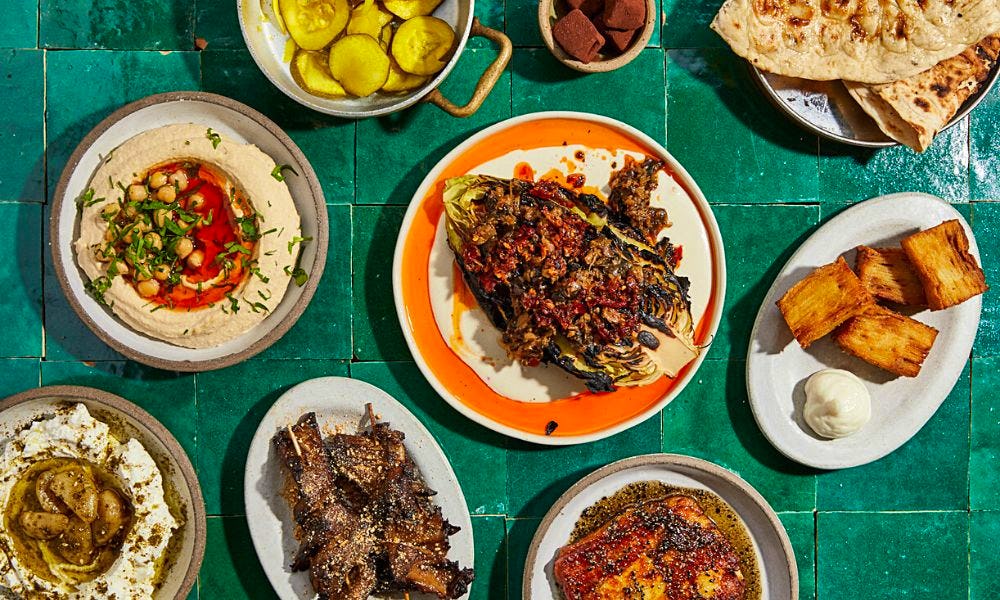 What: You can't talk about vegetarian restaurants in London and not mention Bubala. This uber-trendy restaurant is entirely veggie, and most of the dishes also happen to be vegan and gluten-free. We recommend going for the set menu, which features highlights like laffa bread, labneh with confit garlic and za'atar, and of course the famous charred oyster mushroom skewers.
Where: 65 Commercial Street, E1 6BD; 15 Poland Street, London W1F 8QE
Book now: Bubala Spitalfields, Bubala Soho
Sagar, various locations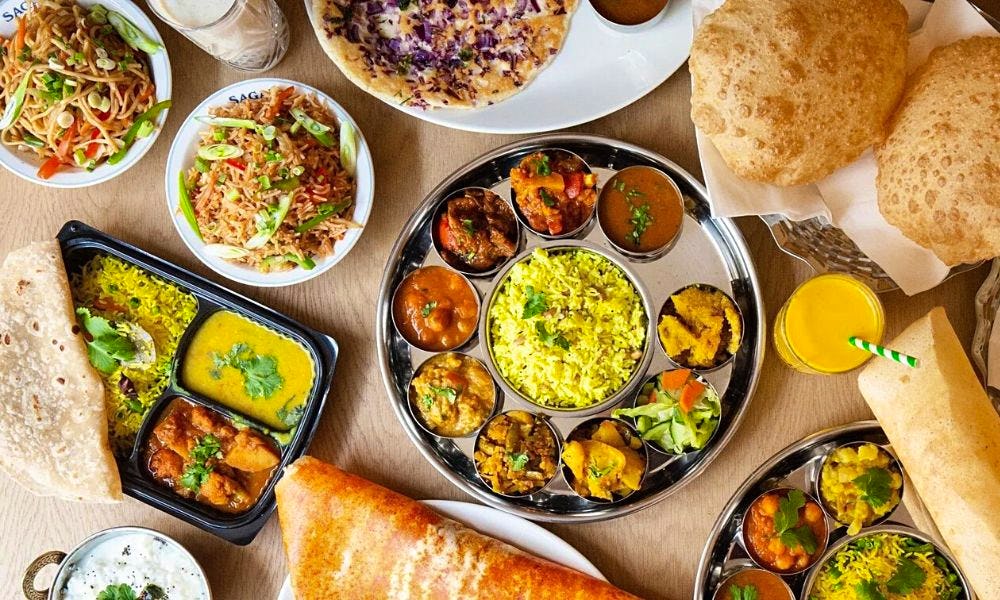 What: When it comes to maximum flavour and satisfaction for minimum cost, there's nowhere better to dine than Sagar – the South Indian vegetarian restaurant that tops many a list of the best vegetarian restaurants in London. Diners can look forward to decent, dependable regional dishes including curries, fluffy rice, home-baked breads and outstanding dosa.
Where: Various locations across London
Book now: Sagar
The Vurger Co., Shoreditch What: Full disclosure: this one is also fully vegan, but its plant-based fast food is so good we just had to include it. Whether you opt for one of its burgers, which are stacked with patties made from things like aubergine, chickpeas and onion, or Beyond meat coupled with vegan cheese, or a portion of its Kentucky fried 'chicken', we defy you not to be impressed.
Where: 6 Richmix Square, E1 6LD
Book now: The Vurger Co.
Kin Cafe, Fitzrovia What: Despite the Fitzrovia location, Kin Cafe has a laid-back approach to dining. With a simple menu of cooked breakfasts and burgers, as well as a few dishes that add spice to the menu such as the chickpea curry, the Kin cafe is a welcome change of pace for the Fitzrovia dining scene.
Where: 22 Foley Street, W1W 6DT
Book now: Kin Cafe
Buhler and Co., Walthamstow
What: Just a short walk away from the William Morris Museum, Buhler and Co acts as the perfect spot for breakfast with sumptuous options such as crispy halloumi with ripe green avocado. The coffee is also exceptional, as are the bloody Marys. Buhler and Co acts as the perfect, cosy spot for plant-based diners in north London.
Where: 8 Chingford Road, E17 4PJ
Book now: Buhler and Co.
Rasa N16, Stoke Newington What: Bright and bold in every sense, Rasa N16 has been a favourite among vegetarians since opening over 20 years ago. Keralan chef Das Sreedharan's menu specialises in the meatless cooking of the Nair community, so expect to find an array of dishes far removed from the usual curry-house repertoire, such as pimped-up poppadums, crispy dosa and a variety of punchy homemade pickles and chutneys.
Where: 55 Stoke Newington Church Street, N16 0AR
Book now: Rasa N16
Itadaki Zen, King's Cross What: Organic and vegan Japanese restaurants aren't ten-a-penny, but Itadaki Zen in King's Cross is one such eatery. The menu is made up of sushi, tempura and tofu dishes aimed at healing the body, so you could just walk out feeling full and in better health than you were when you walked in.
Where: 139 King's Cross Road, WC1X 9BJ
Book now: Itadaki Zen
222 Vegan Cuisine, West Kensington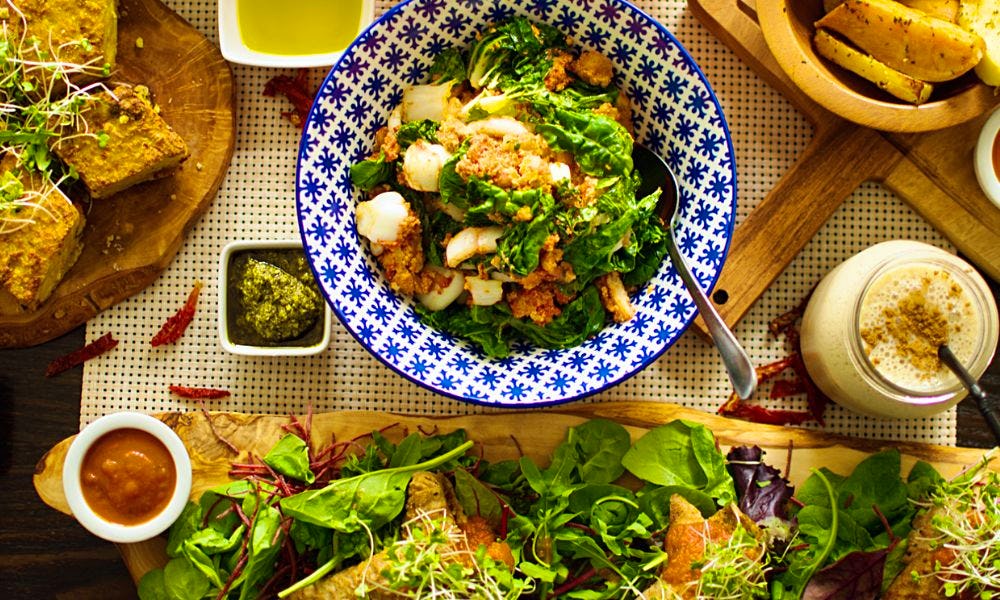 What: Despite its out-of-the-way location on a less-than-picturesque stretch of the North End Road, this longstanding vegan restaurant has endured thanks to its low-fat, low-salt, non-GM and mostly-organic food. Dishes range from the likes of soup and mezze to seitan stroganoff and tofu cheesecake, and the buffet lunch is well worth a punt.
Where: 222 North End Road, W14 9NU
Book now: 222 Vegan Cuisine
Vegetarian-friendly restaurants in London
Happily, restaurants that don't offer decent vegetarian options are now few and far between, but we think these ones are especially great for groups containing both vegetarians and meat-eaters
Fallow, St James's What: While not entirely vegetarian, the menu at Fallow has incredible vegetarian options that play to the strengths of the chefs here who aim to use as much of every ingredient as they can, with little to nothing wasted. The buttery mushroom parfait or the spicy corn ribs are perennial favourites among fans for starters, while mains like smoked leeks with vinaigrette or hen of the wood burgers ensure vegetarians are well looked after throughout the meal. The dedicated plant-based section is clearly marked, and there are always multiple options for veggies to choose between.
Where: 52 Haymarket, SW1Y 4RP
Book now: Fallow
Rovi, Fitzrovia What: Ottolenghi describes Rovi as a restaurant with vegetables at its heart, and each piece of produce is carefully handled to extract maximum flavour. Dishes are often cooked over fire for a lick of the grill, while fermentation is commonly employed too, to add a little funk to the menu. If you're looking for a signature taste of what the kitchen here can do head straight for the veggie Jerusalem mixed grill served with Baharat onions, pickled, pita bread and tahini sauce – it's heaven.
Where: 59 Wells Street, W1A 3AE
Book now: Rovi
Lyle's, Shoreditch What: Special occasion dining can prove tricky if you're vegetarian, but thankfully Lyle's has a dedicated menu for non-meat-eaters, and it's a stellar one at that. As is the way with many of London's best restaurants, the billing here does change with the seasons, but starters might include preserved tomato toast or white asparagus and salsify, before moving on to mains such as artichokes with butter beans and fennel. For £85 we think this Michelin starred experience is well worth its price-point.
Where: 56 Shoreditch High Street, E1 6GY
Book now: Lyle's
Malibu Kitchen at The Ned, City of London

What: Bringing a touch of California to the vegetarian dining scene in London, The Malibu Kitchen at The Ned, with its luxuriant and cosy dining room, and a focus on health and wellness at the core of its menu is certain to bring foodies a nutritious experience. There are often fun deals on, such as taco Tuesday or frozen margarita Friday – need we say more? 
Where: 27 Poultry, EC2R 8AJ
Book now: Malibu Kitchen at the Ned
Pollen Street Social, Mayfair What: Jason Atherton's restaurant in Mayfair proves that Michelin-starred food doesn't need meat to be outstanding. There aren't just a couple of vegetarian and vegan options at this hip hangout either – there's an entire menu for each. This is the kind of place where a dish as simple as braised broccoli stem with lemon purée, toasted almonds and seaweed will have you oohing and aahing from the first mouthful.
Where: 8-10 Pollen Street, W1S 1NQ
Book now: Pollen Street Social
The Restaurant at The Capital, Knightsbridge What: While the restaurant in the stylish Capital Hotel, Apartments & Townhouse does serve rather a lot of meat and seafood, head chef Chris Prow has ensured there are plenty of veggie options too. Meat-free diners can kick things off with a beetroot tartare, topped with hazelnuts, radish, apple and goat's cheese, before moving on to starters like crispy gochujang cauliflower with shallot and coriander or poached pear with walnut, chicory and blue cheese. For the main event, try the miso marinated aubergine with sesame and green onion. 
Where: 22-24 Basil Street, SW3 1AT
Book now: The Restaurant at The Capital
Berber & Q, Haggerston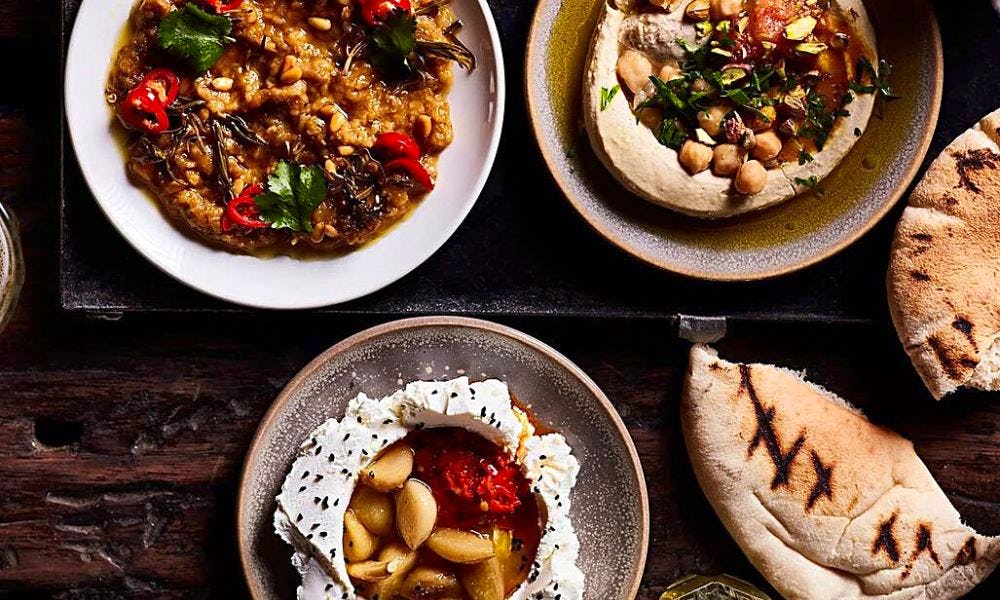 What: When we mentioned cauliflower shawarma before, we were talking about this one from Berber & Q. Healthy and hearty, this stand-out dish has become super-popular since being introduced it to the menu – and with good reason. A whole roasted cauliflower is given the star treatment with a shawarma-spiced butter, tahini sauce, pomegranate molasses, dried rose petals, pine nuts and parsley.
Where: 338 Acton Mews, E8 4EA
Book now: Berber & Q
Turnips, London Bridge Why: Celebrating veggies with reverence, Turnips at Borough Market puts the produce from the restaurant's own stall at the centre of its menu. The restaurant is headed up by Tomas Lidakevicius (who previously worked under Michelin-starred Jason Atherton) and the menu flexes with the seasons. While there are meat and fish options, vegetarians are carefully catered to by way of an extensive menu. Expect plates of mushrooms doing a convincing imitation of pork belly or asparagus on top of a Parmesan crumble.
Where: 43 Borough Market, SE1 9AH
Book now: Turnips
Kricket, Brixton, Soho and White City What: The genius team at Kricket have combined two of our favourite things to create a dish that has vegetarians queuing up: vegetables and batter. Adding a crunchy coating to salty samphire makes Kricket's legendary samphire pakora beautifully savoury, and the texture is completely moreish. We think this makes the perfect bar snack, so even if you're just popping in for drinks don't miss out on this treat. Other veggie creations include grilled runner bean ishtu, tandoori malai paneer or grilled butternut squash with makhani sauce.
Where: 41-43 Atlantic Road, SW9 8JL; 12 Denman Street, W1D 7HH; 2 Television Centre, 101 Wood Lane, W12 7FR
Book now: Kricket Brixton, Kricket Soho, Kricket White City
1 Lombard Street, City of London What: This city stalwart has served the Square Mile breakfast, lunch and dinner for decades. Restaurants like this aren't always the most plant-focused, but head chef James Holden has crafted a dedicated veggie and vegan menu. Expect the likes of burrata with heritage beetroot and chervil or linguine with purple sprouting broccoli and Berkswell.
Where: 1 Lombard Street, EC3V 9AA
Book now: 1 Lombard Street
Acme Fire Cult, Dalston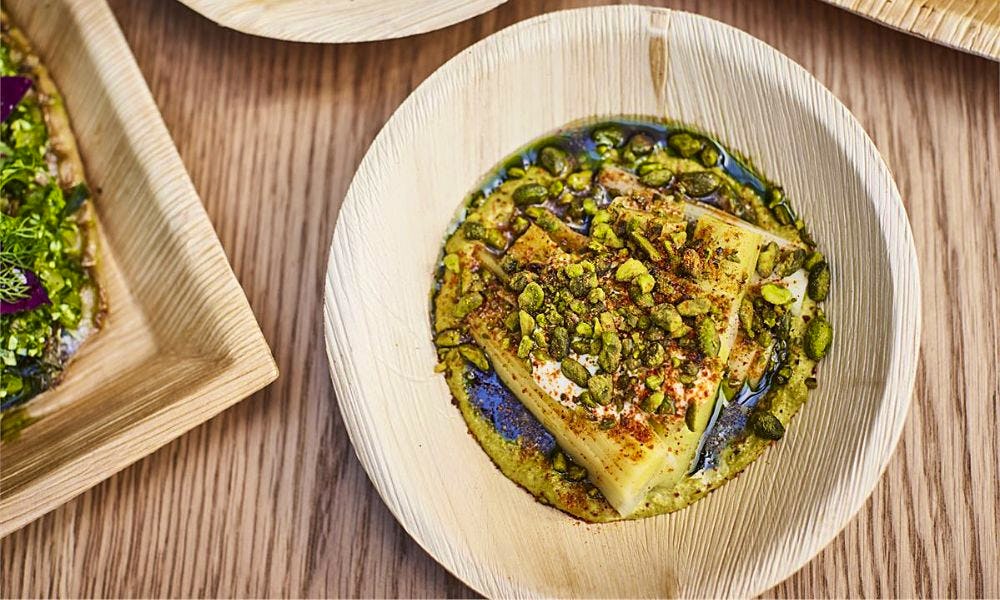 What: The term 'live fire cooking' often conjures images of ribs, steaks and burgers. At Acme Fire Cult, however, the menu is mostly vegetarian – and what a menu it is. Experience clever creations like aubergine with sourdough mole and hazelnut; coal roast celeriac with mushroom, kelp XO and white bean miso; or smoked potatoes with tahini mayo and seed rayu. Since the restaurant is housed in a brewery, we recommend washing it all down with some of 40FT's delicious beer.
Where: Abbot Street, E8 3DP
Book now: Acme Fire Cult
Bala Baya, Southwark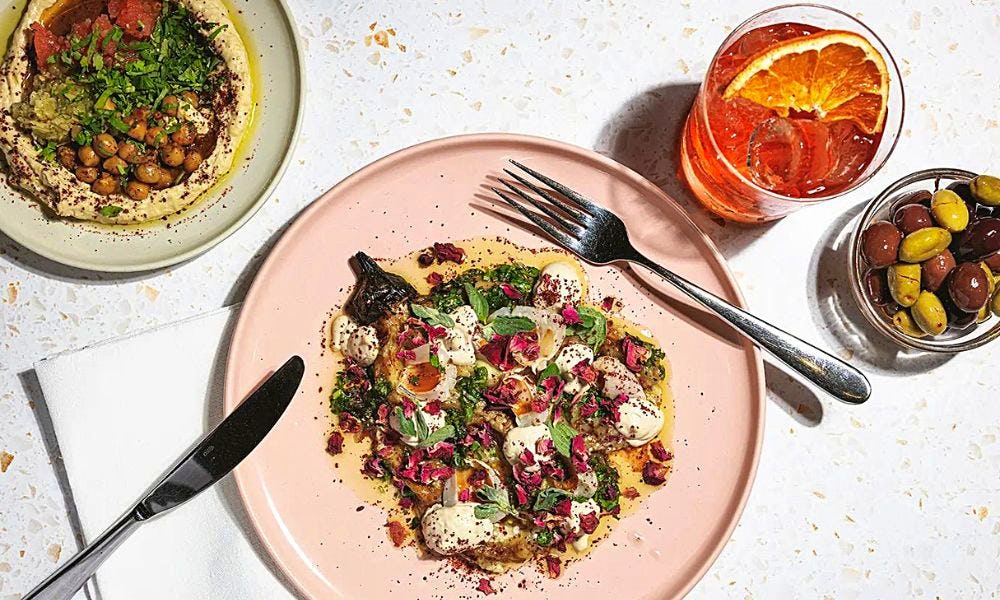 What: Israeli chef Eran Tibi's brainchild is a homage to his roots. We recommend heading to this buzzy restaurant with a group and feasting on the lavish vegetarian set menu. Journey through various staples like fiery tahini, Levantine olive mix, grapes with feta, hummus and blackened aubergine, before moving to the larger plates. These include king oyster mushrooms, cauliflower steak and cabbage, each laden with unique toppings like pomegranate molasses, preserved lemon mayo or pistachio relish. Finish with a burnt babka, served with morello cherry compote and creme Anglaise.
Where: 229 Union Street, SE1 0LR
Book now: Bala Baya
Looking for restaurants free of animal products entirely? Check out our guide to the best vegan restaurants in London.