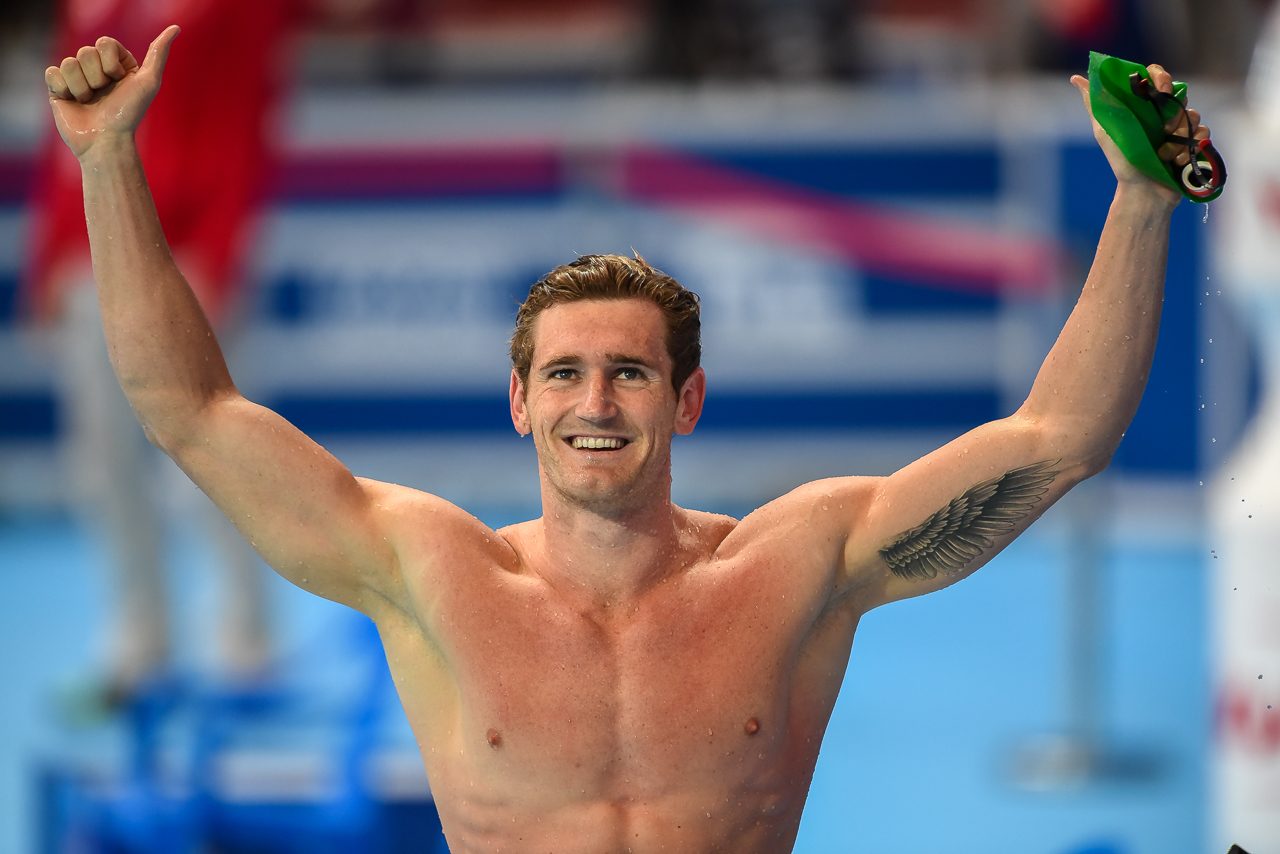 It's been a busy summer for South Africa Cameron van der Burgh. He won 3 medals at the 2018 Commonwealth Games on the Gold Coast, disturbing Adam Peaty for gold in the 50m breaststroke and bronze in both the 100m breaststroke and 400m individual medley relay. It was around this time that he announced he was likely to retire after the 2020 Olympics.
The following month he married Nefeli Valakenis in Anavyssos, Greece.
The most precious moment of our lives pic.twitter.com/R5SDT1M2F4
— Cameron van der Burgh (@Cameronvdburgh) July 12, 2018
https://www.instagram.com/p/Bkwzz5ZgEgH/?taken-by=rykneethling
In August he qualified at the South African Short Course Championships for the World Short Course Championships in the 100m breaststroke.
And now, in September, he has announced that he will start a new career in London.
After 30 years in South Africa it's time for @nefsi88 and I to take a bold leap and start a new journey in London. Anxious, nervous, excited. Too many emotions to convey but one thing is for sure: I will always be a proud South African! 🇿🇦🇿🇦🇿🇦
— Cameron van der Burgh (@Cameronvdburgh) September 26, 2018
Van der Burgh will swap his bathing suit for a business suit when he begins his new career at Andurand Capital Management, the eponymous hedge fund he runs Pierre Andurand, focused on the oil market. However, he will not be the only Olympian on the trading floor; French gold and silver medalist Clemens Lefter has been working there for 5 years.
Welcome to @Cameronvdburgh in London and the AC team! Good luck for the new challenge and looking forward to working with you! I hope @clemlefert won't mind not being the only Olympic champion on the team anymore
— Pierre Andurand (@AndurandPierre) September 27, 2018
Van der Burgh, a three-time Olympian, won gold at the 2012 London Games in the 100m breaststroke and added silver in Rio two years ago. He owns 10 LC World Championship medals (including 2 golds in 50 breaststroke), 6 SC World Championship medals (2 gold medals), and 9 Commonwealth Games medals (4 gold medals including 3 consecutive gold medals in 50 breaststroke). He currently holds the SC world records in both the 50 and 100 breaststroke and previously had LC marks in both disciplines.