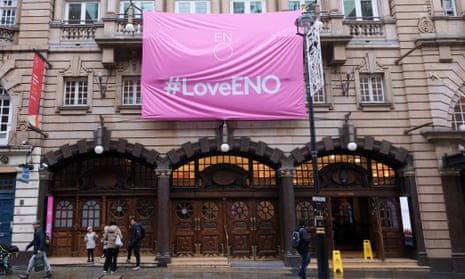 English National Opera to receive £11.46m from Arts Council England
Investment will sustain its work in London for another year after ENO was removed from ACE's national portfolio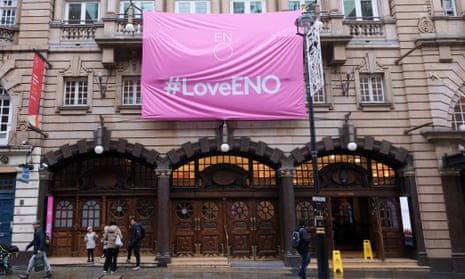 The English National Opera (ENO) has announced it will receive an £11.46m investment from Arts Council England (ACE) to sustain its work in London for another year.
The ENO is one of a number of organisations that have been removed from ACE's national portfolio, losing its £12.8m annual grant and told it must move outside London if it wants to qualify for future grants. ENO chiefs have said the 100% funding cut would decimate the 100-year old company, while many big names across the arts world called the decision a "simplistic move".
On Tuesday, ACE said it would invest national lottery funding in the company until March 2024 to "sustain a programme of work at the ENO's home, the London Coliseum, and at the same time help the ENO start planning for a new base outside London by 2026". It also said further investment for 2024-26 was available – subject to discussion and application.
"The shared ambition is for the ENO to be in a strong position to apply to the Arts Council's national portfolio of funded organisations from 2026, from a new base outside London," ACE said.
ENO has previously said it was holding meetings with ACE to decide on a model that would help it retain a London presence. While welcoming the funding, the company said the delay in confirming financial status meant it had to postpone a number of productions including its current Ring Cycle, in partnership with the Met, which was due to continue with a new production, Siegfried, next season.
It said: "However, this level of funding will allow us to honour many of the contracts of the hundreds of freelancers we hire every year, and enable us to continue to make incredible opera available for everyone, in English, with hugely subsidised tickets."
The company said it was concerned the funding only gave audiences and its workforce one year's reprieve and still left a huge amount of uncertainty regarding the ENO's future.
"For the ENO to meaningfully deliver on the government's levelling up agenda, ACE needs to invest in the organisation at an appropriate level going forward," it said. "This has to be done in the context of ACE developing an opera strategy, in conversations with audiences and our colleagues across the industry – something that is still yet to be undertaken by ACE."
The ENO has consistently said it remains in the dark as to why ACE decided to remove its status as a national portfolio organisation despite it "meeting or exceeding" the criteria set by ACE. "One in seven of our audience are under 35, one in five of our principal performers are ethnically diverse and over 50% of our audiences are brand new to opera," it said.
Darren Henley, the chief executive of ACE, said: "This grant will provide the ENO with stability and continuity, while they plan their future. We want to back an exciting programme of work from the ENO in a new home, and make sure it stays part of the brilliant London arts offer at the Coliseum.
"We know this means a challenging period of change for the company and its staff, but it will also mean opera for more people in the long term and contributes to the levelling up of cultural investment."
ACE has announced a total of £50m cuts from arts organisations in London to fulfil a government instruction to divert money away from the capital as part of the levelling up programme.
Among those who have protested against the decision are actors Juliet Stevenson and Maxine Peake, former culture secretary Nadine Dorries – who called the decision "politically motivated" and veteran opera singer Sir John Tomlinson, who wrote to the ACE chair, Nicholas Serota, to state the case for retaining the ENO.
On Tuesday, the ENO chief executive, Stuart Murphy, said it would continue discussions with ACE in "good faith" and looked forward to agreeing funding levels until 2026 "that would allow us to continue to deliver the best of the ENO for out-of-London audiences – at a level London audiences have experienced for almost 100 years".
<gu-island name="TopRightAdSlot" props="{"isPaidContent":false,"adStyles":[{"name":"1st5lw8","styles":"\n\t.ad-slot__scroll {\n\t\t\n\t\n\t\t\tfont-family: GuardianTextSans, Guardian Text Sans Web, Helvetica Neue, Helvetica, Arial, Lucida Grande, sans-serif;\n\t\t\tfont-size: 0.75rem;\n\t\t\tline-height: 1.35;\n\t\t\tfont-weight: 400;\n\t\t\t;\n\n\t\t\t/*\n\t\t\t * Child elements (e.g. ) can use this variable\n\t\t\t * to set the thickness of their underline.\n\t\t\t *\n\t\t\t * The thickness for each font type and weight is defined\n\t\t\t * in the underlineThickness object.\n\t\t\t */\n\t\t\t–source-text-decoration-thickness: 2px;\n\t\t;\n\theight: 24px;\n\tmax-height: 24px;\n\tbackground-color: #F6F6F6;\n\tpadding: 0 8px;\n\tborder-top: 1px solid #DCDCDC;\n\tcolor: #707070;\n\ttext-align: left;\n\tbox-sizing: border-box;\n;\n\t\tposition: relative;\n\t\t&.visible {\n\t\t\tvisibility: initial;\n\t\t}\n\t\t&.hidden {\n\t\t\tvisibility: hidden;\n\t\t}\n\t}\n\t.ad-slot__close-button {\n\t\tdisplay: none;\n\t}\n\n\t.ad-slot__scroll {\n\t\tposition: fixed;\n\t\tbottom: 0;\n\t\twidth: 100%;\n\t\t\n\t\n\t\t\tfont-family: GuardianTextSans, Guardian Text Sans Web, Helvetica Neue, Helvetica, Arial, Lucida Grande, sans-serif;\n\t\t\tfont-size: 0.75rem;\n\t\t\tline-height: 1.35;\n\t\t\tfont-weight: 400;\n\t\t\t;\n\n\t\t\t/*\n\t\t\t * Child elements (e.g. ) can use this variable\n\t\t\t * to set the thickness of their underline.\n\t\t\t *\n\t\t\t * The thickness for each font type and weight is defined\n\t\t\t * in the underlineThickness object.\n\t\t\t */\n\t\t\t–source-text-decoration-thickness: 2px;\n\t\t;\n\theight: 24px;\n\tmax-height: 24px;\n\tbackground-color: #F6F6F6;\n\tpadding: 0 8px;\n\tborder-top: 1px solid #DCDCDC;\n\tcolor: #707070;\n\ttext-align: left;\n\tbox-sizing: border-box;\n;\n\t}\n\n\t.ad-slot:not[data-label-show='true']::before {\n\t\tcontent: ";\n\t\tdisplay: block;\n\t\theight: 24px;\n\t\tvisibility: hidden;\n\t}\n\n\t.ad-slot[data-label-show='true']:not(.ad-slot–interscroller)::before {\n\t\tcontent: attr(ad-label-text);\n\t\tdisplay: block;\n\t\tposition: relative;\n\t\t\n\t\n\t\t\tfont-family: GuardianTextSans, Guardian Text Sans Web, Helvetica Neue, Helvetica, Arial, Lucida Grande, sans-serif;\n\t\t\tfont-size: 0.75rem;\n\t\t\tline-height: 1.35;\n\t\t\tfont-weight: 400;\n\t\t\t;\n\n\t\t\t/*\n\t\t\t * Child elements (e.g. ) can use this variable\n\t\t\t * to set the thickness of their underline.\n\t\t\t *\n\t\t\t * The thickness for each font type and weight is defined\n\t\t\t * in the underlineThickness object.\n\t\t\t */\n\t\t\t–source-text-decoration-thickness: 2px;\n\t\t;\n\theight: 24px;\n\tmax-height: 24px;\n\tbackground-color: #F6F6F6;\n\tpadding: 0 8px;\n\tborder-top: 1px solid #DCDCDC;\n\tcolor: #707070;\n\ttext-align: left;\n\tbox-sizing: border-box;\n;\n\t}\n\n\t.ad-slot__adtest-cookie-clear-link {\n\t\t\n\t\t\tfont-family: GuardianTextSans, Guardian Text Sans Web, Helvetica Neue, Helvetica, Arial, Lucida Grande, sans-serif;\n\t\t\tfont-size: 0.75rem;\n\t\t\tline-height: 1.35;\n\t\t\tfont-weight: 400;\n\t\t\t;\n\n\t\t\t/*\n\t\t\t * Child elements (e.g. ) can use this variable\n\t\t\t * to set the thickness of their underline.\n\t\t\t *\n\t\t\t * The thickness for each font type and weight is defined\n\t\t\t * in the underlineThickness object.\n\t\t\t */\n\t\t\t–source-text-decoration-thickness: 2px;\n\t\t;\n\t\ttext-align: left;\n\t\tposition: absolute;\n\t\tright: 3px;\n\t\ttop: -22px;\n\t\tpadding: 0;\n\t\tborder: 0;\n\t}\n"},{"name":"6gzy3t","styles":"\n\t&.ad-slot–fluid {\n\t\tmin-height: 250px;\n\t\tline-height: 10px;\n\t\tpadding: 0;\n\t\tmargin: 0;\n\t}\n"}]}">