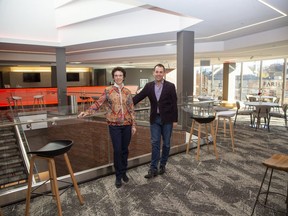 Breadcrumb Trail Links
local art
The Grand Theater's patrons have been digging deep for those in need this Christmas, donating more than $40,000 to the London Food Bank, the theater announced Monday.
Publication date:
December 27, 2021 • December 27, 2021 • 1 minute read • Join the conversation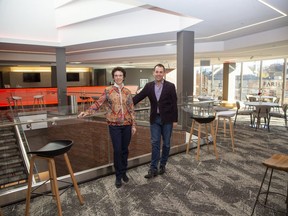 Grand Theater General Manager Deb Harvey, left, and Artistic Director Dennis Garnhum show off the theatre's newly renovated Drewlo Lounge. Theatergoers, as well as performers and staff, donated more than $40,000 to the London Food Bank during the Home for the Holidays show, which ran December 3-24, the Grand said Monday. Photo taken November 12, 2021. (Derek Ruttan/The London Free Press)
Reviews and recommendations are unbiased and products are independently selected. Postmedia may earn an affiliate commission from purchases made through links on this site.
content of the article
Guests at the Grand Theater dug for those in need this Christmas, donating more than $40,000 to the London Food Bank.
After each Home for the Holidays performance this month, theatergoers as well as Grand Artists, volunteers and staff were asked to do their utmost to support those affected by food insecurity in the Forest City.
The result was a $40,031 gift that will be channeled to the table via Business Cares' food drive, the theater said Monday.
Since 2017, fundraisers after performing at Christmas shows have generated a total of $340,810 for the panel.
content of the article
"The holiday season is a difficult time for many and the pandemic has only compounded the challenges facing Londoners," Grand Executive Director Deb Harvey said in a statement. "Each year, but especially in these uncertain times, we take pride in the . . . community through our ongoing partnership with the food bank."
Work on a $9.5 million renovation at the Grand was completed in the fall, and the theater's doors will reopen in November. The facility had to cancel its 2020-2021 season due to the coronavirus pandemic.
Home for the Holidays, a theatrical concert programmed and directed by Artistic Director Dennis Garnhum, was the Grand's way of welcoming back its guests. It opened on December 3rd and boxed up on December 24th.
The show featured cast members such as Blythe Wilson, Gavin Hope and Mark Uhre.
Harvey calls the plaque the "lifeline" of the community. Jane Roy, co-executive director of London Food Bank, called the money an "incredible contribution".
"We are grateful to the patrons, cast, crew and staff of The Grand Theater who not only supported the work of the Tafel this holiday season, but also demonstrated the huge difference that can be made through an inspired, collective effort," said Roy.
Twitter.com/DanatLFPress