Contrary to what its practical purpose may imply, designing a powder room can be one of the most exciting undertakings in a home. For one, a small space can handle bursts of color and pattern that would overwhelm larger rooms. Plus, because it's often closed off from the rest of the home, powder room designs can be a complete departure from those in other areas.
'Because they're usually small, transient spaces, powder rooms often get overlooked in the renovation process,' says Rosie Ward, creative director of London interior design firm Ward & Co. 'However, functionality doesn't have to be the only thing at play here. It's likely to be visited by guests so put your best foot forward and don't scrimp on style.'
Here, Ward shares six of her best powder room ideas for ensuring your pint-size water closet makes an impact.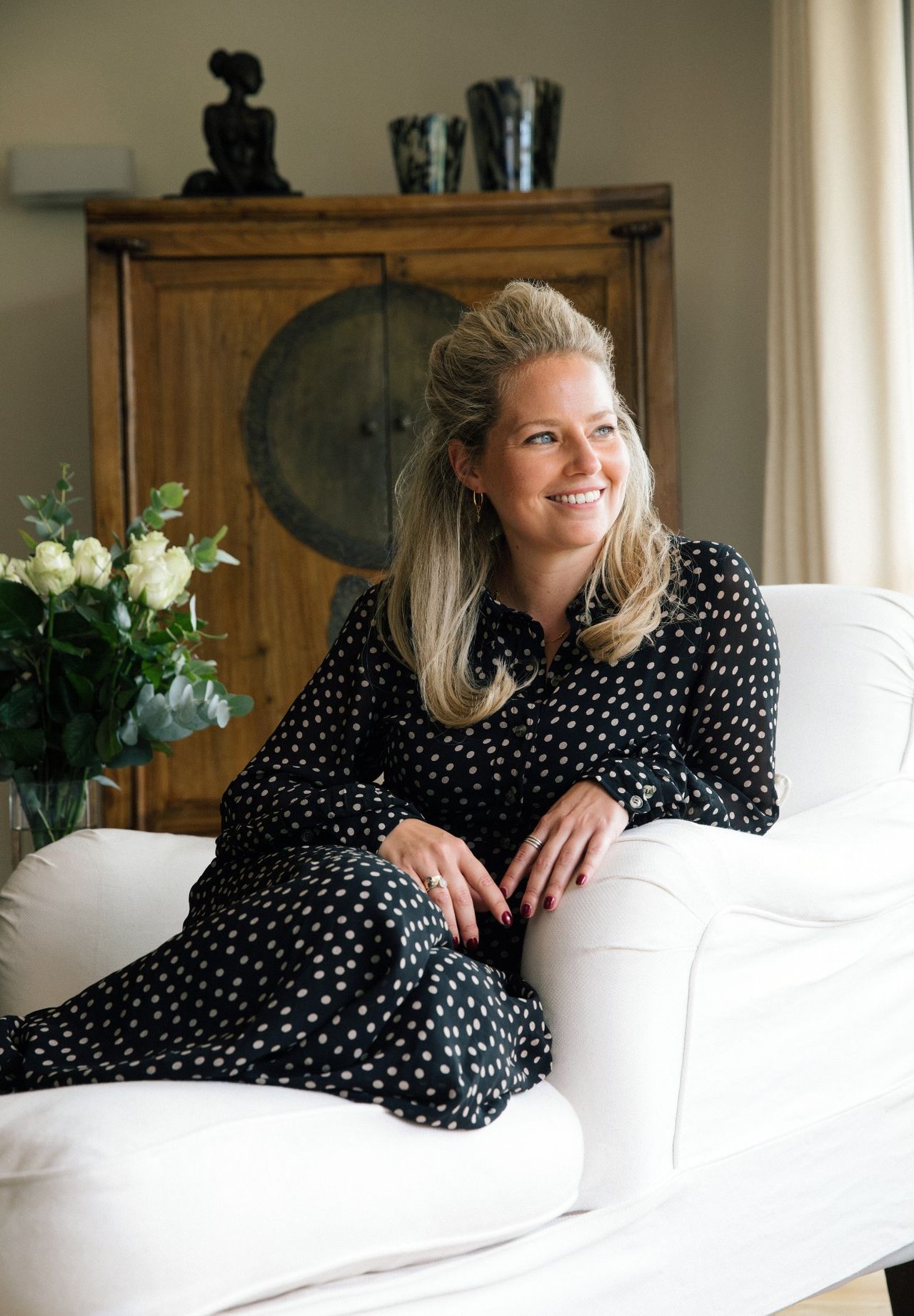 Rosie Ward is the creative director of Ward & Co., a London-based interior design firm started by her mother, Sarah Ward, in 1986. The award-winning studio develops interiors for city apartments, countryside homes, historic estates, restaurants, bars and more, in London, Suffolk, and beyond.
1. Assess the space and storage requirements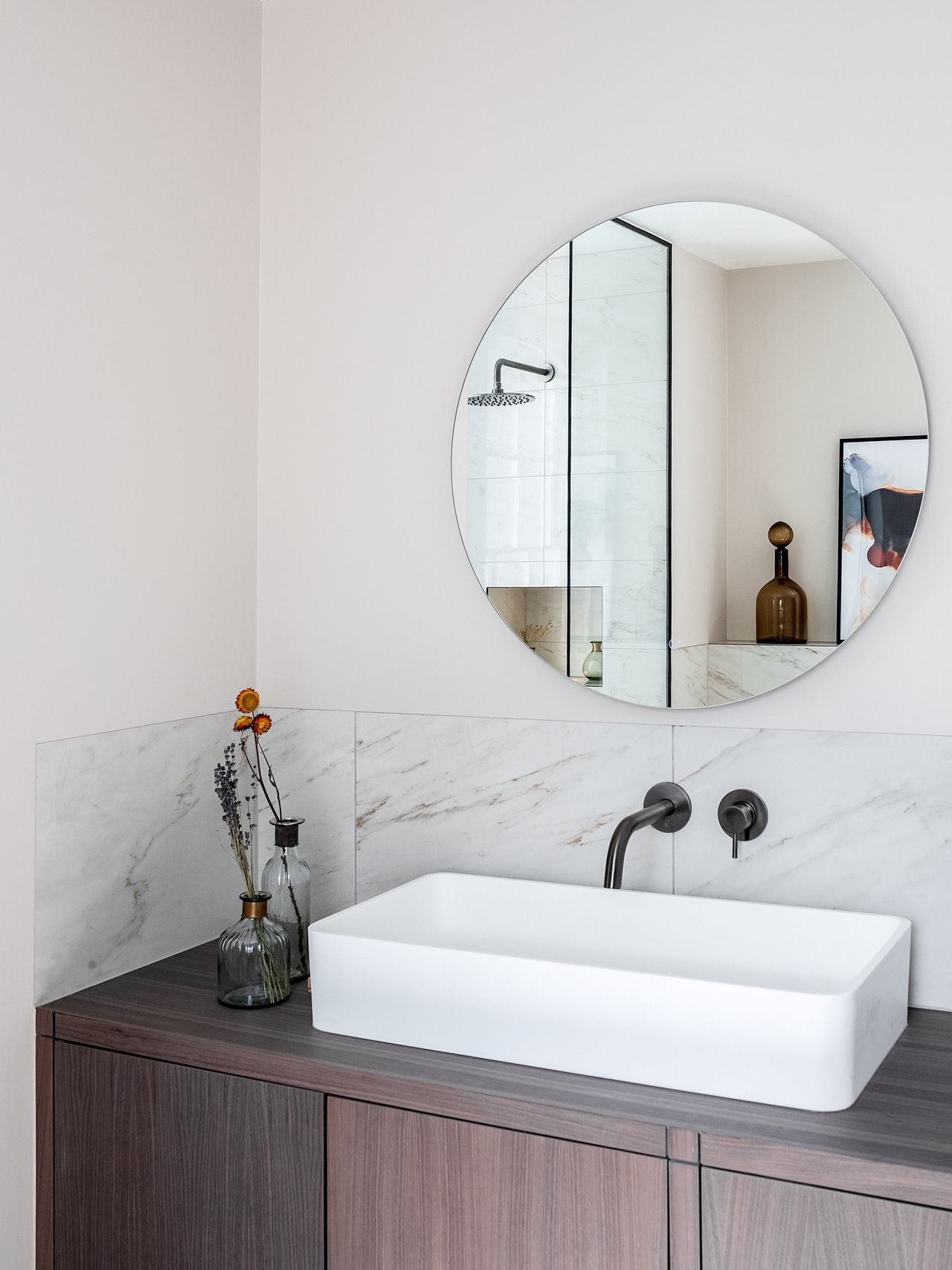 Function is at the core of smart powder room design, so consider practicalities first.
'Every powder room is different, so first assess the size of the room and think about the size and shape of sink the room can take. Then, consider if you need storage and whether this can be free-standing or if it needs to be incorporated into a vanity unit,' suggests Ward.
If maximizing square footage is at the top of your priority list, wall-hung vanities have the advantage of making a space feel much larger, but Ward recommends adding a drawer or cabinet here for efficiency.
'If your cloakroom space is really tight, consider a corner sink with an added skirt to hide any toiletries and add a flourish of color or pattern,' Ward says. 'Alternatively, you can manufacture storage space into joinery or niches so towels and toilet paper are hidden in a subtle and stylish way.'
2. Install a statement faucet and sink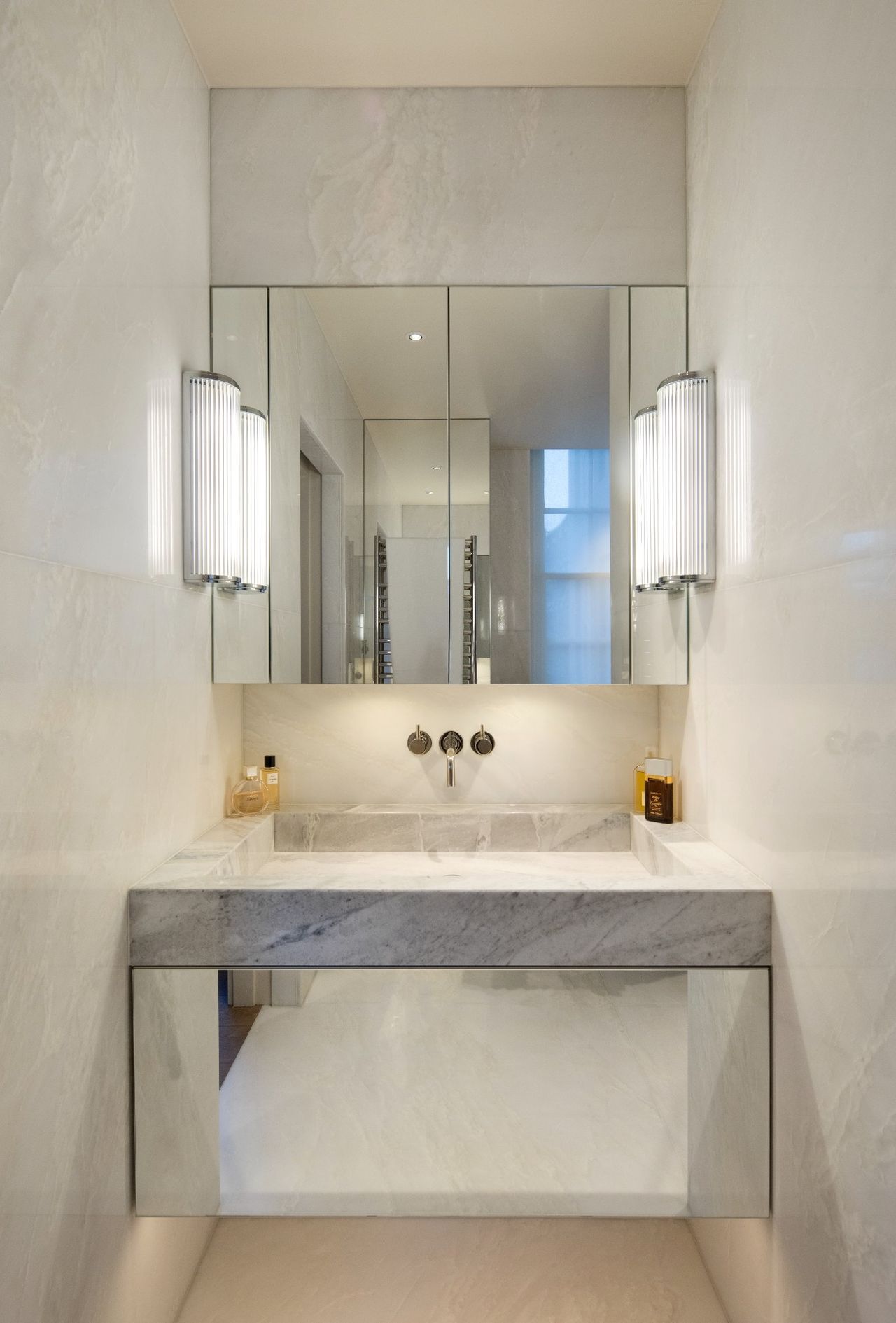 In a small space, every detail is a chance to turn a ho-hum space into one that wows. That includes things like faucets and plumbing fixtures.
'In terms of faucets, this is very much related to the sink that you choose. Styles such as brass or matte black are incredibly popular and work well with a range of sink materials and sizes,' says Ward. 'Some sinks have holes for faucets, others do not. If you have a vanity, think whether you have the space to place a surface mounted tap, if not, then this should be wall-mounted. Be aware that the contractor needs to get pipes into the wall if this is to be wall-mounted, so if it is on a masonry wall it is better to go for a surface mounted faucet.'
3. Go bold with wallpaper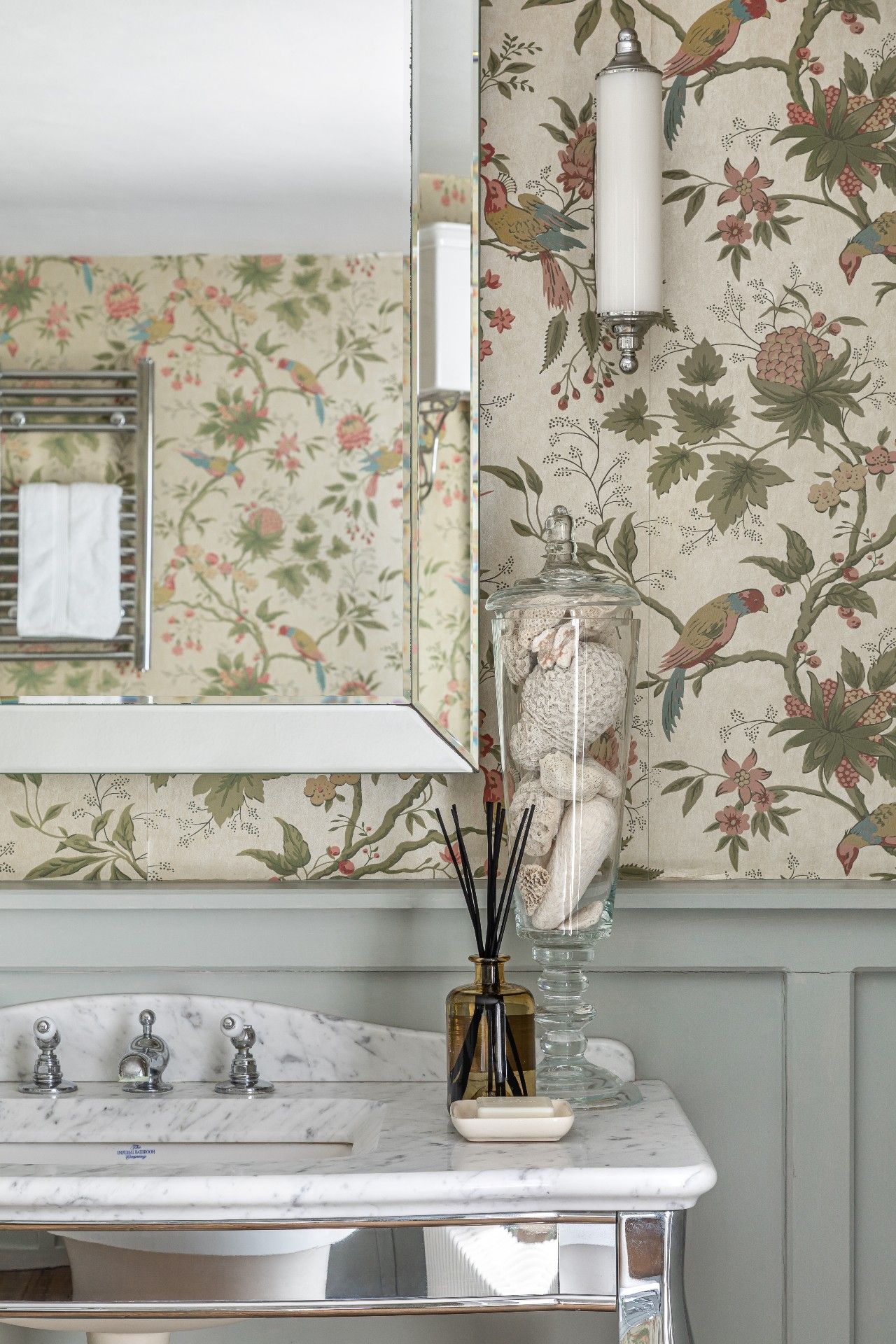 When considering half bath ideas, think beyond the decor that's in the rest of your home. Boundary pushing wallpaper ideas are almost a requisite.
'You can be daring and use a bold color or wild pattern you love but aren't brave enough to use in a main living space,' says Ward. 'There are some brilliant wallcoverings that allow you to have fun with this space – brands such as Timorous Beasties, Cole & Son, Fromental and Elitis are some of my favorites and offer a huge variety of playful patterns and textures guaranteed to impress.'
4. Strike the right balance with lighting and mirrors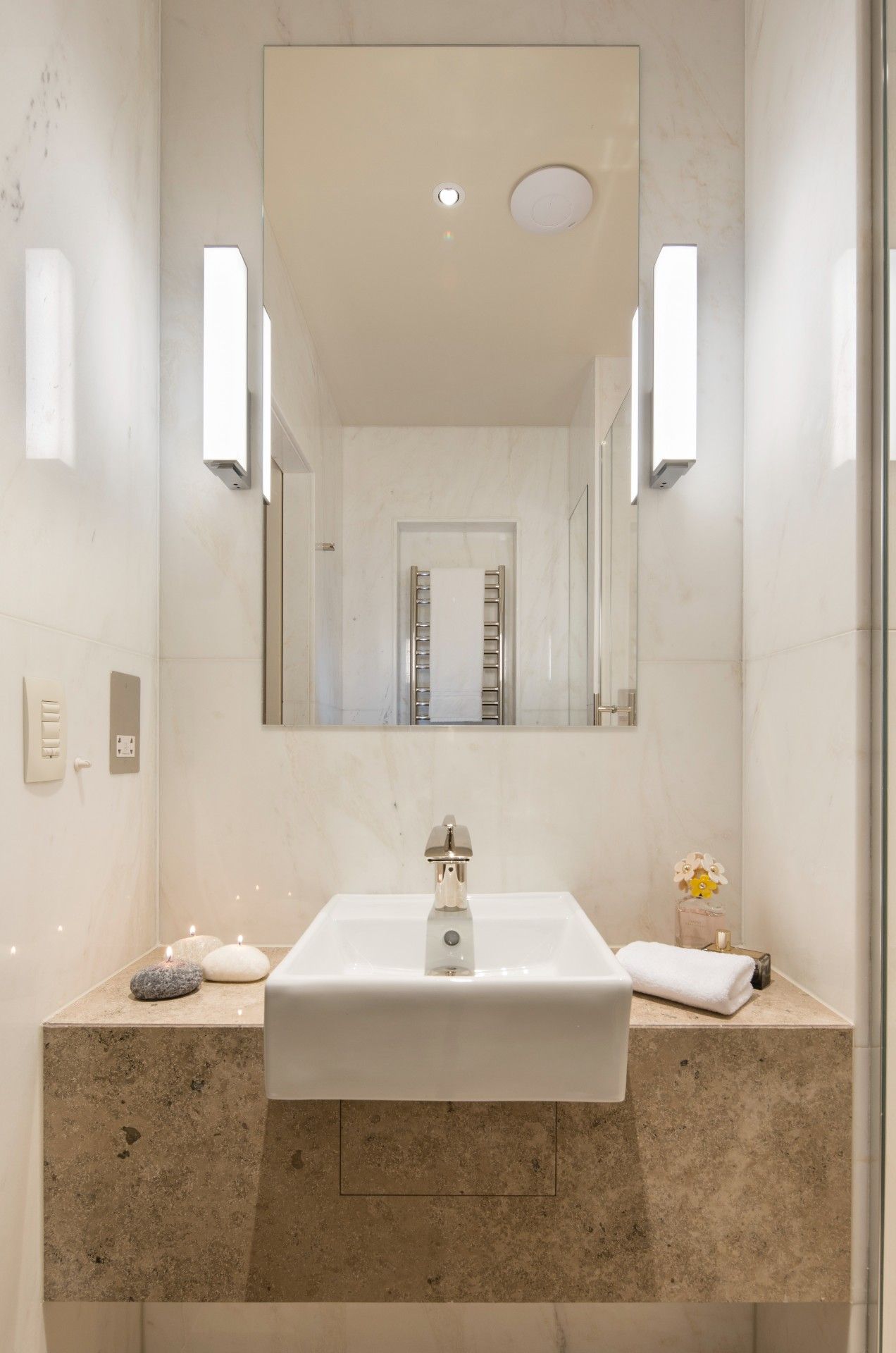 In designing a powder room, Ward says it's important to remember both the room's history, and how your guests might use it today.
'The term 'powder room' harks back to the Regency era and the closet sized rooms where ladies had their towering wigs re-powdered. Considering the more modern phrase to 'powder one's nose', it is essential to provide appropriate lighting for users to conduct any necessary touch-ups,' she explains. 'A stand-out mirror is a powder room essential and should ideally come with the ability to step up close, or with a magnifying element to them. Pendant or wall lights should be ambient but also strong enough so that users can apply makeup.'
5. Add eclectic antiques, artwork and trinkets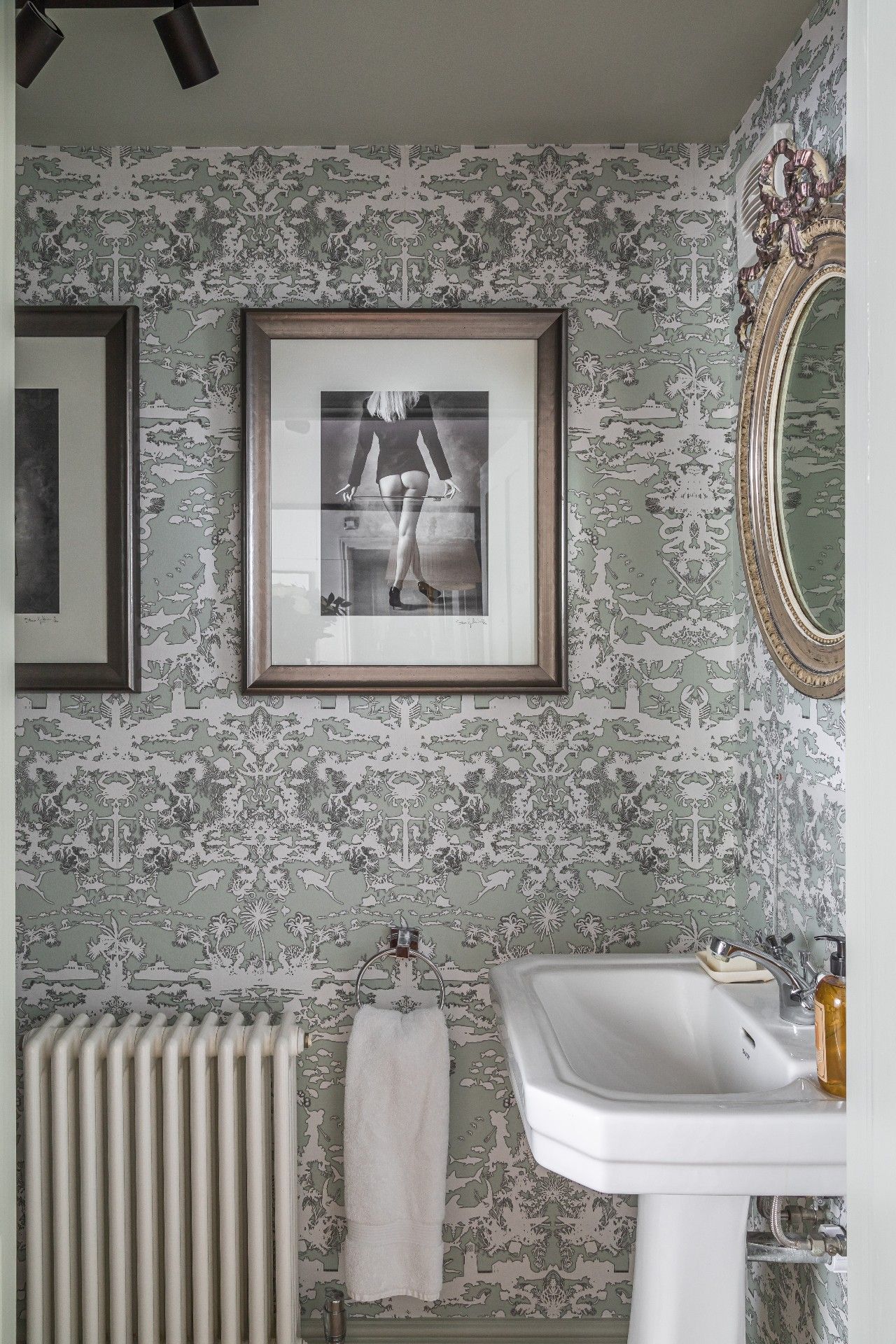 Options for powder room wall decor are limitless, thanks to the fact that, unlike other bathrooms in the home, it isn't a wet room.
'The great thing about a powder room is that there is no steam from a shower as is the case with a main bathroom. This means you don't need to rely on entirely water-resistant materials and it is also safe to hang treasured artwork or antique pieces,' Ward says.
Besides art, a curated selection of trinkets and decor can also add to the ambience. 'Toss the basic soap dispenser and consider some stylish accessories for your sink – glass jars, mother-of-pearl or brass trinket trays and rattan or leather waste bins will add a touch of elegance and you can keep to one theme here or mix and match materials for a more eclectic look,' she says.
6. Take advantage of tiling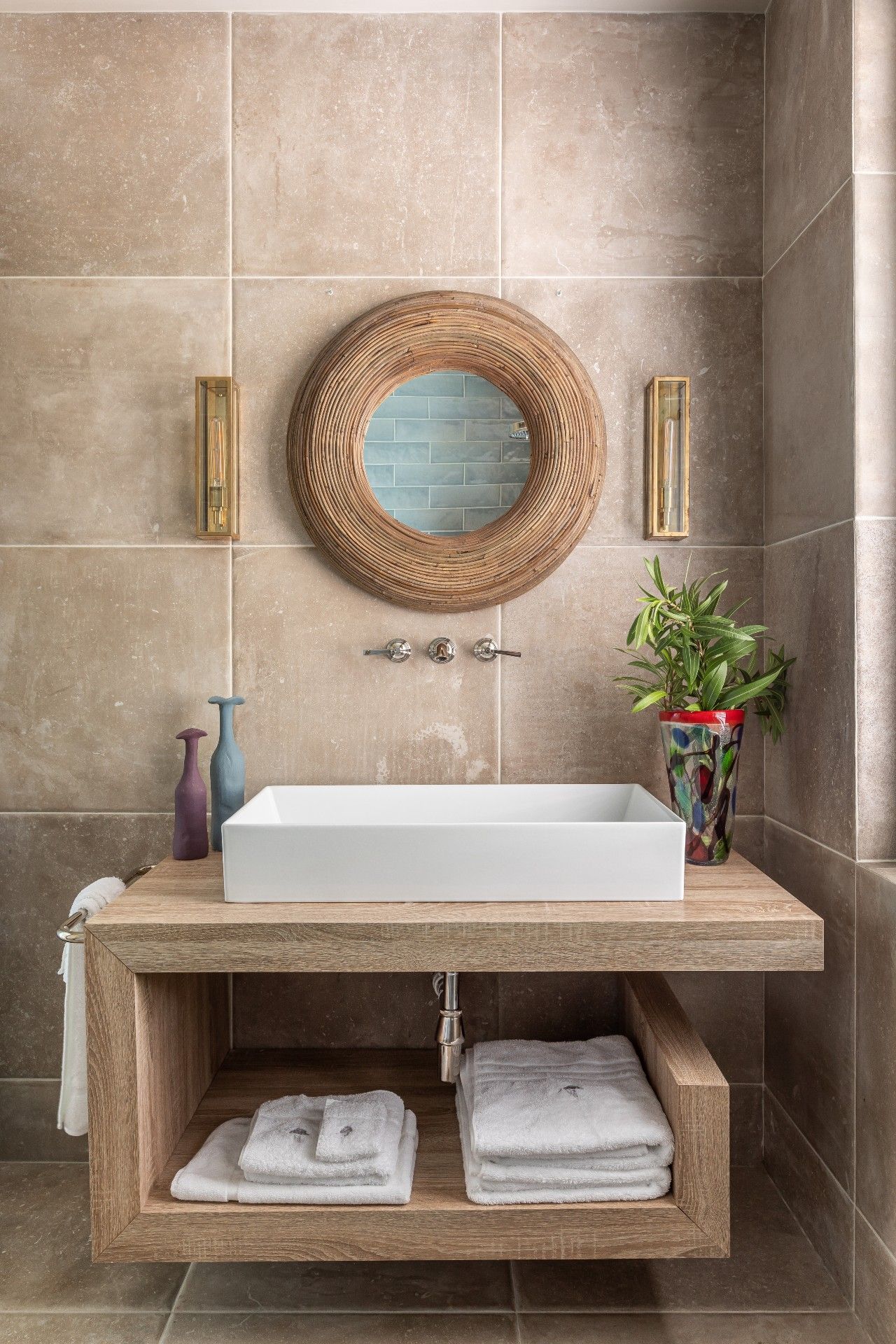 'Tiling up to three quarters of the way up a wall can make a small room appear larger than it really is,' advises Ward. 'Tiles are also practical and easy to clean versus painted or papered walls, so ideal if you want a low maintenance option.'
For an allover impact, you can also use the same tile on both walls and floors. 'Cladding a powder room entirely in one particular tile (floors included) can result in a show-stopping visual effect. We regularly work with natural stone for this type of design, it's hard wearing and it's a great bathroom flooring idea for underfloor heating. The huge variety of natural stone on offer ranges from the rustic imperfections of limestone to sleek elegance of marble or granite, so there's something for everyone.'