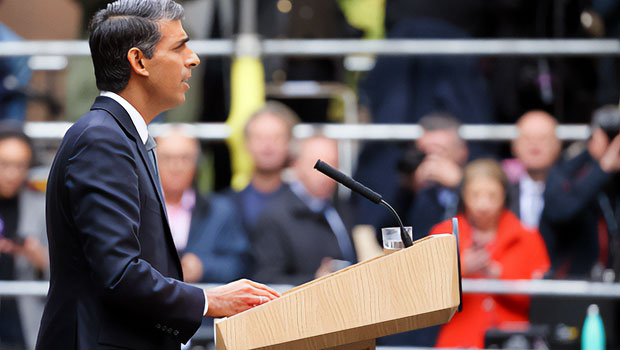 London stocks were mixed by the end of Tuesday's trading as initial enthusiasm over Rishi Sunak's election as prime minister continued to falter, while HSBC struggled following the results.
The FTSE100 ended the session down 0.07% at 7,013.48 while the FTSE250 was 2.85% firmer at 17,831.63.
Sterling, meanwhile, has been firmly in positive territory, most recently rising 1.73% against the dollar to $1.1473 and rising 0.86% against the euro to change hands at €1.1520.
"It was a broadly positive day for markets in Europe, with the exception of the FTSE 100, which lagged on weakness in banks and fundamental resources," said Michael Hewson, CMC Markets chief market analyst.
"HSBC shares have fallen sharply after reporting $11.6 billion in third-quarter revenue while post-tax profit was $2.56 billion.
"This was significantly lower than the second quarter figures, with earnings attributable to shareholders down to $1.9 billion from $5.77 billion."
According to Hewson, part of the reason for the lower profits was a $1.1 billion increase in provisions for bad loans, doubling the amount set aside for the year to $2.2 billion.
"On the plus side, the bank's net interest margin increased to 1.57% from 1.35% in the third quarter, which helped net interest income beat expectations, reflecting the higher interest rate environment.
"While this is welcome news for net interest margin, it's not great if you're a saver as you won't have noticed the difference."
Michael Hewson noted that with mortgage rates above 6% while ISA and other savings rates languish at or below 1%, banks should be making decent profits.
"Never mind windfall taxes, politicians would be better off calling out the banks for the paltry returns they offer savers."
Political developments made headlines again after new British Prime Minister Rishi Sunak warned of spending cuts. He said the country was in an "economic crisis" and vowed to rectify the financial "mistakes" made during his disastrous 45-day reign by predecessor Liz Truss.
Speaking at 10 Downing Street after being formally appointed Britain's fifth prime minister in six years by King Charles, Sunak warned that "difficult decisions were to come" as the nation struggled with a £40billion hole in it was confronted with her finances.
He acted quickly to appoint a new cabinet – a task made easier by the departure of unpopular Business Secretary Jacob Rees-Mogg, who was widely tipped for the axe.
Chancellor Jeremy Hunt, appointed by Truss to succeed Kwasi Karteng, was reappointed.
Other trussites soon followed, with several leaps before they were pushed, including Education Secretary Kit Malthouse, Minister Simon Clarke, Justice Secretary Brandon Lewis, Labor and Pensions Secretary Chloe Smith and Ranil Jayawardene, who was considered a makeweight at the Environment Agency.
Foreign Secretary James Cleverly and Defense Secretary Ben Wallace were also retained, while Dominic Raab returned as Justice Secretary – a post he held last year – and was also reappointed as Deputy Prime Minister.
Sunak distanced himself from the ominous Truss, whose neoliberal economic policies and plans for naked tax cuts ravaged financial markets, and from the discredited Boris Johnson, who was ousted by his own party for mismanagement and scandal.
He said his government will show "integrity, professionalism and accountability", a marked change from previous Tory governments.
While praising Truss, he said that "mistakes were made".
"I will put economic stability and confidence at the heart of this administration's agenda. That will entail difficult decisions," he said.
"The government I lead will not leave the next generation – your children and grandchildren – with debts that we were too weak to pay ourselves."
In economic news, output from UK factories has fallen slightly over the past three months, despite business sentiment falling at the fastest pace since the pandemic began.
According to the Confederation of British Industry's Industrial Trends survey, manufacturing output was roughly flat at -4%, meaning output fell at a similar pace to the quarter to September.
However, the balance of companies that rated themselves more bearish fell as quickly as possible since April 2020, from -21% in July to -48% in August.
"It's a difficult time for manufacturers," said CBI economist Alpesh Paleja.
"Price pressures remain acute, material availability remains a major concern – and it's been 49 years since manufacturers have had such concerns about finding workers with the required skills.
"It's really no surprise that sentiment has continued to deteriorate."
According to a survey by the Ifo Institute in October, the business mood in Germany on the continent remained "gloomy".
The business confidence index fell to 84.3 from a revised 84.4 in September, ahead of consensus expectations of 83.3.
Meanwhile, the expectation index rose to 75.6 in October from 75.3 the previous month and the current situation index came in at 94.1, down from 94.5.
The manufacturing index fell to -15.9 in October from -14.3 in September, while the services index improved to -8.6 from -8.9.
The Ifo index for trade was -31.9 compared to -32.3 and the index for construction was -24.0 in October compared to -21.9 in the previous month.
"The German economy is facing a difficult winter," said Ifo President Clemens Fuest.
Across the pond, US home price growth slowed in August amid higher interest rates, according to the latest S&P CoreLogic Case-Shiller National Home Price Index.
The index, which covers all nine U.S. census divisions, rose 13% for the year, compared to July's 15.6% growth.
The 10-city composite index rose 12.1% for the year in August, up from 4.9% in the previous month.
Meanwhile, the 20-city index rose 13.1%, compared to 16% in July.
Finally, on to the data, American sentiment on the economy, jobs and inflation fell more-than-expected in October, according to a closely watched survey.
The Conference Board consumer confidence index fell to 102.5 in October from 107.8 in September.
Economists had put a value of 105.0.
on the London stock markets HSBC fell 6.83% even after third-quarter earnings beat expectations as investors reacted to shock news that CFO Ewen Stevenson would step down at the end of the year.
He was to be succeeded by Georges Elhedery, co-head of global banking and markets at the bank.
"Stevenson had a good track record in his previous job helping to rehabilitate NatWest – formerly Royal Bank of Scotland – and shareholders will be disappointed not to have his steady hand at the helm during the current turmoil," said AJ Bell Financial analyst Danni Hewson.
"Stevenson's departure could also leave HSBC more vulnerable to pressure from its largest shareholder, Ping An, to break up the bank.
"HSBC's fortunes are increasingly tied to China and the rest of Asia, so the rise to power of Xi Jinping, which has raised concerns in international markets, particularly if it means a continuation of the strict zero-Covid policy, has weighed on sentiment towards the bank is not helpful."
HSBC reported pre-tax income of $3.15 billion for the three months ended September 30, down from $5.4 billion last year but above the consensus of $2.45 billion analyst estimates compiled by the Bank.
Standard Chartered was also down, falling 1.28% ahead of Wednesday's third-quarter results release.
On the plus side, retailers rose on a well-received update from the e-commerce group THGwith Next up 3.07%, B&M European Value Retail ahead 4.77%, and asos 13.82% increase.
Owner of the Premier Inn White bread reversed earlier losses to close 0.42% after swinging to an interim gain.
he gave birth Also rebounded from losses earlier in the session, up 2.43%, although earnings for the year would come in at the lower end of analysts' expectations as market turmoil hit trading at the end of the third quarter.
REIT for urban logistics rose 11.55% after the inventory expert said it collected 99% of rent in the six months ended September 30.
The company added that during that period it completed 12 new leases covering 470,000 sq ft, generating an additional £4m in rental income.
In the broker change action Hargreaves Lansdown up 4.89% after upgrading to buy from hold at Canaccord Genuity.
Reporting by Josh White for Sharecast.com. Additional reporting by Michele Maatouk, Frank Prenesti and Alexander Bueso.
market mover
FTSE 100 (UKX) 7,013.48 -0.01%
FTSE 250 (MCX) 17,831.63 2.85%
techMARK (TASX) 4.197.01 1.14%
FTSE 100 – risers
SEGRO (SGRO) 798.00p 7.09%
Land Securities Group (LAND) 568.80p 5.92%
Flutter Entertainment (CDI) (FLTR) 11,375.00p 5.57%
Ocado Group (OCDO) 504.80p 5.30%
Hargreaves Lansdown (HL.) 777.00p 4.89%
B&M European Value Retail SA (DI) (BME) 320.40p 4.77%
Scottish Mortgage Investment Trust (SMT) 766.40 p 4.36%
Taylor Wimpey (TW.) 95.08p 4.25%
Wise Men Group (SGE) 746.20 p 4.10%
British Land Company (BLND) 363.10p 3.74%
FTSE 100 – Faller
HSBC Holdings (HSBA) 443.05p -6.83%
shell 2,289.50p -2.37%
Standard Chartered (STAN) 554.40 p -1.28%
Compass Group (CPG) 1,819.50p -1.19%
Port Energy (HBR) 371.00p -1.07%
Anglo-American (AAL) 2,658.50p -1.04%
BP (BP.) 465.60p -0.94%
BAE Systems (BA.) 805.40p -0.93%
Vodafone Group (VOD) 98.67p -0.91%
Smith & Nephew (SN.) 1,001.50p -0.84%
FTSE 250 – Risers
Molten Ventures (Grow) 295.00p 17.81%
ASOS (ASC) 589.00p 13.82%
Urban Logistics Reit (SHED) 140.00 p.p 11.55%
Jupiter Fund Management (JUP) 104.40p 10.95%
Camp Reit (WHR) 124.40p 9.51%
AJ Bell (AJB) 322.40p 7.90%
Hipgnosis Songs Fund Limited NPV (SONG) 90.90p 7.83%
dr Martens (DOCS) 231.20p 7.43%
home riding 87.40 p 6.97%
Blackrock Throgmorton Trust (THRG) 554.00p 6.95%
FTSE 250 – Faller
WAG Payment Solutions (WPS) 83.20p -2.33%
Energy (ENOG) 1,316.00p -2.15%
Ferrexpo (FXPO) 107.50 p -1.74%
NB Private Equity Partners Ltd. (NBPE) 1,575.00p -1.25%
Ibstock (IBST) 153.00p -1.10%
Mitchell's & Butler's (MAB) 104.20p -0.67%
Babcock International Group (BAB) 268.60p -0.67%
Johnson Matthey (JMAT) 1,939.00p -0.56%
Playtech (PTEC) 523.50p -0.19%
Hikma Pharmaceuticals (HIK) 1,190.50p -0.04%