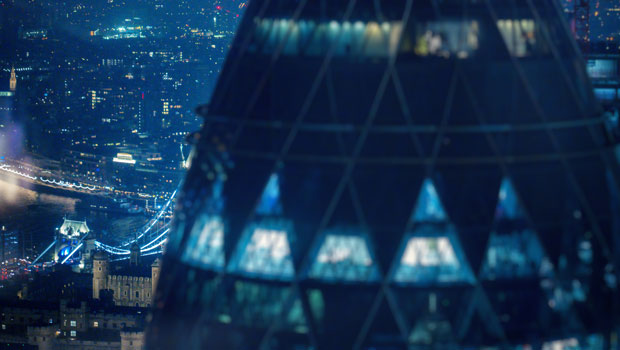 the FTSE100 ended the session down 0.37% at 7,469.28 and the FTSE250 was down 0.54% to 18,762.07.
Sterling was also below the waterline, last trading down 0.35% against the dollar at $1.2040, while weakening 0.18% against the euro to trade at €1.1371.
"Today, the bears are back in charge as the UK GDP data was another warning that we may already be in a recession," said Joshua Mahony, senior market analyst at IG.
"Notably, we have seen US indices fall despite an upward revision in the US growth rate for the third quarter.
"This likely reflects a growing sense of concern that the Federal Reserve will continue to push rates higher in the absence of a major economic distress signal."
Mahony said that for those unaware, the FTSE 100's outperformance would signal "relative strength" for "UK plc".
"Although the FTSE 100 is the only major western index to avoid significant losses in 2022, the UK suffered the worst third-quarter growth of any G7 nation."
Indeed, in economic news, the UK economy contracted more than initially estimated in the three months to September as household incomes fell, according to the Office for National Statistics.
GDP contracted 0.3% in the third quarter versus an initial estimate of 0.2%.
The numbers showed real household incomes fell 0.5% during the quarter – the fourth consecutive quarter of negative growth.
According to the ONS, the revised data also showed that the economy grew 0.6% in the first quarter and 0.1% in the second, versus previous estimates of 0.7% and 0.2% growth, respectively.
The revisions reflect larger declines in manufacturing and production than previously thought.
It has been suggested that this may reflect changes in business and consumer behavior in response to higher energy prices after the regulator's energy price cap was lifted in April.
According to ONS, business investment declined 2.5% quarter-on-quarter in the third quarter, compared to an initial estimate of 0.5%.
"Our revised figures show that the economy performed slightly less well last year than we had previously estimated, with manufacturing and power generation being significantly weaker," said Darren Morgan, director of economic statistics at ONS.
"Household incomes continued to fall in real terms, albeit at a slower pace than in the previous two quarters, while household spending – adjusted for inflation – fell for the first time since the final Covid-19 lockdown in spring 2021."
Elsewhere, it has been confirmed that fares will rise by 5.9% next year, the biggest increase in a decade.
Traditionally, rail fares are linked to the July retail price inflation index, but when the index hit 12.3%, the government stepped in and dropped the link to the RPI.
Still, the nearly 6% hike – the biggest since 2012's 6.2% rise – would deal another blow to commuters as Britons grapple with the cost of living crisis and often unfortunate train services.
The cap would be 6.4 percentage points below July's RPI and in line with average earnings growth for the month.
"This is the largest government intervention on fares to date – I'm limiting the rise well below the rate of inflation to reduce the impact on passengers," Transport Secretary Mark Harper said.
"It has been a difficult year and the impact of inflation is being felt across the UK economy; we don't want to add anything to the problem.
"It's a fair balance between the passengers who use our trains and the taxpayers who help fund them."
Corporate news continued to thin on London equity markets as market participants began to adjust for the Christmas break.
electronics manufacturer DiscoverIE group was down 0.55% after announcing it would acquire US-based Magnasphere Corporation for US$22m (£19.1m).
Magnasphere manufactures magnetic sensors and switches for industrial electronic applications.
DiscoverIE said the acquisition is expected to have an immediate positive impact on the group's underlying earnings and operating margin.
Elsewhere Real Estate Investment Trust LondonMetric was knocked down 1.78% by a downgrade to neutral at Citi.
adjust lost 2.67% on news that its chief financial officer, Stephanie Bruce, was planning to step down from that position.
United Supply Group together with the online supermarket fell by 2.73% Ocado Group which lost 3.44%.
Real estate marketing platform right movement was 1.9% lower while the oil giant sleeve reversed earlier gains to finish down 0.08%.
Online fast fashion retailer asos slipped 3.21% after a senior Google executive was appointed to its board to bolster the company's governance.
Marie Gulin-Merle was previously named non-executive director in an announcement.
She is currently Vice President of Advertising Marketing at Google, based in New York, and has previously held a variety of leadership roles including Chief Marketing Officer at Calvin Klein, Chief Digital Officer at luxury brand conglomerate PVH, and Group Chief Marketing Officer at L'Oreal USA.
On the top, GSK spin off Haleon up 1%, with travel caterers compass group Add 0.7%.
Reporting by Josh White for Sharecast.com. Additional reporting by Michele Maatouk and Frank Prenesti.
market mover
FTSE 100 (UKX) 7,469.28 -0.37%
FTSE 250 (MCX) 18.762.07 -0.54%
techMARK (TASX) 4,380.24 -0.26%
FTSE 100 – risers
Haleon (HLN) 323.90 p 1.00%
Pearson (PSON) 945.60p 0.77%
BT group (BT.A) 114.35p 0.75%
Compass Group (CPG) 1,934.00p 0.70%
Beazley 677.00p 0.67%
Regulatory (PRU) 1,099.50p 0.64%
AstraZeneca (AZN) 11,306.00 p 0.55%
London Stock Exchange Group (LSEG) 7,188.00 p 0.48%
Convatec Group (CTEC) 232.20p 0.35%
Imperial Marks (IMB) 2,090.00 p.p 0.34%
FTSE 100 – Faller
Ocado Group (OCDO) 629.20p -3.44%
United Utilities Group (UU.) 990.20p -2.73%
Abrdn (ABDN) 185.95 p -2.67%
Halma (HLMA) 1,994.50p -2.61%
Weir Group (WEIR) 1,665.00p -2.46%
Pershing Square Holdings Ltd NPV (PSH) 2,845.00p -2.23%
Scottish Mortgage Investment Trust (SMT) 717.00p -2.21%
Schroders (SDR) 434.10p -1.96%
St James's Place (STJ) 1,087.00p -1.94%
Spirax-Sarco Engineering (SPX) 10,545.00p -1.91%
FTSE 250 – risers
Evolution Group (FAN) 376.00p 7.43%
Clarkson (CKN) 3,115.00 p.p 2.47%
Mitie Group (MTO) 77.90 p 2.37%
Lancashire Holdings Limited (LRE) 641.50 p 2.31%
Hiscox Limited (DI) (HSX) 1,103.50p 1.94%
Apax Global Alpha Limited (APAX) 189.60p 1.94%
Coats Group (COA) 72.80p 1.82%
Marshalls (MSLH) 269.40 p 1.81%
Drax Group (DRX) 686.50 p 1.63%
Vesuvius (VSVS) 396.20 p 1.43%
FTSE 250 – Faller
Carnival (CCL) 575.20 p -5.86%
Dark track (DARK) 259.60p -4.35%
Aston Martin Lagonda Global Holdings (AML) 150.75 p -3.89%
Molten Ventures (Grow) 331.20p -3.78%
Pure Tech Health (PRTC) 266.50 p -3.44%
ASOS (ASC) 497.00p -3.21%
Baltic Classifieds Group (BCG) 136.00p -3.13%
Britvic (BVIC) 784.50 p -3.09%
Cainos Group (KNOS) 1,519.00p -3.06%
Petershill Partners (PHLL) 165.20p -2.82%