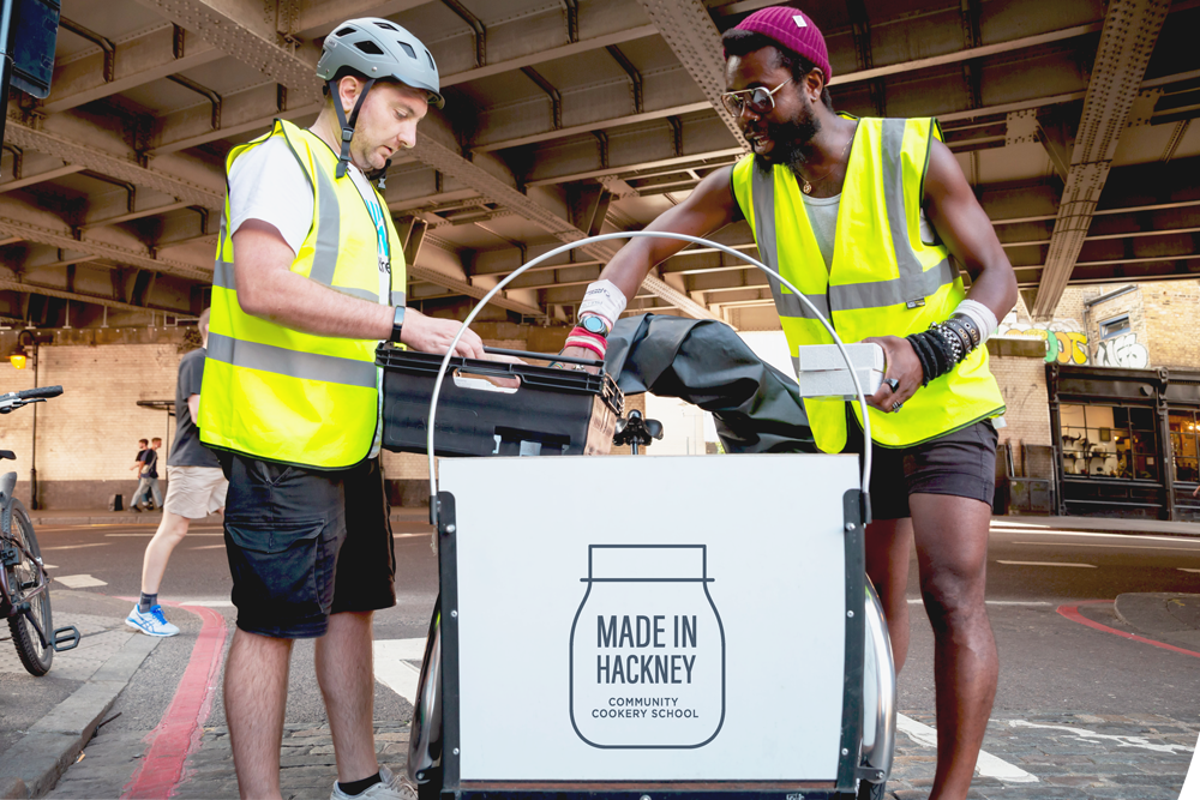 Nobody in the world should go hungry. But when hundreds of thousands of children in the fifth richest city in the world – London – do this, you know something is wrong with society.
I am the founder of Made In Hackney, a plant-based cooking school, charity and now emergency food service. We were originally a provider of nutrition education experiences across London (still are!) but in March 2020 we focused on providing emergency food to our community, embracing the escalating food insecurity crisis sweeping Hackney and spread across the UK.
Hackney may be seen as trendy and gentrified by some today (it is), but 48% of the kids here still live in poverty. About half of the 280,000 inhabitants are struggling to survive. Hundreds of people die prematurely each year due to socioeconomic inequality, and the county has the highest number of people living in emergency shelters.
In addition, the rising cost of living—food, fuel, shelter—has hit our community hard. In 2018, rental prices increased by 68%, the highest in the UK. For low earners and welfare recipients, this is a fatal combination.
In the first week of lockdown we launched the food support service in partnership with Angelina's restaurant. Within weeks we were supporting 500 homes across Hackney with a nutritious cooked meal delivered daily by bike couriers.
Our cyclist visits have been a lifeline for many. Not only did they provide life support groceries (some households told us our meals were the first groceries they had eaten in three days); They called ambulances, called social services in critical situations, bought microwaves, had long, soothing conversations with concerned elders — the care and connection were obviously just as important as the food itself.
We planned for the meal service to last three months, but ninety-six weeks and 125,000 meals later, we're still cooking. We now make the meals ourselves and deliver them in batches of three on Tuesdays and Thursdays. Our chefs specialize in the multicultural cuisine of our community and we create menus together with the people we support.
We never test people for their neediness. When people say they need help eating, we give them food. No one wants to eat foods someone else chose, and the last thing you need in a crisis is the humiliating process of having to prove how bad things are.
But why are we still cooking after all this time? In short, the need is too great and the connections we have made too deep to abandon. Could you?
Our mission has always been to help people grow, cook and eat more plants to improve the health of the planet and people. This is still the case, but when people are in a crisis it's not the right time for a cooking class, they need free groceries delivered to their door – so we're committed to that for as long as we can fund the service . But the nutritional education work is also in full swing.
There is a false but pervasive notion that people fight because of what they do. This is toxic nonsense. In our ministry we have families who live in working poverty – the essential work they do as carers, cleaners, drivers – does not result in a wage that covers their basic living expenses. How is that right?
We have people who have experienced a health crisis and the staggering £96-a-week statutory sick pay is not enough to feed anyone, let alone the people living in London.
There are people who have been sanctioned (meaning their services have been suspended on purpose) for missing a meeting due to a mistake – or in one case for being in the hospital with COVID19. We have families living in shelters without access to a proper kitchen — or a kitchen they feel safe in. I could continue In an ideal world, nobody would need food support. Wages and all kinds of social benefits should be enough to meet everyone's basic needs. But they are not. And until that happens – we have to keep cooking.
Made In Hackney is now crowdfunding to raise £150,000 to fund the food service for the whole of 2022. For a limited time, all donations up to £250 will be matched by the National Emergency Trust – allowing you to match your donation. Click here to make a promise.