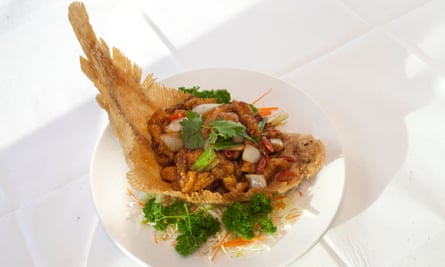 Mandarin Kitchen, 14-16 Queensway, London W2 3RX (020 7727 9012; mandarin.kitchen). Starters and soups £4.30-£13.90, large plates £8.90-£55 (for sharing), desserts £4.20-£8.20, wines from £27.90
London has many Chinatowns. They may not be as extensive as the crowd around Gerrard Street, but they are very strong. When I was a kid, stewed deep in the sweet soy broth of privilege, my family would go to the theater once a year just after Christmas; to bathe in the spotlight of the overture, the sequins and the jazz hand. As is customary at this time of year, we eat Chinese. It was usually somewhere in little Chinatown at the south end of Queensway, just off Hyde Park, where hardworking men would stand in windows and hand-pull noodles, both as kitchen prep and come-here marketing. They had to do it somewhere. You might as well do it in front of an audience.
But time and fashion move on. Each generation rediscovers a city for itself. Rarely have I eaten on Queensway. I would like to review restaurants located at the extreme ends of the UK. But Heimspiel is a different place and I've always been a little wary of anything to the left of Marble Arch. Then a few months ago I wanted to grab a bite to eat before a show at the Royal Albert Hall. Pink Martini – fabulous entrance. Choices around our largest concert hall are depressingly limited, so I looked north across Hyde Park. So I found myself walking-in at Mandarin Kitchen, a seafood temple in the middle of Queensway's tiny Chinatown. I quickly remembered going there as a family in the 80's to make lots of great things including a huge pile of shredded crab with ginger and spring onions. We viewed the mess left on the tablecloth afterwards as a sign of both achievement and family culture. That was us.
"A ginger and spring onion hot sauce": Lobster Noodles Photo: Sophia Evans/The Observer
I've made a little happiness again. It wasn't the fried squid with garlic and chili. That was neat. If any crumbs fell from the rustling heap of crispy battered tentacles and rings, I had them. The salty smashes of fresh red chilli and garlic went too. You can get a lot of adhesion between a thick pad of your finger and the stuff, especially from a linen tablecloth. No, it was all that steamed sole in ginger and scallions that caused the stains as I filleted it off the bone, squirting fin and sauce here and there. It is listed on the menu at "market price". Don't be afraid to ask them the price because they won't be ashamed to tell you. It's currently £38 compared to £48 at Scott's and £65 at Wiltons. And oh my god the cooking of this fish was perfect. Nothing muddy here. It's all a sweet, taut filet that slips off the frame like a silk robe off a pretty shoulder.
In a city where restaurants come and go, Mandarin Kitchen thrives. It first opened in 1978, a project by restaurateur Helen Li and fishmonger Stephen Cheung. Still run by the next generation of the Cheung family, it celebrates its 45th anniversary this year. A few years ago it was renovated, creating a clean space of whitewashed curved vaults, as if they were a series of space-age railway arches. There are soft benches and downlights and staff really happy to see you. It's risky to make generalizations about the waiters in certain types of restaurants, but it's fair to say that many Chinese eateries in central London are staffed by brilliant people who are valued more for their vivacity and efficiency than necessarily for their cordiality . Here you get the complete package.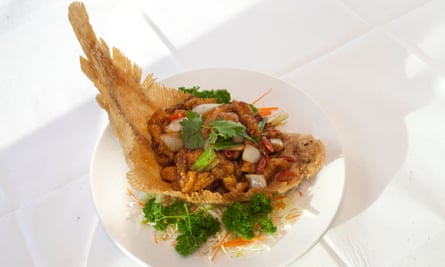 'All sweet, strained filet slipping off the frame': Sole with chili and onions. Photo: Sophia Evans/The Observer
I accidentally walked into Mandarin Kitchen a second time within a few weeks and ordered everything again because I didn't review and it was my money and no one was looking. I finally decided a third, more formal visit was in order, not least to eat the dish they're most famous for: a whole lobster smashed over a pile of soft, thin noodles in a spicy ginger and spring onion sauce is. It's now being copied all over the world, but they claim the creation rights and I won't disagree. It costs a whopping £55 but will feed two with space. In any case, if someone tells you they've found a cheap source of lobster, back off. There is no such thing as a good cheap Hummer.
Ask for extra napkins as you pick up the clams coated in this slightly gelatinous sauce and give in to the urge to suck the sweet flesh from the shell. Follow it with the peppery effect of the sliced ​​ginger. It is the rare, the very comfortable and the luxurious all in one. This time I had fried sole with dried chili and onions, another of my own creations. The fillets had been taken off the bone and the entire skeleton lightly battered and fried so that it curled up into a crispy gondola, which is perhaps the best kind of gondola. The fish was then tossed in a sweet, chili-spicy soy glaze and placed back in the golden frame with translucent onion leaves and lots of chilies. We alternated between pieces of fish, using our fingers to break off chunks of the crispy bones. More napkins were sacrificed.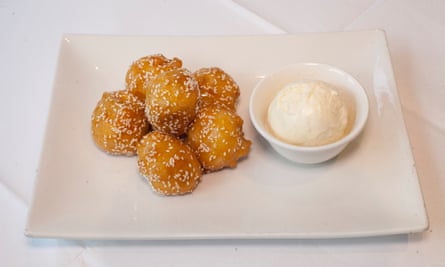 'Crispy Balls of Childish Amazement': Toffee Banana. Photo: Sophia Evans/The Observer
We had other items including a comforting tangle of monk's beard in oyster sauce and scallops steamed on the shell amidst a nest of rice vermicelli with soy dipping sauce. Best of all was a platter of steamed ground pork with salted fish, scented with ginger and sesame oil. It's like giving a piece of pork dumpling inside out. We sipped tea and partied another mess and ended up with ivory cubes of almond bean curd, which is chilled and jelly-like and a little weird. We also had toffee bananas, which are crunchy balls of childish wonder. We were asked if we wanted ice cream with it. It's illegal to say no to a question like that, isn't it?
I recognize that this review gilds an element of nostalgia. My parents are both long dead, but here, at the table, was a whispered echo of those family visits when, without shame or embarrassment, we launched an armed attack on the crab and loved being ourselves. But none of that obscures the fact that Mandarin Kitchen has survived all these years for one simple reason: it's really good.
bite news
Hrishikesh Desai has announced his departure from Gilpin Hotel and Lake House in the Lake District after eight years as head chef at the resort's three restaurants. He will be replaced by three chefs, each of whom will run a restaurant independently. Aakash Ohol has received an internal promotion and will be joined by Lucknam Park's Ollie Bridgwater, formerly of Fat Duck, and Tom Westerland. Owner Barney Cunliffe has also announced a revised and more robust sustainability strategy (thegilpin.co.uk).
Throughout January, Jacob Kenedy of Bocca di Lupo in London's Soho joins food writer Rachel Roddy to celebrate the release of her new book, An A to Z of Pasta. They have selected five dishes from all over Italy whose first letters mean "An A to Z". It starts with a fritto misto platter from Ancona, including breaded and fried lamb chops and olives stuffed with pork and veal, and ends in Zafferana Etnea with a liqueur-soaked, saffron-glazed cassata siciliana sponge cake topped with sweet ricotta and candied fruit Sicily (boccadilupo.com).
Norfolk chef Charlie Hodson has opened what he says is the smallest restaurant in the country. Originally a deli, Hodson and Co in Aylsham has been open four nights a week since November and can be booked for a single reservation for anywhere from two to 20 people, all of whom are served an eight-course tasting menu (hodsonco.co. UK).
Email Jay at [email protected] or follow him on Twitter @jayrayner1
This article was modified on January 8, 2023. An earlier version suggested that the battered Dover sole fillets resembled a gondolier, although "gondola" was meant. The first Newsbite entry has also been changed to correct some inconsistencies.