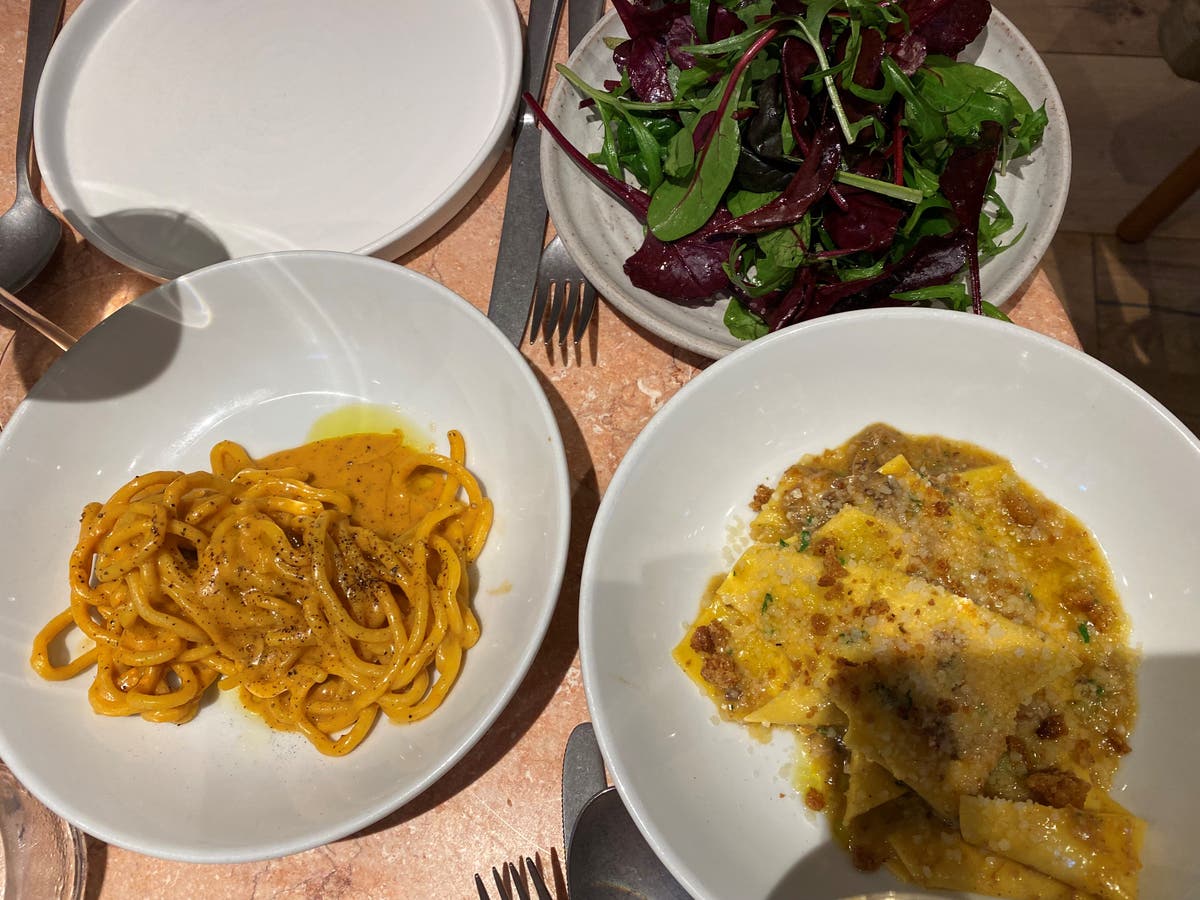 I By the end of our meal at Manteca, we realized that one half of the duo behind this amazing restaurant was David Carter from Smokestak. Suddenly everything about Manteca made sense. Not necessarily because there's culinary overlap (Smokestak is an American-leaning BBQ restaurant, while Manteca is Italian and contributes broader European influences), but because both restaurants confidently fill two gastronomic voids in London.
Manteca started out as a sort of pop-up with temporary stations throughout central London before taking over this former Pizza Express location. You wouldn't guess how the place's past life spawned churning out sub-par pizza praised by the crowds and Prince Andrew. They've done a wonderful job of decorating, adopting a muted light wood color palette that draws the focus – letting the kitchen take center stage and leaving the rest of the room almost completely impersonal. Although they could have kept the original decor without changing things and I still think this place would be swamped on a Saturday lunchtime because you really aren't here for an interior design class. You're here for the damn good food.
Manteca has influences from other London restaurants — there's a bit of St. John in the nose-to-tail approach, there's a pinch of trullo in there, a hint of brawn — but it feels largely individual and very much itself. This is Italian food for people who like to complain that Italian food is boring. Mainly because I wouldn't really call it Italian. I would say Manteca does London cuisine with an Italian accent. It's exciting, it's innovative, the menu offers a range of impeccable pastas (more on that later), but it doesn't take it too seriously, and that's what ultimately impresses.
The restaurant is also a contradiction in terms in many respects. The menu feels long yet short, meat-heavy yet vegetarian-friendly, playful yet serious. There are several aisles, all of which seem to dance around the pasta section – before, after, but inevitably designed to complement it. All charcuterie is made in-house – I ate with a pescetarian friend and sadly didn't get to try any this time, but from what I've seen around me it's a hit. Recommended to order this with the focaccia, which I had my eye on as large plates of it were paraded through the place, and it certainly lived up to expectations; soft, dense, brushed with olive oil and salt, this is one of the best in town.
There is a long selection of small plates filled with things you want to eat right away. The puntarelle alla romana outshines all other greens – thanks in part to the vinaigrette it's lathered in. The crispy stalks are thinly sliced ​​and appear to be bathing in a creamy, smacky, tart sauce, spiced up with the addition of some hearty anchovies. I've recently come to the conclusion that acidity is one of my favorite flavor profiles, and this plate of food really sang a siren song to that part of me. It was also refreshingly simple, celebrating good produce and undeniably simple flavor combinations. I had to put my pescetarian eating partner at a disadvantage in one element; the pork skin ragout. After reading about it before I arrived I couldn't stop by the menu and boy did it deliver. A product of the desire to use every part of the animal, the stew is enriched with the fat richness of the skin but also balanced thanks to the acidity of the tomatoes. A vented pigskin canoe on top was almost comically large, but the perfect vessel for the ragu's deep umami.
(Molly Codyre)
Back to meat-free options; There was a crostino with homemade ricotta, juicy citrus wedges and olive oil that was absolutely stunning. It's one of those dishes that you order and assume it's going to be good, but don't expect it to hit any special notes – this one did. There were other items that were not ordered but coveted; steamed nduja scallops, fennel sausage with quince mostarda (this one in particular will be top of my list when I come back with someone a little more carnivorous) and pork head frites, which seem like a necessary consumption if not just for the bust of their cousin​ ​hang in front of the front door.
Some people might think pasta is overrated, personally I'm a big fan of the stuff. I also agree that making pasta extra exciting can be difficult, so it feels even better when someone succeeds. I could say that manteca comes into its own in the pasta dishes, but that wouldn't be entirely true as I would have been perfectly content to munch through the small plates and not try the pasta at all. But that would be a shame if it's that good. Brown Crab Cacio e Pepe takes London's most popular pasta dish and remixes it. There's an extra dash of depth, a pinch of extra saltiness, a spiciness in the sauce that will have you clawing up every last drop. The duck stew was flawless; Sauce worked its way into every little crevice and crease of the silky fazzoletti, while duck fat pan grattato provided a satisfying crunch. God, even the salad was good; salty, lemony, a little dash of olive oil. It almost seems rude to make a leaf taste so delicious.
(Molly Codyre)
Carter's smokestak experience and Chris Leach's time in the Pitt Cue are most prominently seen in the final selection of dishes – the finale, if you will. There's grilled shorthorn beef and pork chop with a nearly burnt cabbage. We had to stop after being far too excited about the pasta from the first two courses (and also the aforementioned pescetarian) but that seems to be the beauty of eating here and the oxymoron of a menu – I could come back and have one for a whole different one Meal, but one that would feel no less wonderful, or no less in sync with what I ate this time. There is also a chocolate torte which I regret not having ordered since my visit.
What struck me about Manteca was that I felt like I was eating at a restaurant I didn't even realize I was missing. It almost seems to have manifested itself as the exact representation of all the little things I miss in other places. I can see myself having lunch with friends at the weekend, reserving a larger table for special occasions, or just popping in for a plate of this Cacio e Pepe if I happen to be in the area. And that's what makes this restaurant so good; I'm sure it will soon be added to the London Classics list.