Art entrepreneur and auctioneer David Kovats is opening a new gallery space in London's West End this December. As a graduate and professional of Sotheby's, David would like to introduce a gallery model and space that focuses on monthly changing solo exhibitions with an immersive and interactive character. The gallery will open to the public on December 9th at 80 Long Acre, Covent Garden.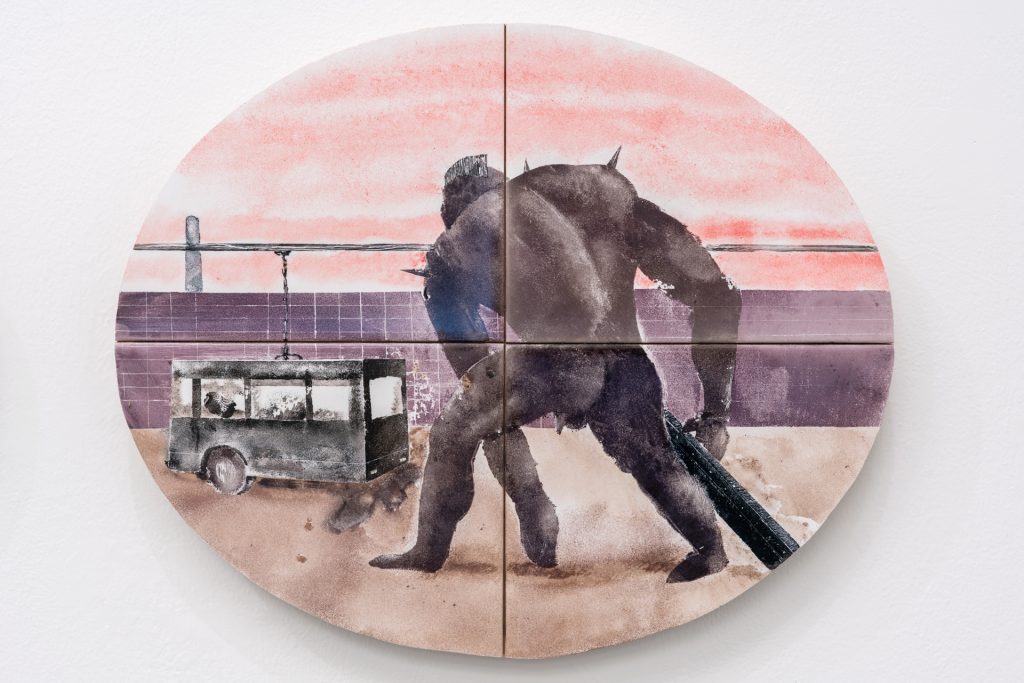 The gallery shows the work of young and established artists from Eastern Europe and particularly from Hungary, David's country of origin. David's vision is to encourage and develop cultural dialogue between Eastern Europe and Great Britain by introducing the work of local artists to an international audience. He has developed a diverse list of artists, including up-and-coming painter Pista Horror (István Máriás) who uses tile as canvas, Petra Combarro, and more established names like painter Istvan Nyari and sculptor Gergo Kovach.
For the gallery's first solo exhibition, Pista Horror (István Máriás), which combines ceramic technology and painting, will take over the 832 square meter room, which offers a haunting experience in its tile work and unfolds its colorful stories on the walls of the gallery. His desire is to present them in more unconventional environments and work on surfaces where they can be permanent – where you can't just take them off the wall and swap them out for something else. This is the artist's first solo exhibition in the UK.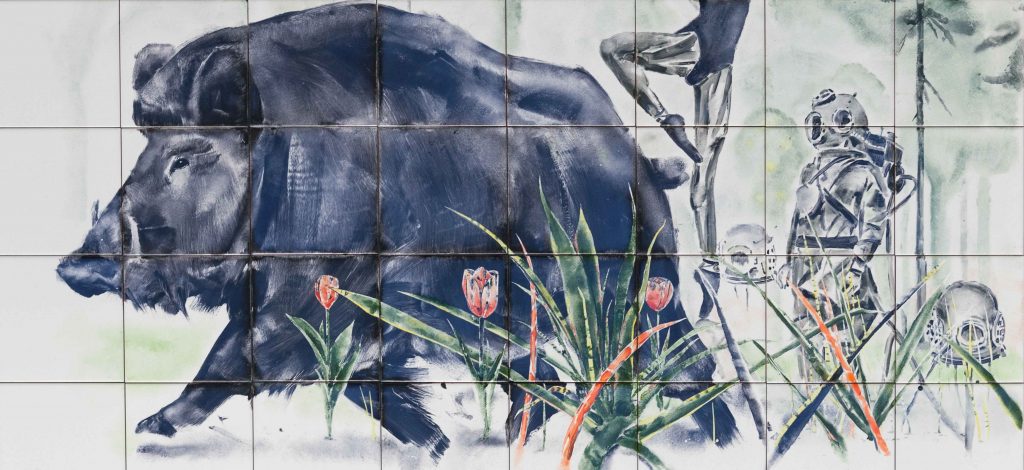 "I don't think of traditional works of art, I'm looking for a challenge that will make us see a certain surface more closely. I don't want to create an everyday work of art, I want to know that my creation has its function and its place. It's inspiring to create this way. '
the artist adds.
Miraculous Deer (a central figure in Hungarian legends associated with the origins of the Hungarian people), glazed ceramic tiles, porcelain paint, gilding, 2019.
Once opened, the gallery will host a rotating program of solo exhibitions that will focus on more Hungarian artists and showcase their work on the London art scene.
"I understand that the global pandemic has made international business challenging and that our sector has been hardest hit. I am still very determined and want to promote my artists, especially in times of Brexit. I am determined to represent international artists in the UK and to keep the dialogue between regions open through my work, with a base in London which is the heartbeat of the global art market. I still believe in the power of physical space ",
David Kovat
David Kovats Gallery 80 Long Acre London, davidkovats.com
About David Kovats
D.avid Kovats was born in Budapest, Hungary, in 1982. He has over fifteen years of experience in the art market and works as a gallery owner, auctioneer and entrepreneur. He was surrounded by art from an early age when his father Lajos Kovats founded one of the first private auction houses in Hungary in 1991. Shortly after leaving school, David ran his own gallery in Budapest. He focused on contemporary art and introduced international artists to the Hungarian market.
David's career highlight was the exhibition that he organized and planned for Hermann Nitsch. Following this project, David moved to London in 2009, where he took the art and business course at Sotheby's Institute of Art. After a week on the course, he fell in love with auctions, especially after joining an evening sale of Impressionist works. David then built his own network, completed an MA in arts and economics, and became an intern and later full-time at Sotheby's.
While at Sotheby's, he worked in the valuation department and led the valuation of major collections. In 2017 David returned to Hungary to open their own Dobossy auction house with his sister Nora, which focused on Hungarian contemporary art. Together they launched a new approach to the market with great success, including a sale in London in 2019.
Categories
Keywords
author
Mark Westall
Mark Westall is the founder and editor of FAD magazine. Founder and co-editor of Art of Conversation and founder of the platform @worldoffad
The project traces the aftermath of a 2010 toxic waste spill in western Hungary that killed nine people and forced the evacuation of thousands.