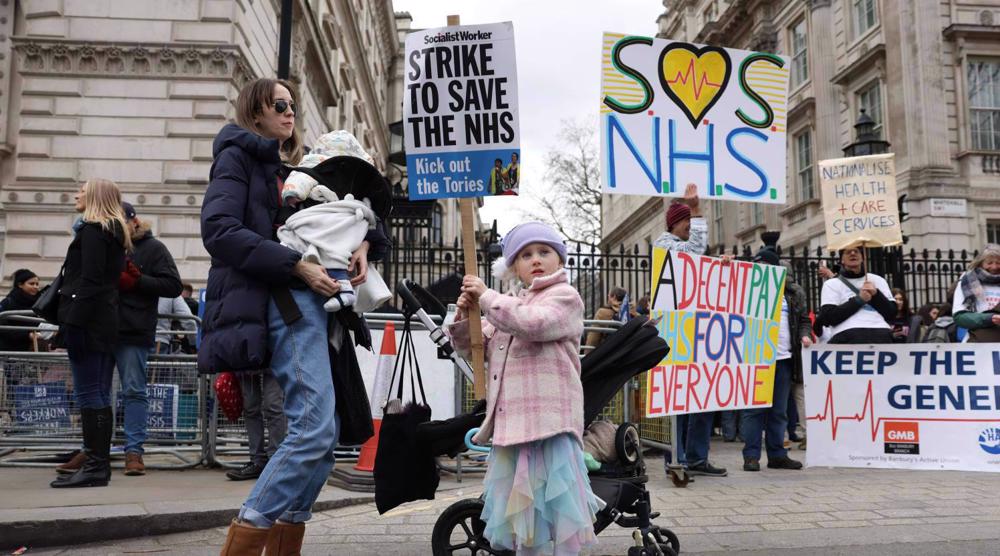 Thousands of protesters marched through London to the British Prime Minister's residence to demand a better healthcare system in the UK.
The protest, organized by healthcare workers and campaigners on Saturday, started in the city center and ended near the British Prime Minister's residence, just to support healthcare workers who are launching a series of strikes over poor pay conditions in the state-funded state carried out by the National Health Service (NHS).
Participants carried placards while chanting slogans demanding better wages and working conditions.
"Our NHS is being sliced ​​up, dismembered, dismembered and sold to anyone who wants to try and take it over," said Jeremy Corbyn, former leader of the Labor Party, who also attended the rally.
The development comes as nearly 40,000 junior doctors, who are an essential part of hospital care, are set to go on strike for three days from Monday.
The upcoming strike on Monday would have a lasting impact on cancer care and waiting lists, the country's top doctor said.
NHS Medical Director Sir Stephen Powis says the strike is expected to seriously disrupt services as thousands of surgeries have been cancelled.
It would take at least several weeks for the service to recover from the 72-hour strike, officials said.
In response, NHS England said the doctors' strike would be even more disruptive than recent strikes by nurses and ambulance workers.
The NHS said it would "prioritize resources to protect emergency and critical care, maternity care and where possible prioritize patients who have waited the longest for elective care and cancer surgery" but thousands of appointments and procedures will be canceled during the 72-hour strike cancelled .
UK inflation is currently at a 40-year high at 10.1 percent in January.
Meanwhile, the Conservative government argues that increasing public sector salaries by 10 percent or more would push inflation even higher.
Health Secretary Steve Barclay promised to hold talks with residents' representatives if they agreed to call off their strike.
"Let's have a constructive dialogue to make the NHS a better place to work and ensure we're delivering the care patients need," he wrote on Twitter.