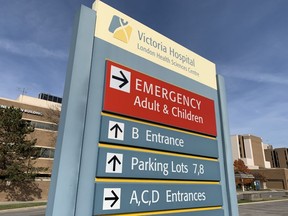 London Health Sciences Centre will ask city hall to pay a significant chunk of the $300 million needed locally to help cover the cost of a massive health-care restructuring for the hospital, and St. Joseph's Health Care may not be far behind with its own ask.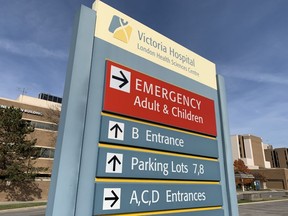 Article content
London Health Sciences Centre will ask city hall to pay a significant chunk of the $300 million needed locally to help cover the cost of a massive health-care restructuring for the hospital, and St. Joseph's Health Care may not be far behind with its own ask.
Article content
The Ontario government is funding a "master plan" document at hospitals, asking them to envision how hospitals will, over several decades, deliver patient care. It's also demanding 10 per cent of the cost of restructuring be paid by "partners" such as hospital foundations and municipalities that use their services.
Article content
LHSC envisions a $3-billion restructuring, putting the cost to these partners at $300-million, which London taxpayers will be asked to help cover. The hospital doesn't yet know how much city hall will be asked to pay. But that has raised fears the Ontario government is downloading health-care costs, a provincial responsibility, on to city taxpayers, city and provincial politicians said.
"I do see this as downloading. Health care is a provincial matter, we do municipal planning and then they download up-front costs," said Coun. Elizabeth Peloza, who is also council's budget chief.
Article content
City hall already collects money for education, ambulance and policing costs and this will add to the tax burden and may drive tax increases, she said. "We're already having trouble with people affording housing. Part of my concern is the hospital welcomes people from across the region and city taxpayers are going to foot the bill for them."

Peloza said she also fears the move is a step toward the Ontario government privatizing some health-care services as it drives up the burden on city taxpayers, who fund the municipal government through property taxes.
"I would just tell the province to use their ($2.1-billion) surplus before adding to our taxes," she said.
Alison Warwick, warden of Middlesex County, is also concerned about downloading but is willing to discuss with LHSC carrying some costs because the hospital serves her communities. She has also seen the impact of emergency wait times on ambulance services in the region.
Article content
"I'm not in favour of downloading by stealth. We've been working with LHSC and St. Joe's looking for solutions for anything that will relieve pressure on health-care systems," she said.
Ambulances must wait at emergency rooms for patients to be treated, meaning they may be out of service for hours.
Ontario's health ministry has given LHSC a $5-million envelope of cash for the master plan study and St. Joseph's has received $2.5 million for its study. St. Joseph's does not yet have a forecast for what its restructuring may cost and what it may ask from city taxpayers.
While new building, renovations and expansion will be part of LHSC's $3-billion plan, it is also about determining what services will be needed and how to deliver them, said Jackie Schleifer Taylor, LHSC's chief executive.
Article content
"We work with the ministry of health to look into the future 10, 15, 20 or 30 years and plan for the world-class health system London deserves," she said. "For major redevelopment projects, there is an expectation 10 per cent of the cost be covered by local funding, including the municipalities LHSC serves and the foundation.
"This is about a $3-billion investment we will ask the government to fund. Ideally some aspects of the master plan can be realized in as little as five years but others, incrementally, up to 30 years."
City hall has been in talks with LHSC about the master plan, but it's too soon to know what the impact will be or how much the city may pay, said London Mayor Josh Morgan. The city already pays for some emergency and health-care services, so having input makes sense, he added.
Article content
"There's a lot of good collaboration happening here. We're engaged in the master plan process. The challenges in health care impact city services. We're willing to participate in the planning process," Morgan said.
The London Health Sciences Foundation has more than $123 million in cash and investments, up from just over $117 million last year. The foundation, which is the hospital's fundraising arm, will support the master plan, said Jon Munn, the foundation's director of marketing and communications.
While foundation fundraising is supposed to be for technology and equipment used in hospitals, he said they know the master plan will pay for brick-and-mortar construction.
"The foundation is supportive of any direction that helps improve care. The foundation has always been committed to the betterment of hospitals and the services they provide," Munn said. "We will support whatever way we can."
Article content
LHSC plans on submitting its proposal from the master plan in July and it may take up to a year and a half for approval, Schleifer Taylor said. St, Joseph's will begin its work in the spring with a goal to have it completed in 2024.
Terence Kernaghan, NDP MPP for London North Centre, also fears the downloading is a step toward health-care privatization.
"It's another example of the province downloading its responsibilities. It puts financial pressure on municipalities that are struggling," he said. "They refuse to say they will not privatize health care. It's deeply concerning. They're creating a crisis so they can look at privatization."

Part of the master plan research includes spending $400,000 to send a dozen officials on trips as far away as Sweden, Denmark, Australia, Texas and British Columbia to learn best health-care practice, Schleifer Taylor said.
Article content
Those trips have been delayed, given the fact the hospital has had to cancel pediatric surgery as a result of a bed shortage. But the money for the junkets will not come from operating budgets or foundation dollars, Schleifer Taylor said.
"Our total planning grant is $5 million and covers everything from research to facility design. Research gathered from all site tours in total will cost approximately $400,000," she said.
In addition to travel, LHSC is hiring consultants to advise and consult with its staff about the master plan. Schleifer Taylor said she expects the trips will prove helpful in "process planning, care delivery and governance. We will get insight in innovating care delivery systems."