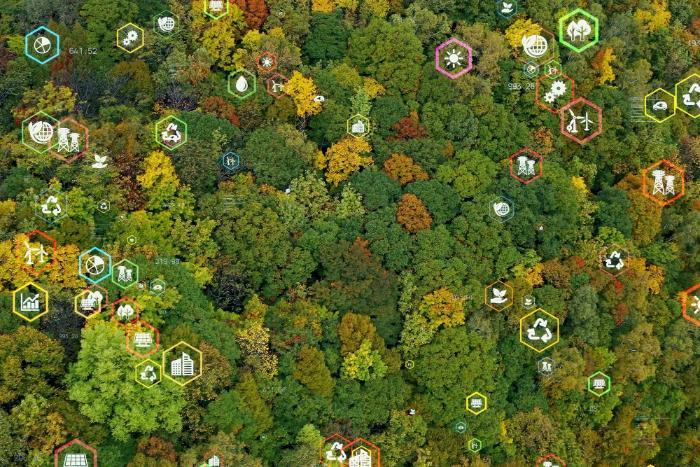 Published on:
November 7, 2022
Professor Wen Wang, Vice Director and Executive Dean of Queen Mary for Science and Technology, said: "The wide distribution of Net zero commitments have been an important step in addressing environmental challenges and rightly mean that we hold ourselves accountable for necessary progress. It's no secret that we have a very long road ahead of us.
We have a common home and we only have one earth. There will always be challenges we face, be they financial like rising inflation or health like the Covid-19 pandemic. However, tackling these does not mean that we should stop our efforts to address environmental challenges. Great scientific advances have been made both at Queen Mary and around the world, and we must work together to bring about change. We owe it to future generations to make the right decisions now, based on scientific knowledge."
Queen Mary academics and researchers paint a clear picture of environmental degradation and the effects of climate change. Through important research and creative and strategic initiatives, Queen Mary is helping to address these issues locally, nationally and globally as follows.
Green Energy Strategy
Queen Mary employs over 60 researchers working on the future of green energy – from source to grid. Over the last five years, our energy scientists and engineers have published 1400 scientific papers, received £11m of research grants, commercialized products, published white papers, created the UK Technology Roadmap and advised the UK Government and international organisations.
Queen Mary at COP27
Queen Mary is proud to be able to attend COP27 with her own delegation. We are one of only a few UK universities to have been awarded Blue Zone passes at COP27. Aacademics Iinstitutions, like Queen Mary, play a critical and pivotal role in influencing decision-makers to implement effective climate action. Our researchers, academics and public projects are at the heart of UK and global climate research.
Thiago Silva de Jesus from our Art Research Center People's Palace Projects will handle the important work of discussing climate change and Indigenous communities, from talking about putting Indigenous peoples at the heart of global decision-making to engaging young people in the issue across the UK.
dr Heather McMullen from the Center for Global Public Health at the Wolfson Institute for Population Health, was a keynote speaker at COP26 and will be attending COP27. Her work examines the intersection of sexual and reproductive health and rights (SRHR) with climate change and environmental sustainability.
dr Philippa Lloyd said: "We have strategically awarded funding and prioritized graduate students and early-career researchers with a research interest in COP as participants to help them build their knowledge and understanding of global climate governance. When they return, we hope they will share their experiences with the wider university and public audience."
The human impact on biodiversity
A new major study of 72 lakes in the neotropical wetlands of Brazil has analyzed the human impact on biodiversity. The research covers a 3.7 million kilometer stretch of human activity in the Amazon, Araguaia, Pantanal and Paraná.
The paper, published in Nature Ecology and Evolution, shows that human influences are changing the control that biodiversity exerts over the "multifunctionality" of wetlands – which refers to the multiple functions that these ecosystems provide.
dr Pavel Kratina, Lecturer in Ecology at Queen Mary University of London's School of Physical and Chemical Sciences, said: "This is one of the few studies to show how human pressures are affecting wetland functioning through their negative impacts on biodiversity. To our knowledge, this work provides the first empirical evidence for a large-scale positive relationship between aquatic biodiversity across multiple groups of organisms and wetland multifunctionality."
decarbonizing the military
Before COP27, Researchers called for measuring and managing the "massive" carbon footprint of the world's armed forces in an article published in the prestigious journal Nature.
The new publication highlights that the UK and US armed forces emit as much carbon dioxide per person as many carbon-intensive countries, and that the US military alone (the world's largest in terms of spending) emits more greenhouse gases than many entire countries – including Peru, Singapore and Switzerland. However, these numbers can be even higher.
One of the authors of the article is Dr. Benjamin Neimark, Senior Lecturer and Fellow at Queen Mary University of London, who commented: "With COP27 beginning this weekend, it is particularly fitting that we should call on the military and researchers to step up their efforts in reporting and mitigation pooling The carbon footprint of the armed forces. If the military does not act on this issue, it will simply not be able to meet the commitments of the United Nations Framework Convention on Climate Change."
Breakthrough technologies reduce energy consumption for industry giants
Two Queen Mary chemical engineers have developed technologies to reduce energy consumption in industry. In two articles published in the journals Nature and Science, Professor Livingston and Dr. Zhiwei Jiang will present her work on nanomembranes – extraordinarily thin membranes that may provide an energy-efficient alternative to current industrial practices.
They demonstrate that their technology can be used to refine two industrial giants – crude oil and cannabidiol (CBD) oil.
Andrew Livingston, Professor of Chemical Engineering at Queen Mary, said: "In industry, an enormous amount of energy is used to separate molecules. The aim of our research is to provide low-energy alternatives to these processes. Because of the innovations in chemistry we have used to fabricate these membranes, we can achieve molecular architectures that achieve excellent separations and provide less resource-intensive techniques for separating molecules."
dr Zhiwei Jiang, research associate at Queen Mary, said: "Diluter is better – the liquid passes through the membranes much faster, which speeds up the process quickly, thus reducing the plant footprint while processing the same amount of liquids."
Flying robots could be the answer to reducing construction emissions
researcher have assembled a team of drones that can 3D print designs while flying. These flying robots can coordinate and make decisions about how to print objects larger than themselves, which could be crucial for a more sustainable construction industry.
Researchers tried to mimic natural builders like bees and wasps to solve the agility problem encountered in ground-based robots. Because their drones can print while flying, they can also build in hard-to-reach places and hostile environments.
dr Ketao Zhang, Lecturer in Robotics at Queen Mary University of London, said: "Natural systems have long been sources of inspiration for engineers creating intelligent artificial machines. The specialized civil engineers in nature – and their constructive approach to building their habitats – are very scalable and adaptable."
Queen Mary leads paperless trade reforms
Miriam Goldby, Professor of Maritime, Insurance and Commercial Law at Queen Mary University of London, is helping to develop the new United Kingdom Paperless Commerce Legislation. The report and draft law are the outcome of the Electronic Trade Documents project carried out by the Legal Commission of England and Wales for the UK Government.
the Electronic Commercial Documents Bill had its second Reading in the House of Lords in this week and now goes through Parliament. If implemented, the reform would provide for the legal recognition of commercial documents such as bills of lading and bills of exchange in electronic form and not only in paper form.
The cross-border trade and transport of goods generates billions of paper documents every year. The International Chamber of Commerce estimates that the digitization of commercial documents could generate £25bn in new economic growth and unlock £224bn in efficiency savings by 2024. This reform would also bring the UK in line with the global trend of initiatives to digitize commercial documents.
Recognition for Queen Mary's sustainability credentials
Queen Mary's commitment to sustainability has been endorsed by two renowned sustainability awards: British Standards Institute (BSI) certification and Eco-Campus Platinum Award.
BSI's ISO 14001 certification guides organizations to evaluate how they manage emergency response, customer expectations, stakeholders and their relationships with their local community. Complementing this work, the Eco-Campus Platinum Award recognizes the university's environmental management systems and processes.
dr Philippa Lloyd, Vice-Principal for Policy and Strategic Partnerships at Queen Mary, said: "We are proud to have successfully completed the audit process to receive both certification and an award. They help us create value for the environment, the university and other interested parties."