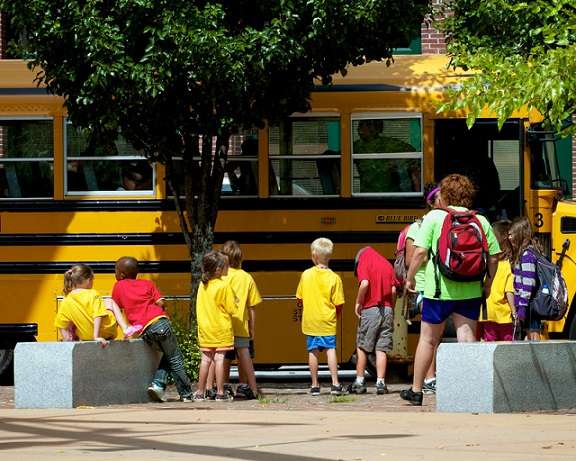 It is going to be a sweltering return to the classroom for students in southwestern Ontario's largest school board.
Wednesday marks the first day of the new school year for students in the Thames Valley District School Board (TVDSB), along with those in the London District Catholic School Board (LDCSB). They are returning to class one day later than their counterparts in the London region's two French-language boards due to a P.A. Day on Tuesday.
Shorts and t-shirts are likely to be the attire of choice, as a heatwave that began Sunday continues. Environment Canada has a heat warning in effect. It warns the daytime high could soar to 31 C, but feel more like 40 C with the humidity. This could mean stifling hot classrooms for some students.
Of the Thames Valley board's schools, only 94 have air conditioning in 100 per cent of classrooms. Another 118 schools are more than 50 per cent air conditioned, while the remaining 141 schools only have "some" air conditioning.
"This year we are working on HVAC upgrades to eight more elementary schools, which would bring our total of schools with full air conditioning to 102 schools," a board spokesperson said.
The decision to move learning outside for students in classrooms without A/C during the hot, humid conditions is up to each individual school. The board did confirm its schools will following guidelines from the Middlesex London Health Unit to avoid intense or moderately intense physical activity outdoors.
At the LDCSB, 89 per cent of classrooms are air conditioned with plans to increase that number to 100 per cent within the next two to three years.
Students in classrooms only equipped with fans can expect cooler learning conditions Thursday. That's when a cold front is expected to pass through, bringing a return of more seasonal temperatures.
The excitement of back-to-school may not have kids thinking about safety, but police are urging everyone to be vigilant.
Kids are encouraged to walk to school in groups on sidewalks and only cross at crosswalks. Those who cycle or scoot to school should always wear a helmet, use hand signals when turning or stopping, and wear bright colours to increase their visibility, police said.
Drivers are reminded to slow down in school zones, obey no stopping and parking zones, and remain stopped at crosswalks until crossing guards have cleared the roadway. All vehicles are required to stop for school buses when their lights and stop signs are activated. Drivers who fail to do so can be charged.