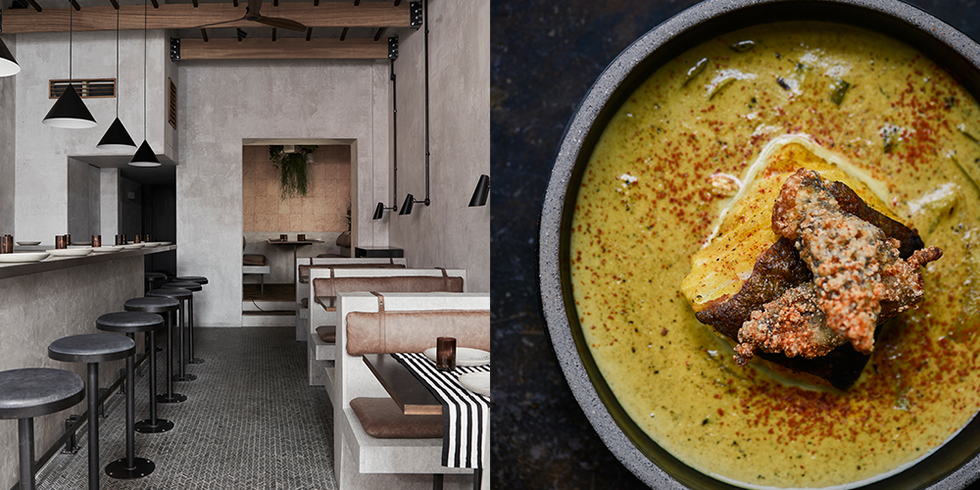 The London restaurant scene, once a gastronomic punchline, has never been more diverse or delicious – and it's also never been more in need of your help. The impact of the pandemic has been immense, plunging most of our favourite restaurants into financial precarity while sadly seeing off many others. It's been reported that turnover in the UK hospitality industry fell by over £200 million a day over the course of 2020, and as a result there were almost 30,000 job losses in the sector. But restaurants have returned, and now is the time to appreciate them.
That being said, picking a London restaurant can be an anxiety-inducing, time-consuming task (and that's before you even get to securing a table). That's why we pulled together a comprehensive list of the capital's must-try spots, spread across a broad price range (£-£££).
Updated regularly, we want you to treat it like a culinary roadmap of the capital's best new openings, local favourites and famed institutions. Tick them all off to get a hearty taste of the city at its best.
KOL/@charliemckay/HDG
KOL
Cuisine: High-end Mexican
Location: Marylebone (9 Seymour Street, W1H 7BA)
Price: £££
KOL Reservations
Was there ever a more cheerful chef than Santiago Lastra? The supremely talented Mexican, just into his thirties, who came up through the ranks at esteemed restaurants such as Mugaritz in San Sebastian and Hija de Sanchez in Copenhagen before helping Rene Redzepi launch NOMA Mexico in 2017, seemed destined for greatness when he finally launched his own venture, KOL in May 2020. But then, well, Covid, and his hotly tipped restaurant had to stay closed until October. But Lastra, as anyone who has crossed paths with him will know, is the type to come out smiling, and with KOL easily outstripping the already high expectations he has plenty of reason to feel pleased.
Lastra's menu, prepared by an industrious team in an open kitchen, contains Mexican staples you might think you know: tostadas, tortillas, tacos; but these are masterful, exalted expressions of familiar dishes, containing things like langoustine, sea buckthorn and smoked chilli, or grilled octopus with bone marrow, potato and seaweed macha. Lastra's food is experimental without being flashy, and though he brings in a few Mexican ingredients (chillis, corn, chocolate), he also champions British produce (beetroot! Cabbage!) that might not always be granted centre-stage. Also, because – as we have mentioned – Lastra's a fun guy, he's opened a Mezcaleria in the basement, but if you want the full Santi vibe, the Chef's Table Experience is where the party's at.
kolrestaurant.com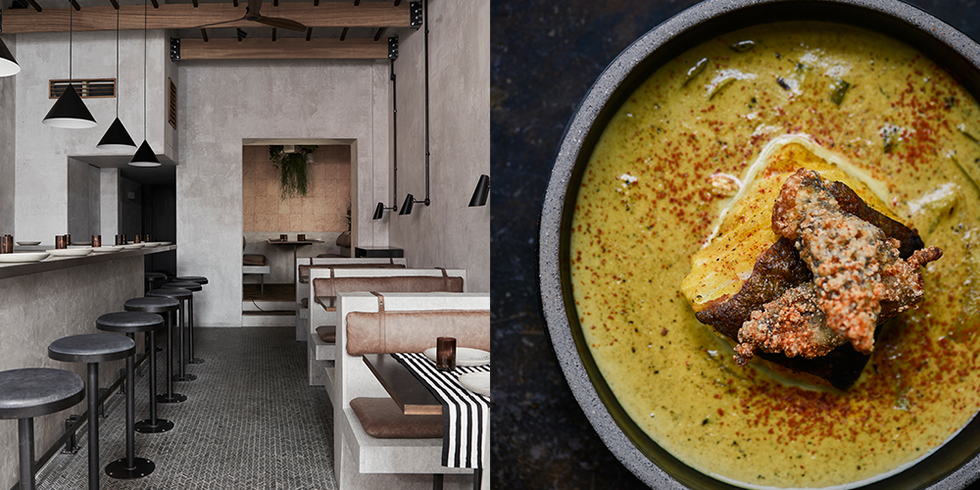 Paradise
Paradise
Cuisine: Contemporary Sri Lankan
Location: Soho (61 Rupert Street, W1D 7PW)
Price: ££
Paradise Reservations
Dom Fernando's debut Soho restaurant – which takes over the tiny site that was once Russell Norman's Spuntino – lets you know in advance that this is food with a "fiery island accent". Lower down on the menu there's another polite warning, or possibly an encouragement: "Some of our dishes are very spicy." True, there's some serious heat on the menu – the stir-fried devilled prawns, malu-miris chilli capsicum with chilli, murunga and burnt lime, or the slow-braised hogget shoulder roll with fermented chilli – but those with Walter-the-Softy palates should not be dissuaded because what Paradise packs most punchily is flavour.
In fact, there is nothing on the small-plates menu, which changes seasonally, that is not seven shades of delicious, from the grilled Ceylonese spiced prawn skewers with seaweed and kelp butter, papaya, palm heart and mango to the pollock curry with winter tomato, chilli (hi again!), lemongrass, langoustine oil and crispy leeks. Props also to the low intervention wine list and the inventive cocktail list which includes a rambutan daquiri and a ginger arrack sour, and to the interior design by Dan Preston, who has somehow managed to squeeze a new row of booths along the wall for extra buzz. Paradise is small and perfectly formed in every sense.
paradisesoho.com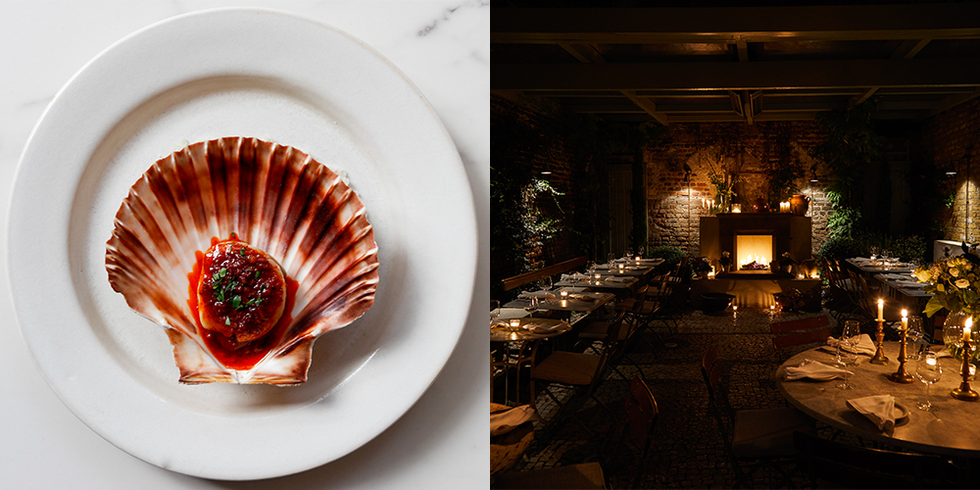 Luca
Luca
Cuisine: Modern Italian
Location: Clerkenwell (88 St John Street, EC1M 4EH)
Price: £££
Luca Reservations
It often seems that restaurants have two choices when it comes to making a name for themselves: either be the buzziest, hippest, reservations-like-hen's-teeth joint in town (for a few months at least, before the crowd moves on), or opt for a more subtle, refined sophistication and elegance that will keep you ticking over for the longer haul. Somehow, Luca, set up by Isaac McHale, Johnny Smith and Daniel Willis of The Clove Club, performs that rare feat of combining both: with its airy, expansive dining room, perfectly judged lighting and terracotta-red and olive-green leather banquettes it feels effortlessly grown-up, but still has a youthful energy – and a lively bar area with all-important conspiratorial booths – that make it a place to be, even five years since it opened.
But there is, of course, one fail-safe way to make sure your customers return, and on that front McHale's team are close to peerless. Let's start with the parmesan fries – which, if you visit, you should too – which, given that they're as light as an angel's vapour trail, have garnered a cult status all to themselves. Then there are the antipasti, for which primarily British ingredients are treated with careful Italian flair, such as tartare of Hereford beef cured in Nebbiolo, or Orkney scallops with Jerusalem artichoke and 'nduja. There are the primi, made in-house in a dedicated pasta room: the taglierini as light as angel's tresses, conchiglie as delicate as a cherub's ear… You get the idea. And we're not even halfway through the menu. If there's one piece of advice we can give you before visiting, make sure you come hungry – no matter how much you indulge yourself, you'll walk out on a cloud.
luca.restaurant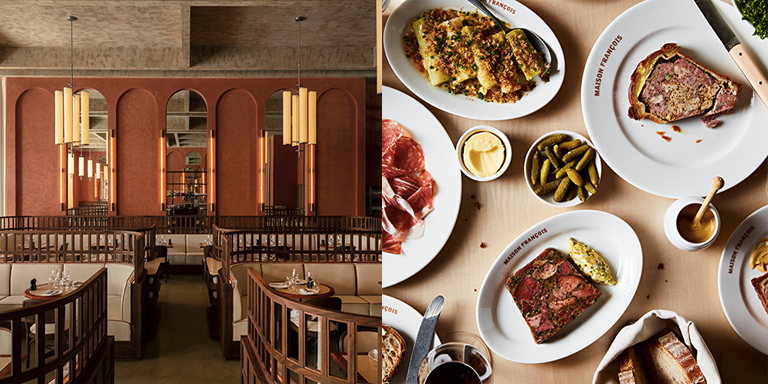 Maison Francois
Maison François
Any restaurant that has a roving pot of cornichons is worth consideration. It's the kind of detail that can set a place aside; clearly the proprietors not only recognise the compact power of the pickled cucumber, but they also accept that some guests will want more than the usual three or four to accompany a delicate heap of charcuterie. Considerably more. Maison Francois, new to St James's in Central London – fast evolving into the Capital's foremost food district – is a French bistro that gets such details right. Beyond the free-flowing cornichons, the bread is good, the butter is soft and proudly salty and the list of sides features just three types of very well cooked potato. Ostensibly, the menu is classically French, with the likes of Oeufs en gelée, moules marinière and Jambon persillé, but it's pared back, nuanced and not too heavy. The anchovy, ricotta and thyme on grilled bread, for example, is an astonishing feat of creaminess, punchy umami and crunch, and not the kind of thing you'd find on Parisian pavement table. The roving continues, and finishes, with the dessert trolley; a mobile selection of sweet things that range from the barely calorific to the exorbitantly decadent. Just order as much or as many as you like. Finally, a French bistro with wiggle room.
maisonfrancois.london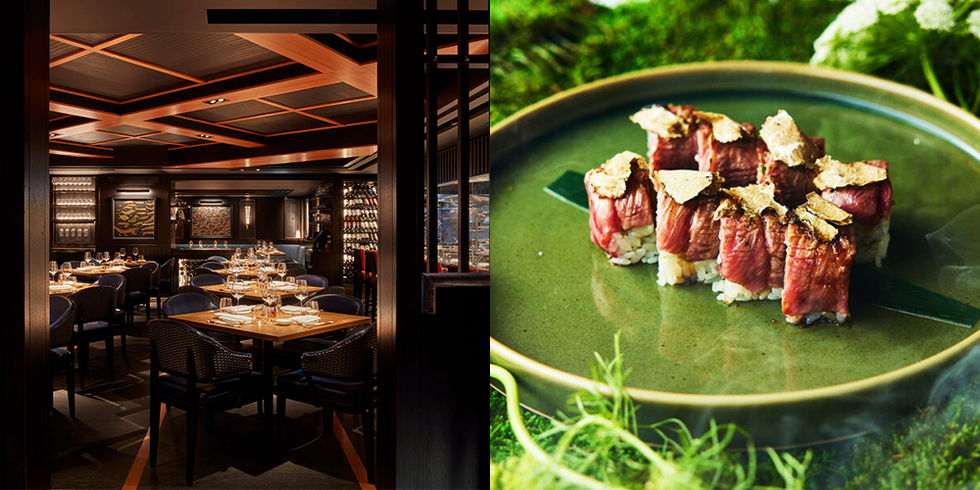 Courtesy
KOYN
Cuisine: Japanese
Location: Mayfair (38 Grosvenor St, W1K 4QA)
Price: £££
KOYN reservations
Strong Succession vibes at Koyn, the super-slick new Mayfair Japanese where the cashmere classes chase their A5 wagyu "hot stone" ishiyake with 25-year-old Suntory from the Hikashu Distillery, and the cost-of-living-crisis is very much noises-off. (We don't say this is a bad thing: if eating-out is your preferred method of hiding from reality, Koyn supplies a very stylish escape hatch.)
With a grand location on Grosvenor Street, in the former American embassy and Canadian High Commission, Koyn, from the people behind the nearby, Michelin-starred Jamavar, describes itself as a "contemporary izakaya" — the Japanese equivalent of a watering hole with bar snacks — which makes it sound a good deal more casual than it is. Food comes from three separate preparation areas: a robata grill, a sushi bar and a kitchen under the direction of New Zealander Rhys Cattermoul, formerly of Nobu.
At these prices — Koyn is aptly named — you'd expect the food to be exceptional, and it is. Esquire was happy to be guided by a knowledgable and enthusiastic waitress, following the menu through Snacks (crispy squid and spicy edamame, plus rice cracker tacos), Salads, Soups, then Cold dishes (sliced dry aged sea bass), Hot dishes, Tempura (enduring some serious side-eye from a whole red mullet), sizzling Robata (the above mentioned wagyu, as well as some spectacular lamb cutlets) before moving on to the Specials, Sushi and Sashimi. Everything we tasted was world-class.
Local point-one percenters, of which there are many, may well adopt Koyn as their new fuss-free drop-in. For the rest of us, this is a new special-occasion restaurant to compete with the best.
koynrestaurants.com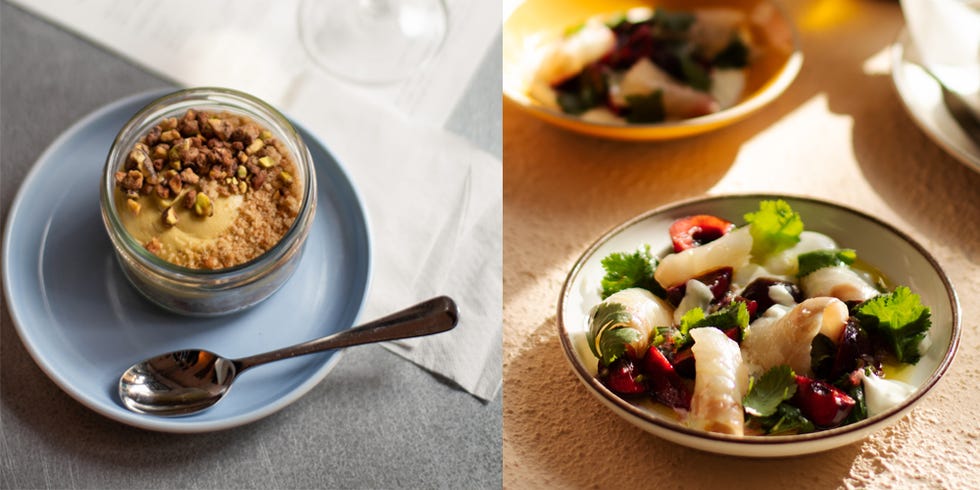 The Barbary
The Barbary Next Door
There's a concept in critical theory that suggests the opinion of the last element of an experience will overshadow the overall opinion of said experience. A good movie with a bad ending will just be viewed as a bad movie, for example. So, implementing that theory, dinner at The Barbary Next Door will always be excellent, so long as you finish with the Hash Pot.
The little pudding, one of only two on the menu, is illustrative of the nature of the restaurant itself. The Barbary Next Door is a lowkey derivation of The Barbary and The Palomar, two of mainest mainstays of the London food scene. (We once made a film about the importance of one octopus dish at The Palomar, you can watch it here.) The menu at The Barbary focuses on the food and history of the Barbary coast in North Africa, and the vibe is… vibey. One big horseshoe bar surrounding a frenetic open kitchen; a night fuelled by deep house, charred meat and really good hummus. At the Barbary Next Door (which is literally next door), there are just a few seats at the bar in more compact space, and proceedings are more serene. The Hash Pot is a virtuous version of The Barbary's Hash Cake, a bombastic pistachio tart that has legendary status amongst those in the know. But in trying to economise, the chefs may well have created something better, because the pot is an exercise in elegance, restraint and textural nuance. And moreover, it achieves what all puddings strive for: to be the exact thing you want to eat at the end of a meal.
Before you get to pudding, though, you need to go through the rest of the menu, and being fairly concise, that isn't hard. You absolutely must try the merguez sausage, which is made in-house, and the chicken pastilla is a confusing, delightful marriage of sweet, crunchy pastry and umami-heavy, shredded chicken. Order a bottle of Chianu Cruci and settle in for the long-haul.
The Barbary Next Door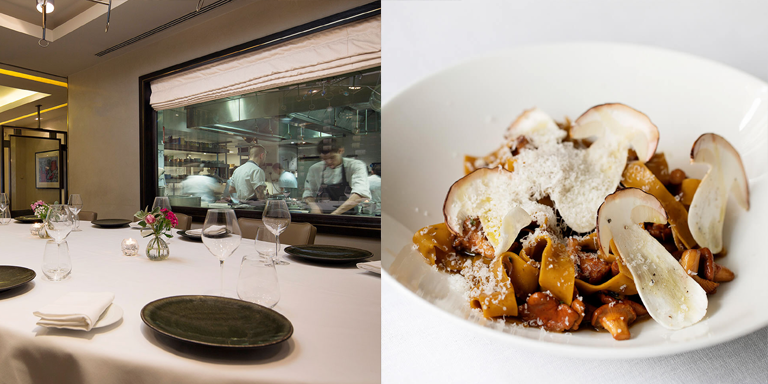 Murano
Murano
Cuisine: Modern Italian
Location: Mayfair (20 Queen St, W1J 5PP)
Price: £££
Murano reservations
Walking into a fine dining restaurant in Mayfair can sometimes be a bit of a daunting experience, but head chef-owner Angela Hartnett has drawn on her Italian heritage to make sure meals at her Michelin-starred flagship are full of warmth and showcase the best of her homeland's cooking. The set lunch – £37 for three courses – is a steal, but the friendly staff are happy for you to switch things up and pick 'n' mix courses from the a la carte for whatever takes your fancy that day. Confit duck croquettes with pear remoulade vs. charred mackerel? Just have both! Lesser-seen pasta – such as fagottini or agnolotti – are arguably better than any speciality restaurants of the moment, and a meal bookended with their home-baked focaccia and lemon tart only goes to remind why Hartnett remains of the country's greatest chefs.
murano.co.uk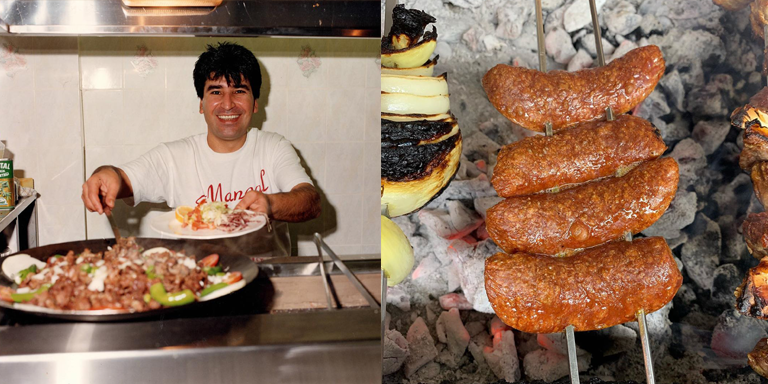 Mangal 2
Mangal 2
To much consternation from the locals – and presumably the artists Gilbert & George, who previously dined here every single night of their lives – Mangal 2 has had a makeover. And while there are not many restaurants that can weather the storm of a gentrified overhaul, we're happy to report that Mangal 2 has pulled a Home Alone: the sequel is arguably better than the original. The same smoky grill that permeates everything within a ten-metre radius remains, but the menu is even more adventurous and delicious. Anything that can be fermented, cured or cultured has been done so with terrific effect; from the Kaymak butter and sourdough pide that you're definitely going to want to start the meal with, to the red pepper sarma (stuffed vine leaves) and the curdy, house cheese (Çökelek) to follow. The meats, of course, still feature heavily on the menu (recently, a Cull Yaw Loin with smoked lamb fat was exactly as good as that sounds, as was a hefty plate of dairy cow sirloin) but there's also more of a focus on fish too, such as Poole Bay clams a la mutton lardo, or the pollock and sarma. Stick around for dessert; while originally these were nothing to shout about, they now deserve a place on the grid. from pear sorbet with grilled grapes to the highly pleasing apple and tahini tart paired with a cherry stone cream. If you're still hankering for the original more traditional ocakbasi, then may we guide you around the corner to Mangal 1? But honestly: your loss.
mangal2.com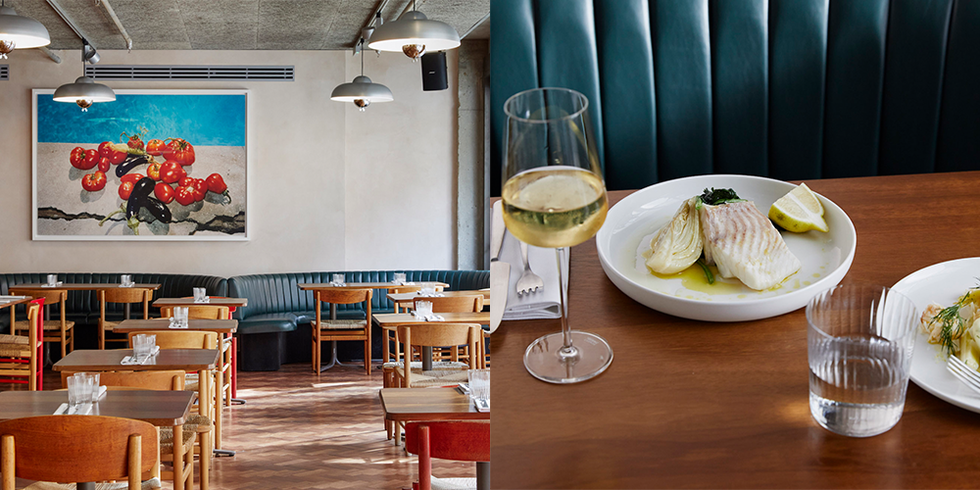 Courtesy
Toklas
Cuisine: Mediterranean
Location: Aldwych (1 Surrey Street, WC2R 2ND)
Price: ££
Toklas reservations
It's always difficult for a restaurant to get the balance of cosy and chichi just right, but Toklas, which opened this year around the side of the increasingly culturally pertinent 180 Strand building, has mastered the art. From its comfortable, spacious and perfectly lit dining room (dim, but still cheery) to its menu which is unshowy to look at but a delight to eat, Toklas has rightly earned a reputation as a low-key go-to for those in the know (as a case in point, on Esquire's visit, one half of a very discerning electro double act was sitting at the next table). Its name, in case you're wondering, comes from Alice B Toklas, the writer, counterculture icon and partner of Gertrude Stein, and perhaps the world's most famous advocate of hash fudge (not on the menu, before you get excited). No doubt Alice, as a celebratedly modest art world figure herself, would have enjoyed at table in a quiet corner.
toklaslondon.com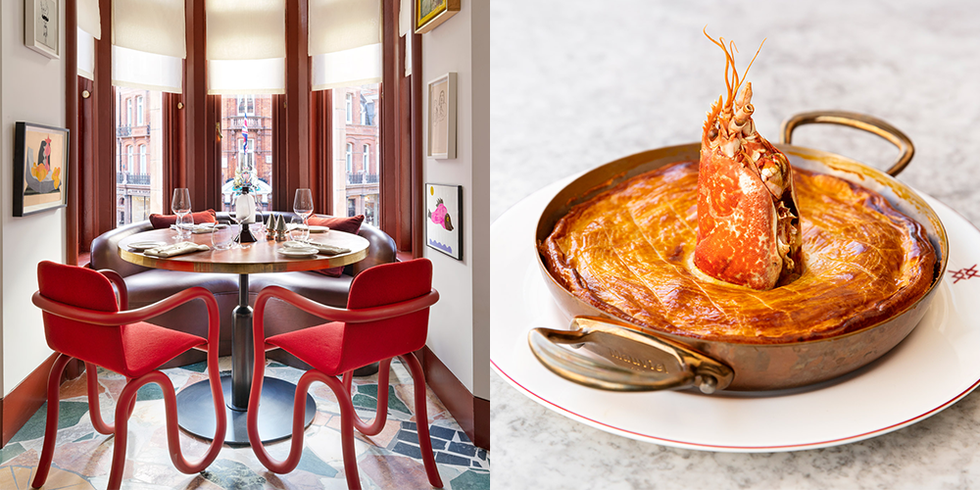 Mount Street
Mount St. Restaurant
Last summer, your correspondent was asked by the Financial Times where he thought le tout Londres would go for power breakfasts, long lunches and special occasion dinners now that the capital's long-reigning monarch of high-profile hospitality, Jeremy King of the Wolseley et al, has been (surely temporarily) deposed, and the gloss removed from Piccadilly's temple to glamorous-casual, modern-classic, see-and-be-seen, all-day eating out.
I did my best. I mentioned a few favourite dining rooms where I thought the nabobs of London's showbiz, media and fashion scenes might gather to break bread, or at least poke at chicken salads. But I was talking without any real clue or conviction. How do you replace the irreplaceable?
Now the question has been answered, at least until King announces his next move. Mount St. Restaurant reposes attractively on the first floor of a landmark 19th century building, on that most moneyed of moneyed Mayfair shopping streets. The site, all five floors of it, including the Audley pub, has been bought and renovated, in some style, by Artfarm, the new hospitality arm of Hauser & Wirth, the gallerists. Under the guidance of their dynamic new CEO, Ewan Venters, who made such a success of his tenure at Fortnum & Mason, including opening the excellent 45 Jermyn St., Artfarm already has hotels and restaurants in Scotland and Somerset and won't be stopping there. (Among other enterprises, they recently took over that fabled Soho institution, the Groucho Club, installing Esquire alum Mark Hix as head chef: a smart move.)
Mount St. Restaurant is so immediately confident and accomplished you can't believe it hasn't been there for years. In a light-filled room arranged around a central bar, with walls decorated with important modern and contemporary art — we spotted Freud, Matisse and Auerbach, just for starters — smart, experienced staff glide across the beautiful and dramatic mosaic floor (by the artist Rashid Johnson), between buzzy tables of the great and the good — plus gawkers like Esquire, who enjoy observing their comings and goings. The new King (not Jeremy, the actual King) and Queen have been in, and everyone who fancies themselves a mover or shaker has joined the queue for a reservation.
Clearly no expense has been spared in the décor. But this is stealth wealth, solid and reassuring, rather than shouty or flash, like some of its Mayfair neighbours. The service is friendly but never familiar, efficient but never hurried. Upstairs there are splendid dining rooms for private hire, and there's an elegant cocktail bar and games room, open only to those with restaurant reservations, that will surely become among the most exclusive watering holes in London.
The menu of modern British classics is appealingly plain-speaking and uncomplicated, but also playful and unexpected: how about mock turtle croquette to start, followed by pigeons in Pimlico? Crucially, in the Corbin & King style, it's full of things you actually want to eat. On a Friday lunchtime in November, Esquire's carnivorous guest reported that the rib-eye steak and chips was as good as any he'd had in an age. Also sampled, also greedily dispatched: grilled leeks vinaigrette and smoked almonds; Stepney smoked salmon; beef tartare and toast; loin of Highland venison, with faggot and parsnips. Plus bloody marys and a cheeky carafe of Chablis. The wine list is long and comprehensive, but then so is life, if you're lucky.
We contemplated that bibulous truism over digestifs, which were taken downstairs, at the bar of the Audley. That, too, has been handsomely refreshed. So were we.
mountstrestaurant.com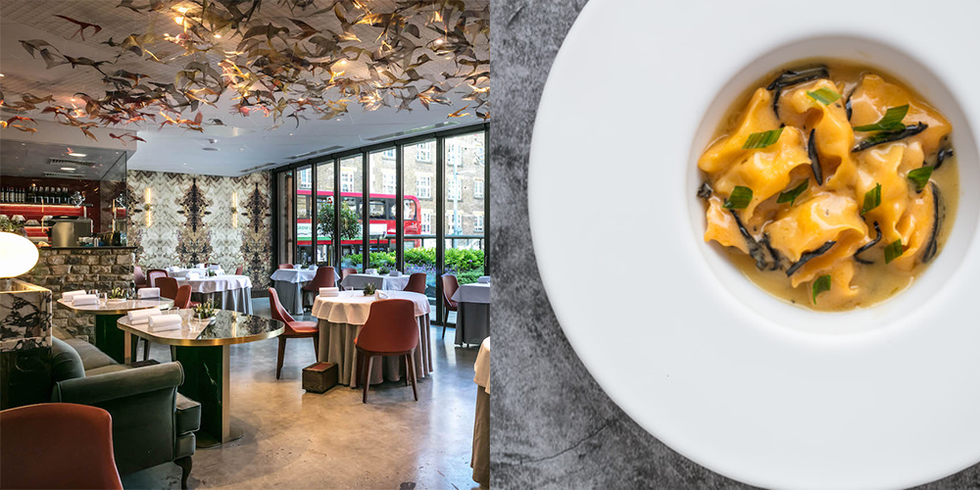 Restaurant Story
Restaurant Story
A one-time public toilet at the wrong end of Bermondsey Street, Chef Tom Sellers recognised the potential of a site nobody else had when he opened Restaurant Story in 2013. It won a Michelin star five months after launch and, though it's been controversially overlooked for an upgrade by the inspectors in the subsequent six Guides, you can taste Sellers's desire for more in every dish he creates. He cooks with imagination, flair and whimsy over six- or 10-course menus that feature mainstays such as his signature beef-dripping candle, which is lit at the table for diners to mop up the meaty molten 'wax' with some of the best bread in London.
restaurantstory.co.uk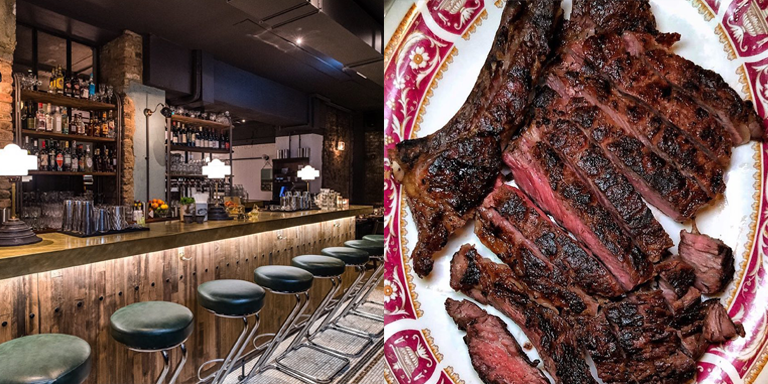 Chophouse
Blacklock
Chops. Big piles of charred and juicy, well-aged chops. There really is no other order here, with cutlets coming in sizes 'Skinny' or 'Large', with an option for having the meat carved off the bone and presented as a grilled lattice of smoking flesh. Gather a group of six pals and order everything, taking two of the outrageously good bacon chops. Double down on each of the house-made sauces, paying extra attention to the chilli-hollandaise. A great range of punchy cocktails sit on the all-day £5 menu, while the truncated wine list has a few good options for popular whites, and a much broader selection of red.
theblacklock.com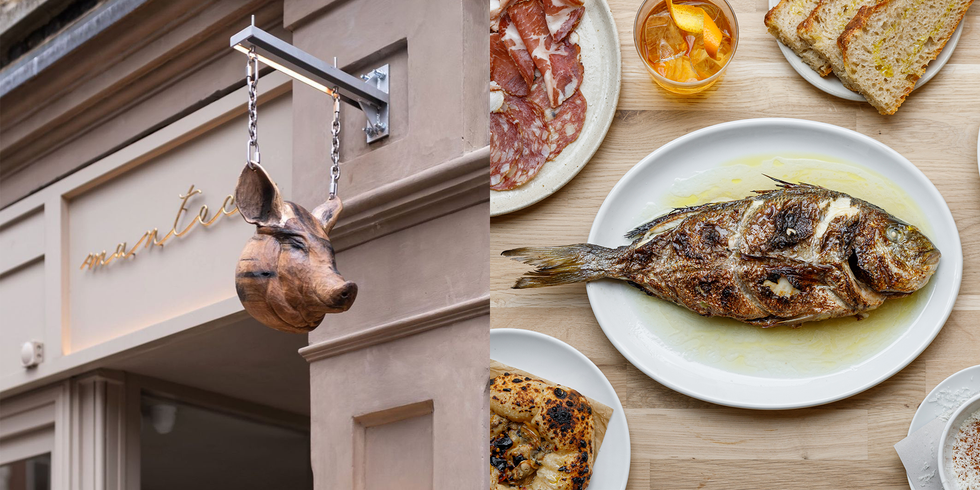 Manteca
Manteca
Cuisine: Nose-to-tail Italian
Location: Shoreditch (9-51 Curtain Rd, EC2A 3PT)
Price: ££
Manteca reservations
In a world ever more stricken with moral dilemma, it is quietly thrilling to encounter a new restaurant that proudly puts meat at centre of operations. And not in the decadent, macho-carnivorous way that the barbecue craze did a few years ago, but with a care and respect and artisanship that inevitably transmutes into delicious, nuanced eating. Manteca, a casual new Salumeria and Italian-inspired restaurant, has now established its nose-to-tail premise in a permanent space in Shoreditch after a successful pop-up in Soho a couple of years ago. Esquire had an early table on a Thursday and it was already jammed with people poring over plates of house-cured meats and tearing apart great hunks of just-oily-enough Focaccia. The Puntarelle Alla Romana salad, in its supreme umami-ness, was a revelation, while the fazzoletti with duck ragu and duck fat pangratatto was exactly what pasta should be. Decadent, textural and mollifying. But it's the details that make Manteca worth dropping into and losing a few hours within; you can start with a bottled Campari soda, which is on alarmingly few menus, and when the pasta's all gone, the team will offer you more bread to mop up the sauce. Go for a salad and glass of something cold at lunch or go with a gang and work your way through the menu. Just go.
mantecarestaurant.co.uk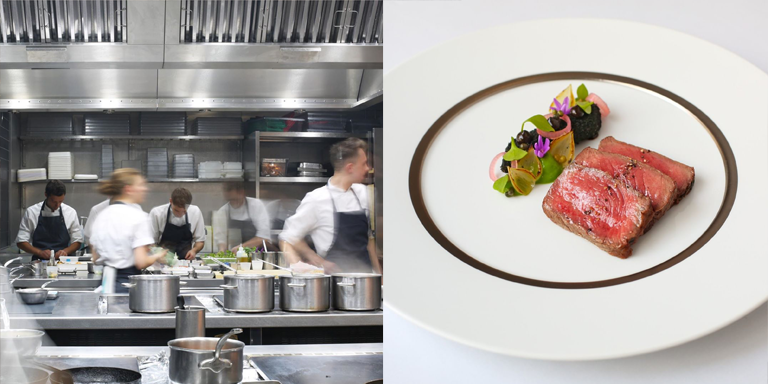 Restaurant Gordon Ramsay
Restaurant Gordon Ramsay
The flagship of Gordon Ramsay's armada, this is widely considered the best fine-dining restaurant in the country. At the absolute pinnacle of luxury, the ingredient list reads like a roll call of finery. Head chef Matt Abe plays fasts and loose with the foie gras, caviar, lobster and langoustine across nine courses, each as elegant as the next. Classic French technique underpins the menu, which features well-timed punches of citrus and pickle, but the real genius lies in the pace of the food: portion sizing and time between the courses is balanced to leave diners always wanting more.
gordonramsayrestaurants.com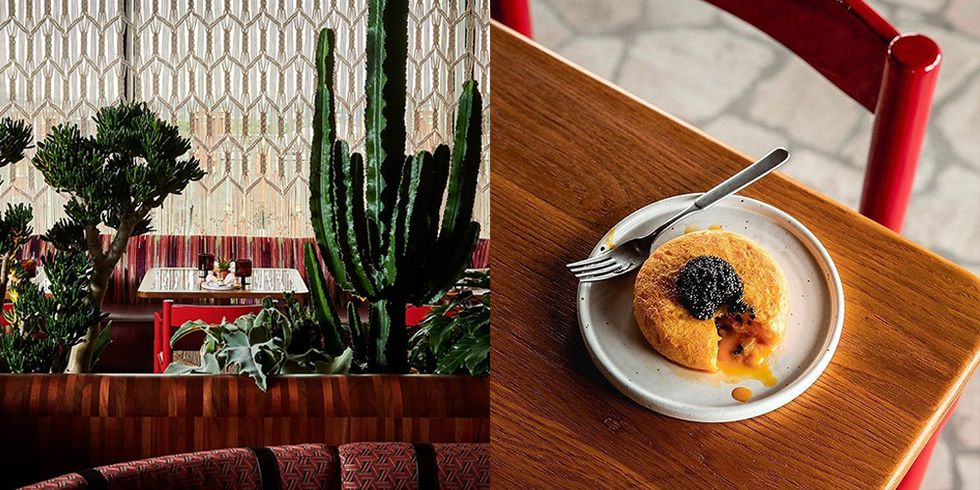 Decimo
Decimo
Cuisine: Spanish / Mexican
Location: Kings Cross (10th floor, 10 Argyle Street, WC1H 8EG)
Price: ££
Decimo reservations
After conquering Bristol with informal tapas joint Casamia, Peter Sanchez-Iglesias has stepped things up several notches with Decimo, an of-its-time restaurant atop the Standard Hotel. Instagram darlings sit side-by-side with a media crowd, who lap up the ambient DJ, luxe styling and a late-night service that sees artfully arranged plates fly out of the kitchen until 2am. Fusing Spanish and Mexican culinary identities, expect aguachile (Mexican ceviche), suckling pig tacos and Spanish bomba rice. However, the dish gracing the grids of serious eaters and Instagrammers alike is the caviar tortilla: 25g or 50g of Ossetra finery perched on an omelette that, when sliced, oozes criminally runny yolk that's perfectly cut by the salinity of the roe.
decimo.london
Hide
Above at HIDE
You'll recognise the staircase. Hide's spiralling, tree-like centrepiece extended its sinuous branches across every London newspaper and food blog when the restaurant launched back in 2018, and it remains as imposing as ever; a great oak plucked straight from Gaudí's garden. But walk up those steps to the aptly named 'Above at Hide' – the slightly higher-end restaurant to the ground-level option below it – and you'll find even more compelling proof that you're eating somewhere pretty special. There's the long floor-to-ceiling window that lets you gaze into Green Park (and, less impressively, a stream of double decker buses) as you dine. Then there's the sprawling wine list that's delivered to your table on an iPad – six thousand bottles from the cellars of Mayfair's Hedonism Wines, with prices ranging from £15 to, err… £276k. All can be delivered within 15 minutes. Finally, there's the sight and smell of Ollie Dabbous' eight-course tasting menu circulating around the room Starters include charcuterie speared on (fake) bone and feathers (referred to as 'Flesh & bone', served alongside iced gem lettuce and broth). Then there's the 'Nest egg' – a smoky signature dish of egg yolk, butter, toasted mushrooms and cream, poured into a cracked shell upon a bed of hay. The zingy fig leaf granita is another highlight, as is the steamed turbot in a warm nasturtium broth, but the wine pairings will ensure that you can't quite remember your favourite.
hide.co.uk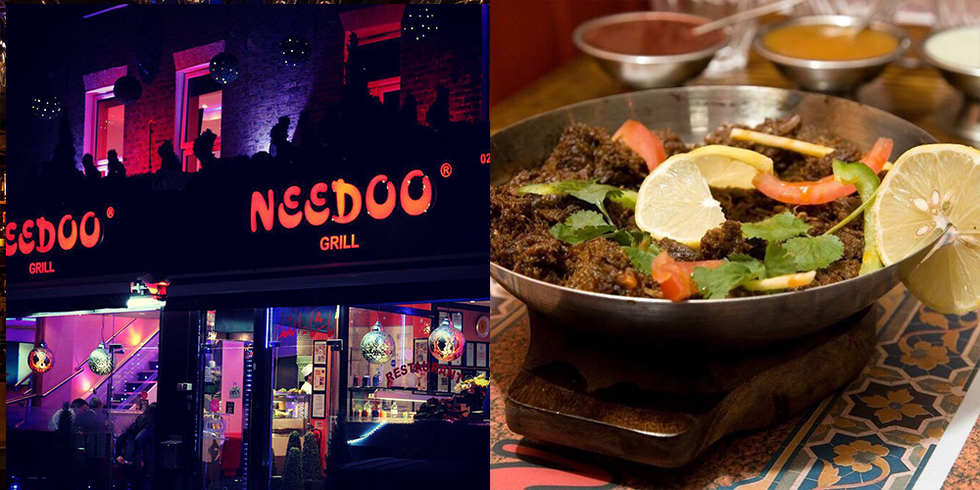 Needoo
Needoo
Thought Tayyabs reigned supreme for grilled meats and curries in Whitechapel? Think again. Although it might remain the mecca for many Indian food heads, the more clued-in go a naan's throw away around the corner to Needoo instead. Less rushed-in, rushed-out than its counterpart and without the monstrous queue, Needoo was opened in 2009 by a former manager of Tayyabs, and the whole experience is a little more refined at version 2.0 of the curry house (you still get the pumping Bollywood soundtrack, though). The wafts of smoky mixed grill that hit you on the way in have a Pavlovian impact on your salivary glands, but think beyond the carnivorous options: the chefs also spice up vegetables like okra, aubergine and baby pumpkin. The best bet, though, is to go for the changing daily dish of the day – Monday's Kerahi lamb chop masala and Friday's King Prawn biryani are the standouts.
needoogrill.co.uk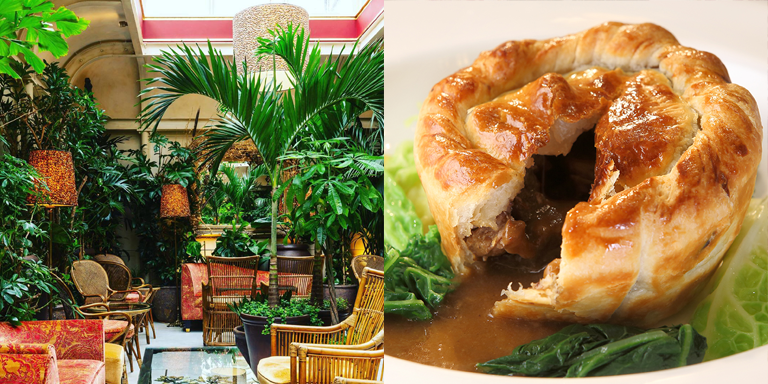 Rules
Rules
Cuisine: Traditional British
Location: Covent Garden (34-35 Maiden Ln, WC2E 7LB)
Price: £££
Rules reservations
Proudly established as oldest restaurant in London, Rules has been doing things properly since 1798. A bastion of fine British service, nights should begin with a classic martini, taken in the Winter Garden cocktail bar. Crimson velvet runs through the interior, with lacquered ceiling fans and banquettes so deep and comfortable, they encourage a return to the three-bottle lunch. Autumn is the best time to book, when the UK game-focussed menu really hits its straps. Roast grouse with game chips followed by a pick from a selection of rib-sticking sweets – sticky toffee pudding, Golden Syrup sponge, bread and butter pudding – is the pro order.
rules.co.uk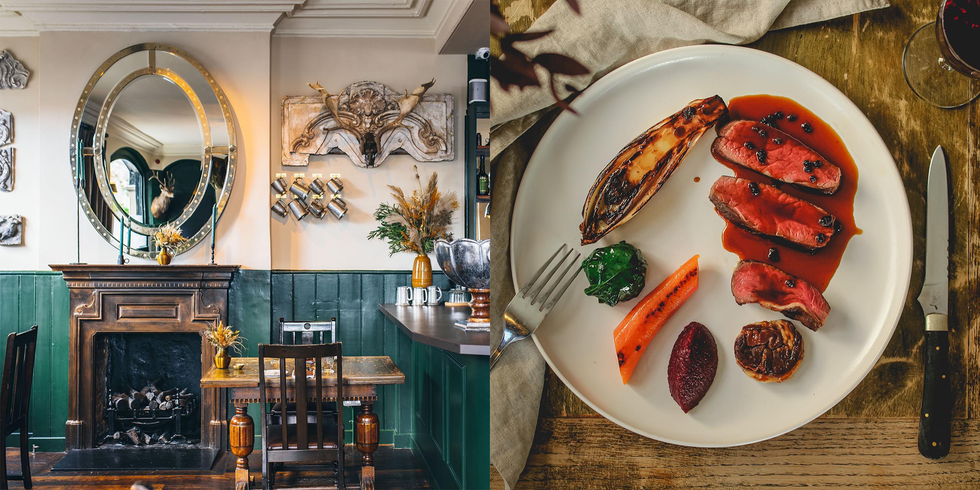 Instagram
The Harwood Arms
From the outside, the Harwood Arms looks very much like a typical London pub. It sits, high and handsome, on a corner of an otherwise unremarkable back street in Fulham, a short, well-heeled swagger — or stagger, if you're post-prandial — from Chelsea FC's Stamford Bridge.
From the inside, it looks very much like a pub, too, albeit a smart one: dark wood furniture, a mirrored bar, well-fed locals being well fed.
This is because it is a pub, although there's nothing typical about it. The principal difference is the food. While plenty of cheerless gastropubs are happy to sell you a bog-standard steak sandwich and a pint of pale ale for £30-plus, the Harwood Arms sets itself apart. It is the only Michelin-starred pub in the capital and, on a recent Friday lunch time, it wasn't difficult to understand why.
The pedigree is immaculate: Brett Graham, chef-patron of The Ledbury, among London's most feted restaurants, is the director. Head chef is Jake Leach, formerly of The Ledbury and Simon Rogan's Fera, at Claridge's. As you'd expect from such august associations, the kitchen at the Harwood Arms works with only the best British produce. There is a focus on game and wild food, and much of the veg is grown on the pub's roof garden.
With that kind of background you wouldn't imagine it'd be cheap, and it's not. But prices compare favourably with the far more pallid offerings available in far too many other posh pubs: £50 for two courses; £65 for three.
We started with feisty Bloody Marys to get in the mood, and the unmissable venison Scotch egg. Next: a cheese tart to convert even the most quiche-averse (I usually count myself among their number; not this time), plus chunky, punchy Isle of Wight tomatoes. Then red ruby beef cheek for my fellow work-dodger, and slow-cooked lamb shoulder for me. We made extensive use of the extensive wine list, and trundled off into sunny southwest London grinning.
In fact, so much fun had we had that, some hours later, we found ourselves sitting outside another pub, this one of the ever-so-'umble variety, in Shepherd's Bush, sinking seven-quid pints and putting the world to rights. This looked like a pub from the outside, and it looked like a pub from the inside, too. That's because it was a pub, nothing less and nothing more, and nothing wrong with that. But I don't think they've ever blown anyone's mind with a cheese tart, or picked the perfect glass of red to go with a beef cheek. Neither do I think the people from Michelin will be darkening their doors anytime soon.
The Harwood Arms is, proudly, a London pub. You can happily pop in for a lager and fist of crisps. But you can do that anywhere. My advice: book a table, take the afternoon off, and dig in.
harwoodarms.com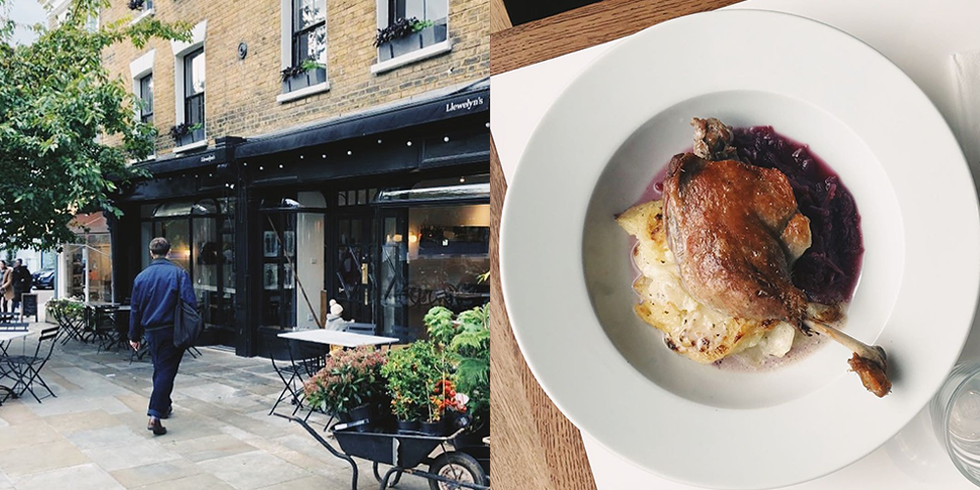 Llewelyn's
Llewelyn's
Lurking in the shadow of Herne Hill's railway arches, Llewelyn's is the kind of neighbourhood joint that you find in far too few neighbourhoods. Set in a light-filled Victorian dining room, pared-back Scandi design provides a backdrop for a mostly local crowd – one that's been trying to keep it under wraps since its 2017 launch. At the pass is Chef Lasse Petersen, whose tenure at Copenhagen's Amass and 108 comes through in a menu that leans on the New Nordic canon. Expect a concise list of small plates and sharing mains. Mainstays include cavatelli with pumpkin, hazelnuts and salted ricotta, lamb kleftiko and pickled mackerel with pink fir and horseradish crème fraîche. On sunny days, tables trickle out onto the square: arrive early to snag one.
llewelyns-restaurant.co.uk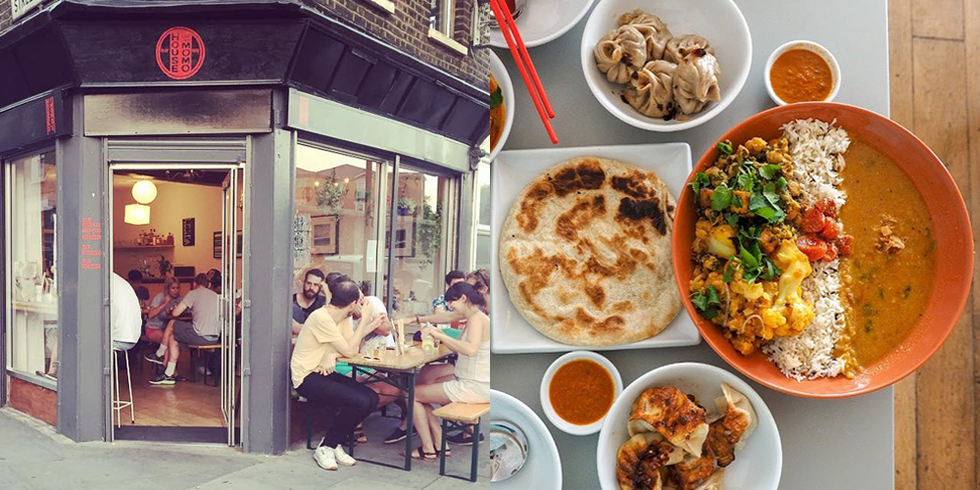 House of Momo
House of MoMo
Cuisine: Nepalese
Location: Dalston (52 Boleyn Rd, N16 8JP)
Price: £
For the uninitiated, MoMo are Nepalese dumplings, and like every national spin on delicious stuff wrapped in dough, they prove yet again that we've never met a dumpling we didn't like. This busy cafe is perched at the edge of Dalston's Gillett Square, so you might find yourself sharing a bench with a guest DJ at the nearby NTS Radio, and the venue pumps out a steady stream of handmade steamed or pan fried dough balls (from £4), served with either a spicy, nutty jhol achar sauce, or a sweet yet slightly sour tomato chilli sauce to drown them in. Their filling set lunch of thali – curry with dal, rice, and paratha (£8) – is always a great shout too, with a spoonful of pickles giving a little kick to carry you through until home time. There'll be plenty of repeat visits once you get the taste for these little guys.
houseofmomo.co.uk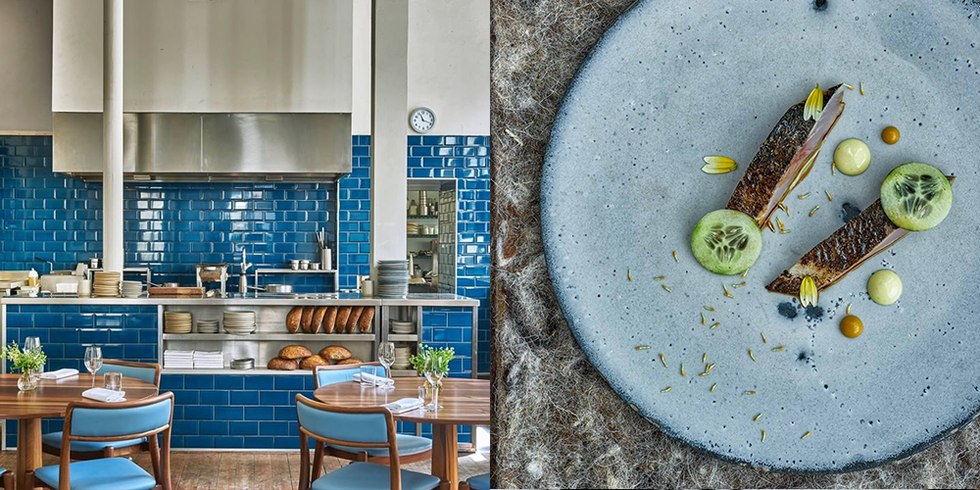 Clove Club
The Clove Club
Chef Isaac McHale's philosophy is 'reinventing modern British' and it is one that has earned him and front-of-house business partner Johnny Smith the highest rank for a UK restaurant in The World's 50 Best Restaurants list 2019. Having trained at Noma, Eleven Madison Park and The Ledbury, tropes from each are evident in his cooking, which centres on UK ingredients treated simply and plated beautifully. The signature Orkney scallop, Périgord truffle, hazelnut and mandarin comes on both the six- and 10-course tasting menu, quickly followed by Parten Bree, a Scottish spider crab hot pot, that is McHale's modern take on a traditional Scottish soup. The dining room is beautifully bright and breezy; a welcome respite from the greying east London streets outside.
thecloveclub.com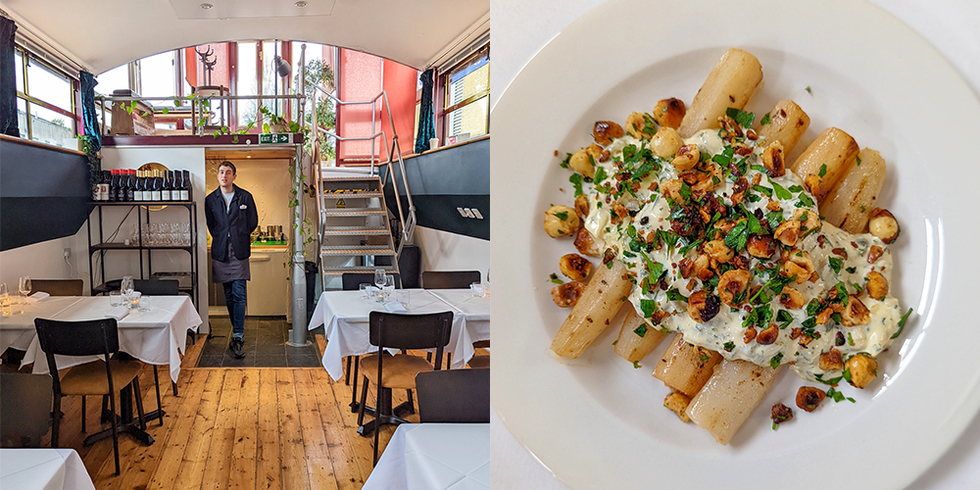 Caravel
Caravel
Cuisine: French/Italian
Location: Regent's canal (172 Shepherdess Walk, N1 7JL)
Price: ££
Caravel reservations
In the age of social media, every new opening needs its billboard, Instagrammable thing. It could be a dish (Octo-Hummus at The Palomar), a work of art (Damien Hirst's cow at Tramshed) or even a 'push-for-champagne' button at every table (Bob Bob Ricard). At Caravel, an impossibly charming little bistro in Islington, the 'gimmick' is that the restaurant is a converted barge, moored up in the Regent's Canal. But to focus on its photogenics would be foolish.
Access is granted via a buzzer on the gate by a footbridge – not unlike how one gets into Rochelle Canteen in Shoreditch, and the similarities don't stop there – and once onto the private pontoon, the vibe is easy and sun-dappled, an oasis of calm a stone's throw from the clatter of City Road. Or at least, it was when we visited on a Friday night in mid-May. Inside the barge – double-height, so not at all cramped – there is space for 40 people seated at papered tables, each fitted with a little lamp. A kitchen at one end and a bar at the other; the last of the evening sun pinking the walls. Wes Anderson would swoon.
Sitting proudly in that abridged modern brasserie bracket that's so prevalent right now (see Café Cecilia, Rochelle Canteen etc.), the menu is concise and confident in its simplicity. We started with miniature potato röstis slicked with caviar-studded sour cream, followed by a duck croquette as crispy without as it was moist (sorry) within. Then a generous portion of asparagus with almost-too-much sauce gribiche and roasted hazelnuts, before turbot and braised chickpeas. The former was delicate and poised, and thanks to a crab broth, in need of an emergency bread order for dipping. A side of spring greens – the most under-appreciated side, perhaps? – came dripping in butter and spiked with chilli and garlic. Simple, joyful stuff.
When you go, and you must, start with a rose negroni (like a regular negroni, but floral) and finish with the banana and pistachio tart. We didn't, and we wished we had.
thestudiokitchen.co.uk/the-boat
Courtesy
Rita's
Cuisine: Modern American/seasonal British
Location: Soho (49 Lexington St, Carnaby, W1F 9AP)
Price: ££
Rita's reservations
Come for the peppy jalapeño gildas, stay for the mini-Martinis and pretty much everything else on the menu. Gabriel Pryce and Missy Flynn's restaurant has taken on many forms over the years (shout out to the fried-chicken-in-a-bag at Dalston's Birthdays era!) but the latest incarnation in Soho's Lexington Street feels like a perfectly fitting forever-home for this roving duo.
Leaning into Pryce's Americana/Mexicana kitchen history, the dishes now veer into seasonal British territory with thrilling results. Recent favourites included a whole grilled hake, with coco beans and a punchy macha pico, or the vegan-that-you'd-never-guess-was-vegan burnt tomato fregola with saffron, olives and capers, that the pair say was inspired by a recent trip to Sardinia (follow their foodie travels on Instagram for a future glimpse of what could be starring on the menu soon). The mains are always hearty big dishes but there are of course still always small plates for those who prefer to graze. Pryce does amazing things with seafood, such as the memorable clams in creamed celery, mopped up with Idaho scones, and if the peel 'n' eats (as they dub their whole prawns) are on the blackboard, you won't regret ordering a portion for the table.
Flynn continues to make a name for herself as one of the smartest in the UK's drink game, with bang-on impeccable taste. There's a short but sweet selection of natural wines on the list, but don't leave without having an eponymous 'rita. With grapefruit, green chile and celery in the mix, you can almost convince yourself the mescal El Madrina is as healthy as your morning Nutri-bullet offering. Better have a second one, in that case…
ritasdining.com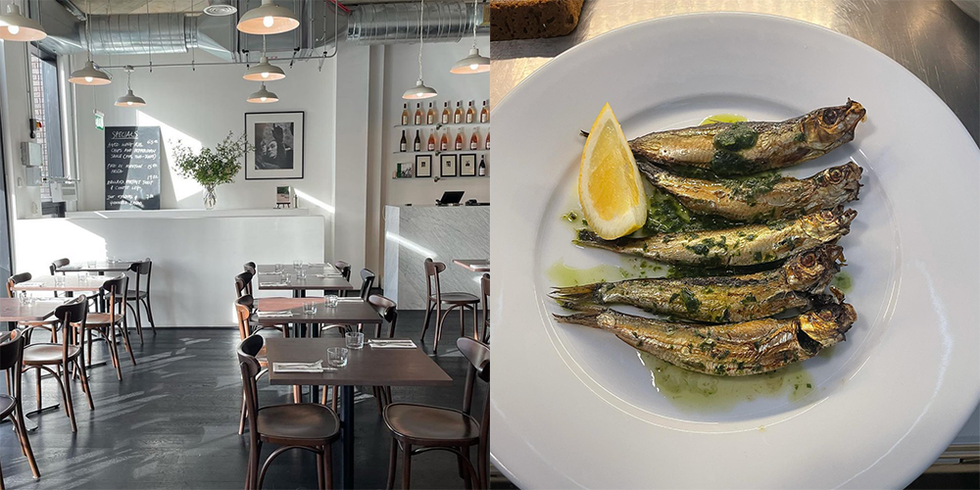 instagram
Café Cecilia
Café Cecilia popped up in a nondescript canal-side building round the backend of Broadway Market in the summer of 2021, and has since overshadowed the much-Instagrammed East London street so much, it's arguably become the real star of the area. That's very much down to the head chef, ex-River Cafe's Max Rocha – also son to Irish designer John Rocha – who's managed the tricky task of creating both a casual neighbourhood restaurant that's also a firm favourite with the high-fashion, creative set of the area too.
The monochromed design of the cafe (very definitely not a 'caff') is pleasingly '80s in style, but there's no doubt that the menu is anchored firmly in the 2020s: modern European small plates that boast seasonal produce. Rocha's Irish heritage shines through with his signature Guinness bread and butter (get ready to sink it as quick as a pint), while the black stuff rears its welcome head again in the desserts by way of the Guinness bread ice-cream, its evolved form even more delicious than the original. While there's a strong bent towards veggies at Café Cecilia – delica pumpkin with cavolo nero, butterbeans and labneh being a tasty recent dish – the meat plates are worth a visit in themselves: tender leg of lamb served with rich pommes anna and anchovy, while the classic onglet with peppercorn sauce and chips is a long-stayer on the menu for a very good reason. It's hearty, homely yet refined, which seems to be the very successful ethos behind Rocha's entire culinary operation.
cafececilia.com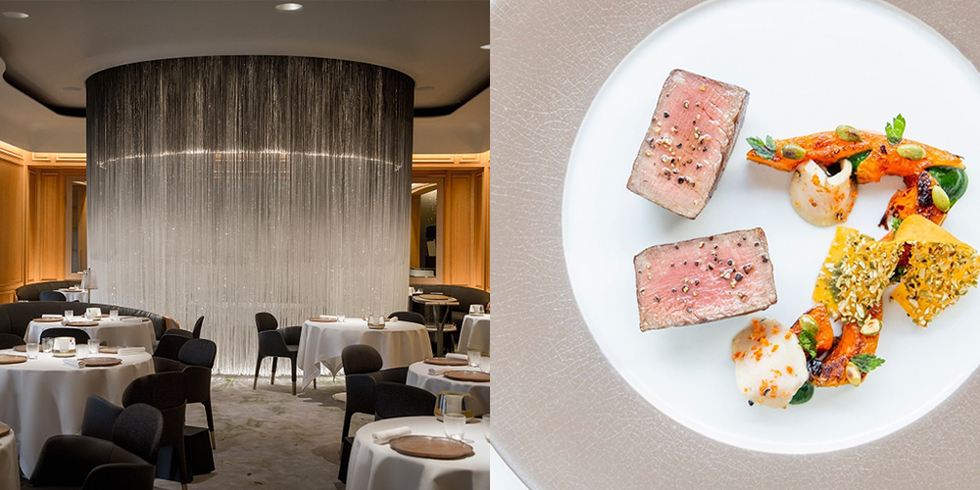 Ducasse
Alain Ducasse at the Dorchester
Helming one of only two Michelin three-star restaurants in the capital, the world's most decorated chef, Alain Ducasse, considers his only UK outpost one of his best. Designed in emblematic style with neutral earth tones juxtaposed to curtains of crystal which splay light across the dining room, it's a fine-dining restaurant with a distinctly modern feel. Head chef Jean-Philippe Blondet follows suit with the menu. French classics – pot-au-feu, gougères, confit duck, milk-fed lamb with vegetables – are all treated with a lightness of touch and minimal use of cream and butter that defines the modern French kitchen. Dinners here can run north of three hours, so it's worth booking flexitime with the babysitter.
alainducasse-dorchester.com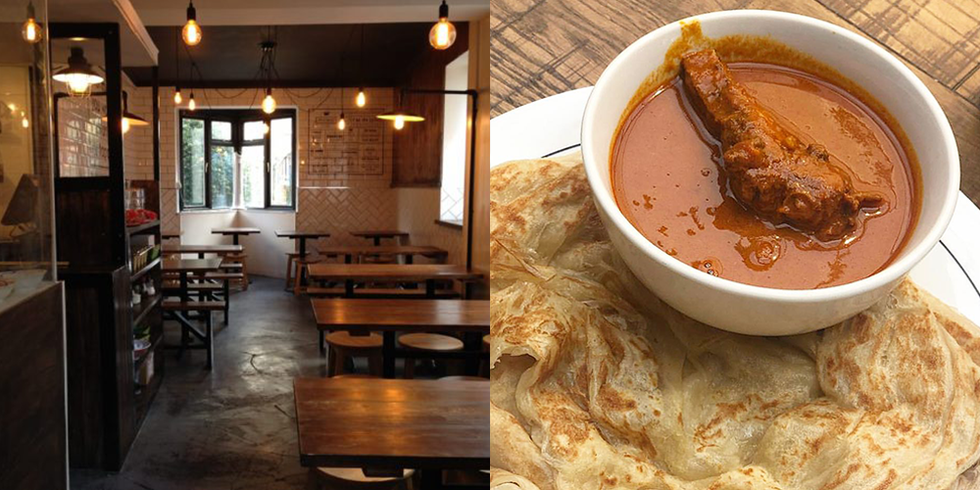 Roti King
Roti King
Before The Standard Hotel and Coal Drops Yard arrived in Kings Cross, the area was a bit of a dead spot for dining – except for one tiny restaurant for those in the know. The simple basement cafe of Roti King hasn't changed much over the years, especially its two features: the best authentic roti canai in London and the queue down the street to get hold of one. The dish everybody is clamouring for becomes obvious with one bite – a rich, flaky, Malaysian flatbread to scoop up a punchy chicken, lamb or dhal curry, served at the meal-deal price of £6.50. The roti can be filled with cheese, egg or minced chicken, or can be sweet, like the dreamy caramelised banana roti pisang. If you fancy going off-piste, the traditional nasi goreng (stir fried rice) or kari laksa (spicy coconut noodle soup) are also worth a look in, but the clue's in the name; when you've found the best place in the kingdom for this street-food treasure, stick to what it does best.
rotiking.co.uk
Bentley's
Bentley's Oyster Bar and Grill
With shoulders as broad as Marble Arch and the personality to match, Bentley's chef-proprietor Richard Corrigan has the uncanny ability to read the London diner like no other. At Bentley's – a grill restaurant with a 100-year pedigree – he does the simple things well. The best evenings start with Champagne and oysters (of which the restaurant always has a selection of six varieties), followed by some of the finest seafood from the British Isles. Its fish pie is the stuff of legend – packed to the gunnels with prawns, smoked haddock and cod – and is best served with just-arrived seasonal vegetables from Corrigan's Irish smallholding, Virginia Park Lodge.
bentleys.org
Toconoco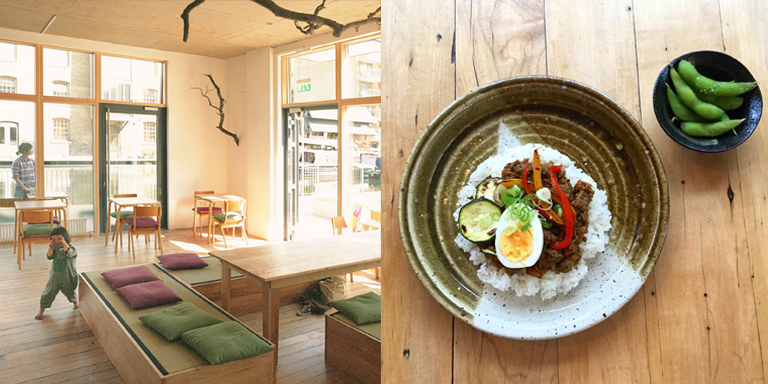 Toconoco
Sorry estate agents, but as much as you brand this area off Kingsland Road 'The Haggerston Riviera', absolutely no one is buying it. Not that it bothers the quiet and unassuming cafe Toconoco. Tucked away just off the Regent's Canal, this cute Japanese spot is a total hidden gem and serves up simple, tasty and pocket-friendly meals. The home-cooked daily set menu (£8.10) might offer up pork tonkotsu, broccoli salad, rice and miso, or there's udon or soba dishes for the noodle fans. Must-tries are also the onigiri rice balls or their black sesame cheesecake for dessert. Kick back with a Japanese tea by the waterside and while it might not quite pass for the Riviera, it will transport you away for your lunch hour nicely.
toconoco.com
Roketsu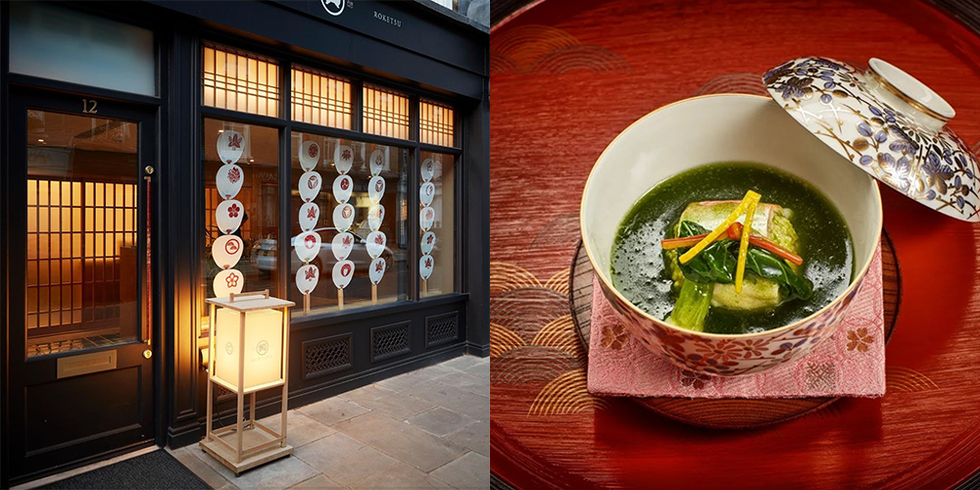 Instagram @roketsulondon
How authentically Japanese is one of London's only kaiseki fine-dining experiences? Well, the space itself was carved by craftsmen of Nakamura Sotoji Komuten using 100-year-old hinoki wood, assembled in Kyoto then sent piece by piece to London. Which is to say: incredibly Japanese. Short of jumping on a 12-hour flight, this is the closest you'll get to a meal that's considered the absolute finest of Japanese dining. Yes, the bill is likely to be wallet-busting (it's £190 a head for the set meal) but if you manage to get one of the 10 seats at the bar (or one of six in the private dining room) the flavours, the quality and the theatrics of this banquet are likely to make this one of the most memorable meals of your life.
Chef Daisuke Hayashi, who trained at the three-Michelin-star Kikunoi in Kyoto, prepares the 10-course tasting menu just inches away from your seat. The meal follows a traditional structure designed to be served before a tea ceremony and moves from a Japanese amuse-bouche followed by a sashimi course through meat, fish, rice and then soup, all created with the most delicate, intriguing flavours and combinations. And while the idea of 'seasonal' cooking is thrown around everywhere these days, Hayashi goes above and beyond. When we visited, the focus was on the arrival of autumn, and the presentation of the food was as stunning as its taste: cedar-wood wrapped turbot with pickled kumquat on a bed of autumnal maple leaves; a gilded china bowl with lid revealed sea bass awamushi; a glorious wooden jewellery box held a selection of treats: quail, bottarga, monkfish liver, maple walnuts; while the lobster broth will live rent free in my head for the rest of my life. Wine and sake pairings are available at an extra cost, but if you've come this far, then you might as well sign up for the whole deal. If Jiro dreams of sushi, I dream of Roketsu.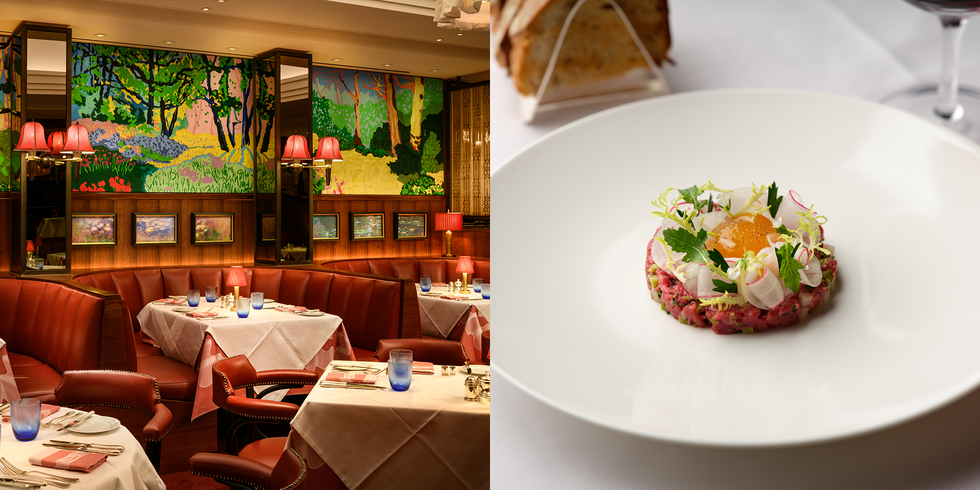 Colony Grill Room
The Colony Grill Room
Nothing, but nothing beats a good shrimp cocktail. The chill of the crustacea, the tang of the sauce, the gluttony of the dip and the sheer kitchness of it all make it the king of starters – or, as Americans would say, the king of appetizers. They invented it, of course, and they invented the concept of the 'GrillRoom', too. It's a place for Americans (and whomever else) to get an "excellent dinner, served quickly, in luxurious surroundings" according to Nathaniel Newnham-Davies' Gourmet Guide To London, 1914. And a century later, travel-tired gourmands will be heartened to know that the tradition is alive and well at London's Beaumont Hotel. The Colony Grill Room, which has just undergone a subtly lavish refurbishment, is one of the best kept secrets of the London food scene. Perfect steaks, excellent fish, impossibly crispy chips and a droolsome wine list, all served in the hush and mumble of a moody, New York-style brasserie. Chromed fixtures, deep carpets and rum baba scorched at the table; you know the score. Find a booth and settle in. And don't leave without trying the monkfish wellington. It's not especially New-Yorky, but we're in London after all.
colonygrillroom.com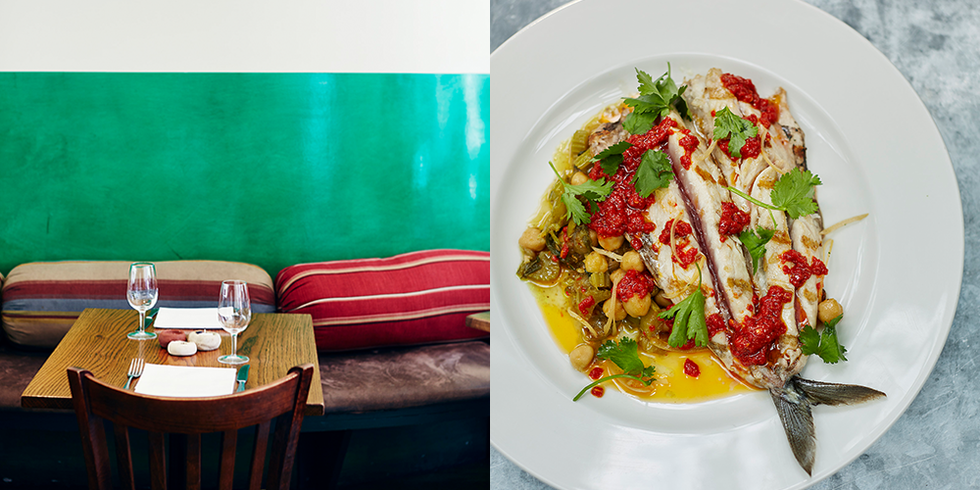 Moro
Moro
Cuisine: Spanish / North African
Location: Farringdon (4-36 Exmouth Market, EC1R 4QE)
Price: ££
Moro reservations
The restaurant that launched a thousand dinner parties, Moro was the first and last word in bringing the heady world of rich Spanish and Moroccan food to Blighty. Married couple Sam and Sam Clark opened up their Exmouth Market restaurant back in 1997, which promptly won Time Out's best new restaurant, and still remains a super-popular dining choice for Londoners – and visiting out-of-towners – more than two decades later. Like Ottolenghi, there'll always be one ingredient you'll need to ask the patient waiting staff to explain, but the new discovery will no doubt be delicious. Recent revelatory dishes for us have been the orange and green chilli-steamed mussels with mograbieh (see? It's a type of Lebanese semolina pearls, like couscous, FYI) or the chargrilled lamb with sumac and fava bean puree (£27.50). The restaurant pivoted to tapas in 2010 when they opened the Barcelona-inspired Morito next door, and carried on the trend with a second outpost in Hackney in 2016. As the Sams have aptly demonstrated, there's always room for more Moro.
moro.co.uk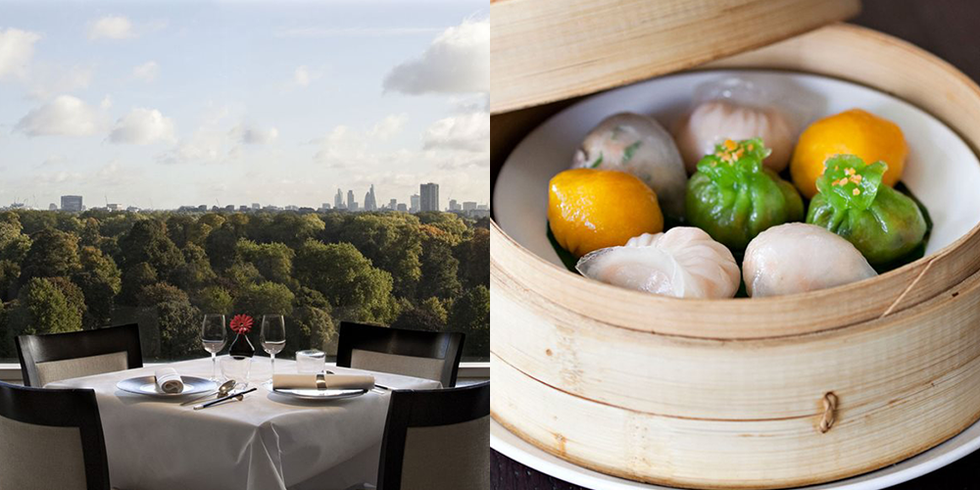 Min Jiang
Min Jiang
High up on the 14th floor of the Royal Garden Hotel with floor-to-ceiling windows looking out over Kensington Gardens, Min Jiang has one of the best restaurant views in central London. Tables at dusk are the plum booking, to watch the sun set over plates of wood-fired Beijing duck served every which way. Dim sum is the ideal way in, made by a chef who's been practicing the art for half century. Duck follows next, where the crispy skin arrives with a bowl of finely granulated sugar for dipping, before pancakes and a hoisin sauce rich with orange and floral notes. Guests then have a choice of having the duck flesh pulled through hand-rolled noodles or served with rice. Neither disappoint.
minjiang.co.uk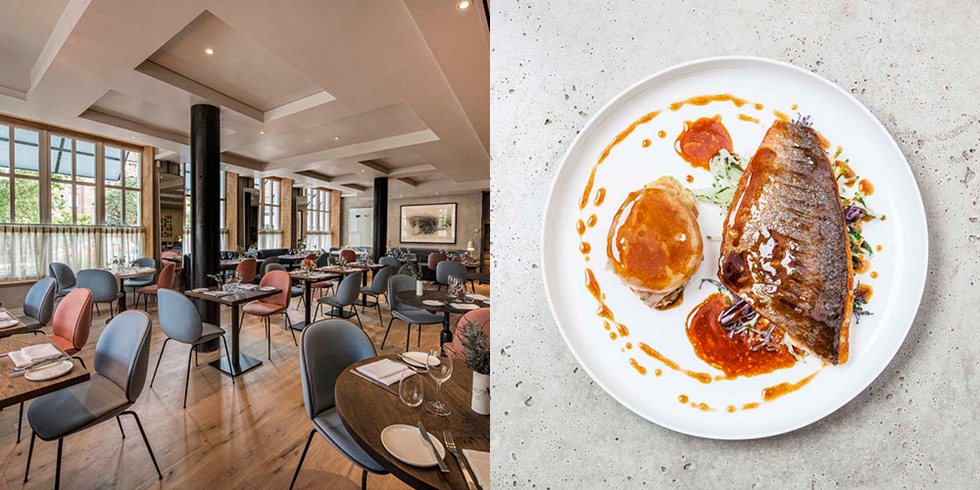 Elystan Street
Elystan Street
Philip Howard is the master of reinvention. Since he left The Square – considered by many the archetypal restaurant of London's Nineties excess – diners waited to see where he would emerge. Where The Square was all nouvelle cuisine, delicate portions and far-reaching technique, Elystan Street offers a dichotomy in big portions, big flavour and an even bigger welcome. Head chef Toby Burrowes's cooking follows this mantra perfectly. Truffled chicken soup with a mushroom crumpet is hearty and delicious, best followed by in-season meat, such as loin of roe deer with root vegetables, mustard fruit purée and roasted pear
elystanstreet.com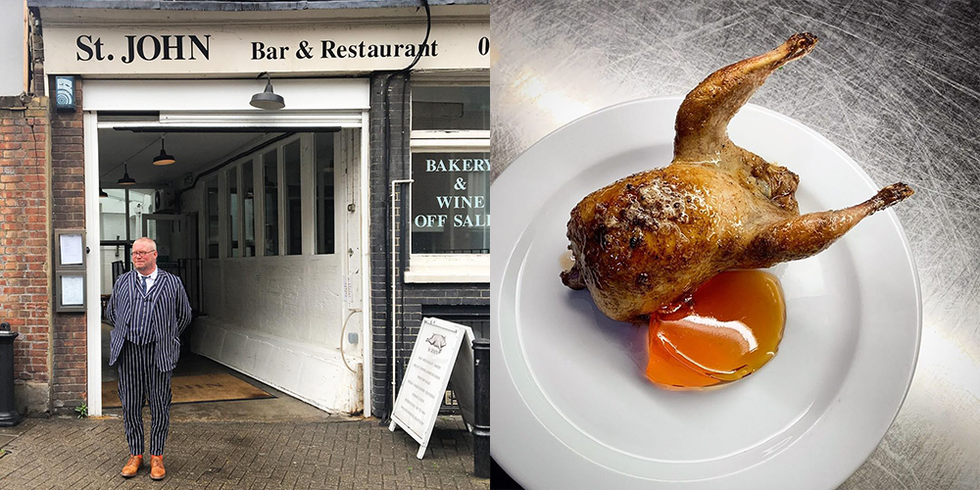 St John
St John
Cuisine: Modern British
Location: Farringdon (26 St John St, EC1M 4AY)
Price: ££
St John reservations
Less a culinary hotspot, more a British food institution, St John – through its gregarious founder, chef Fergus Henderson – pioneered the nose-to-tail revolution around the turn of the millennium. Put simply, it chides carnivores to not just enjoy the prime-cuts of animals, but to get stuck into the then less-fashionable other bits: liver, heart, sweetbreads, tripe. This is where the trend for bone-marrow on sourdough toast was born, and the kitchen has birthed a slew of other reinventions that now appear on menu's throughout London. Current favourites on the menu are unsurprisingly not suitable for veggies: robust slices of grilled ox heart with beetroot and green sauce or a delicately crumbed veal cutlet served with chicory and anchovy. Handily set just around the corner from London's Smithfield meat market, and housed in a former smokehouse, the classy and traditional restaurant never feels fussy or pretentious – it just keeps things ever simple by literally going the whole hog and offering high-quality food, excellent wines and outstanding service to every guest.
stjohnrestaurant.com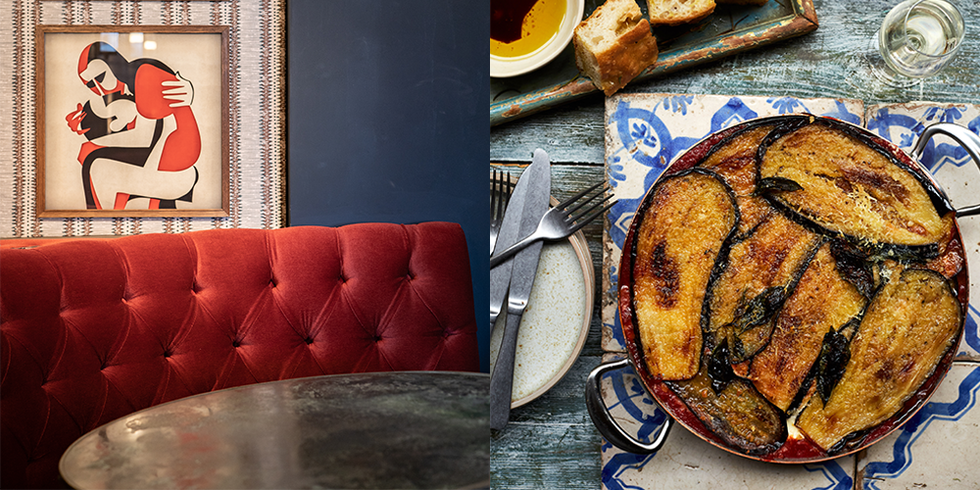 The Princess Royal
The Princess Royal
The idea of a good food-pub is nothing new, especially in London. But as the overall pub trade has gradually waned, the need to diversify with food has increased, and in turn we have more not-very-good food-pubs than ever. In fact, the number of really good food-pubs in London is low, so we can rejoice at the arrival of the Princess Royal in Notting Hill. Part of a surprisingly large stable of chic boozers (The Orange in Pimlico, the Thomas Cubitt in Belgravia and quite a few more), the Princess Royal serves a Mediterranean-skewed menu, via UK produce, courtesy of chef-director Ben Tish. When we visited, we took advantage of the raw bar (loads of ice, loads of crustacea) and ordered Cornish crab and pangrattato, followed by a brilliant warm chicken salad and perfectly cooked Florentine steak. The chips – oh boy, the chips! – were insane, and came with the kind of spikey aioli that renders all other sauces obsolete. And an honourable mention to the padron peppers, which might just be the best we've ever had.
A seasoned restaurateur (and someone fans of Saturday Kitchen will be well aware of), Tish has overseen a menu that confidently covers all the bases but doesn't overdo it. We're talking English burrata with blood orange and radicchio; whipped nduja and fennel biscuits, wild bream crudo, Dorset monkfish and Amalfi lemon & olive oil cake, to name but a few highlights. On Sundays there is porchetta – a sure-fire way to win at the roast – but you can order a mixed roast if indecision takes hold. (The pub's Instagram also alludes to a tallegio and nduja cheeseburger, which looks amazing, but sadly wasn't on the menu when we visited.) And when it all gets too much, you can decamp to the terrace, or even check in to one of the rooms upstairs.
cubitthouse.co.uk/the-princess-royal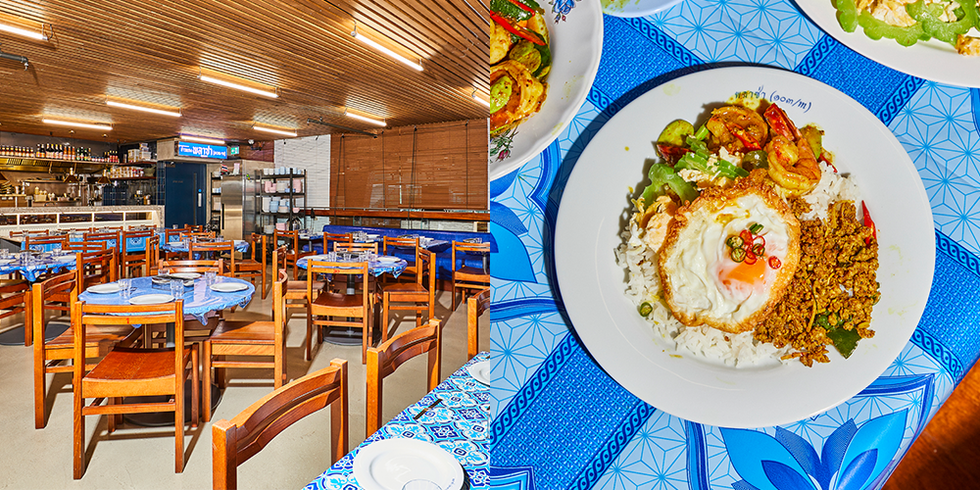 Courtesy
Plaza Khao Gaeng
There's no way of writing this down without sounding insufferably gap yah, but sitting in Plaza Khao Plaza Gaeng, with its wooden ceiling, strip lights and photographs of Thai royalty on the walls, does make you feel like you're in roadside joint in Bangkok. Probably more than the lighting and the décor though, is the food, from chef Luke Farrell, whose knowledge and fascination with the cuisine and produce of southeast Asia is played out in dishes that are punchy and uncompromising in a very good way (a feat he replicates in a more conspicuously trendy setting at his even newer opening, Soho's Speedboat Bar). From dishes such as Gaeng Massaman Neua (a deep, rich curry of beef shoulder with potatoes and shallots) to Pad Phet Pla (sea bream cooked with chillies, lime leaves and "jungle herbs"), this is a restaurant – and a chef – that knows exactly where it's going.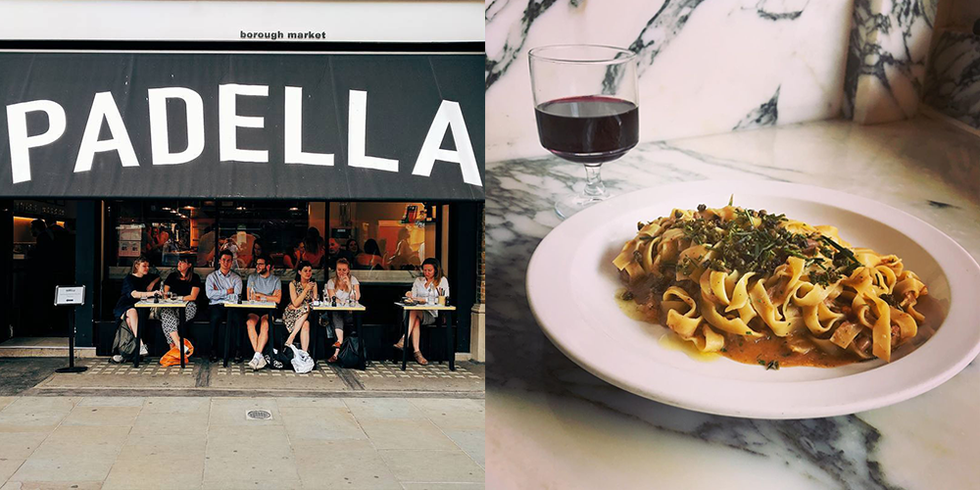 Padella
Padella
No barbs about carbs here – pasta is well and truly back on the menu, and we've got Padella to thank for a nation binning off any faddy ideas about Keto or Atkins diets. Opening in 2016 on the fringes of Borough Market, it's had a queue outside for just about as long, as fans have no qualms about waiting up to two hours for a plate of its signature thick and cheesy pici cacio e pepe. The petite, two-floor venue – from the same team behind Trullo in Highbury – is an Italian monochrome dream inside, with the best seats being the stools at the marbled bar upstairs, where you can watch the dexterous chefs create the pasta by hand. The quick turnover and cheap prices make it essentially an Italian noodle bar, so this isn't the spot for a long, lazy lunch. Instead to grab plates like ravioli of Westcombe ricotta and sage or the tagliarini with Dorset crab, lemon and chilli; snap your photo for Instagram and dig in. Keep things fresh with a sparky rosemary lemonade and, pronto, it's time to give up your seat for the next salivating customer in the queue.
padella.co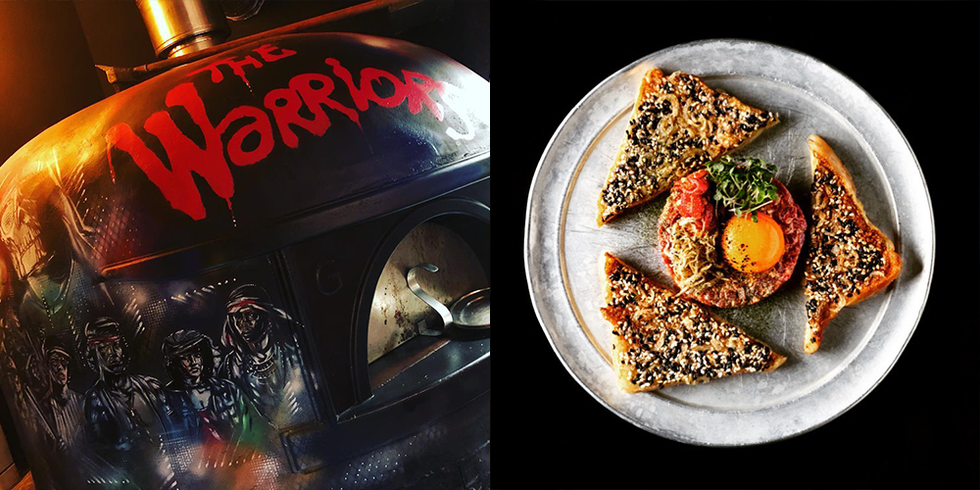 Black Axe Mangal
F.K.A.B.A.M. (Formerly Known as Black Axe Mangal)
Kebabs, but make it cool. Chef Lee Tiernan and his wife Kate arrived at the otherwise unremarkable area of the Highbury Corner roundabout in 2015 with a mission statement of banging meats and banging heavy metal beats, and since then, it's more than justified the opening-day hype. Tiernan took the beloved Turkish mangal and combined it with his decade of experience at the helm of St John Bread & Wine, resulting in dishes as punchy and loud as the restaurant's soundtrack. If you manage to bag one of the 20 seats in the smoky venue, the first port of call needs to be the umami-laced squid ink flatbread with whipped cod roe and a just-about-to-burst egg yolk. Next up on the ever-changing menu will be more doughy pillows of bread, perhaps with oxtail and anchovy, or grilled bone-marrow, or fresh and zingy grilled mackerel with XO sauce and salted mooli. Your eardrums might not thank you after a feast here, but your stomach most definitely will. In the words of two other rock enthusiasts: party time, excellent.
blackaxemangal.com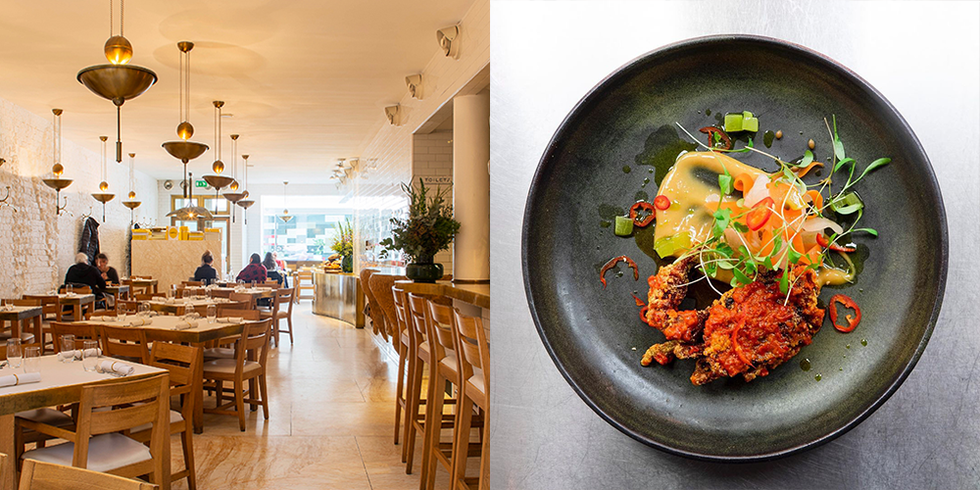 Nopi
Nopi
Cuisine: Middle Eastern
Location: Soho (21-22 Warwick Street, W1B 5NE)
Price: ££
Nopi reservations
Ottolenghi: say it softly and it's almost like praying. As a recent Desert Island Discs appearance confirmed, the Israeli-born chef is now at national treasure status in the UK, thanks to his service to making vegetables great again. Back in 2002, he made salads a thing of desire with then mostly unheard-of Middle Eastern ingredients at his small Ottolenghi deli in Notting Hill. He then went on to expand his empire with seven cookbooks and four more restaurants, with our favourite being Nopi, a grown-up brasserie in Soho. The signature sight of beach ball-sized plates piled high with vibrant salads, glossy with dressing and bejewelled with pomegranate seeds greets you on entry, and sets the tone for the rest of the restaurant's offering. A creamy burrata ball is spiked with slices of tart blood orange and studded with crunchy coriander seeds, the baked Valdeon cheesecake with pickled beetroot and honey is the fans favourite, while the restaurant was one of the first to start the trend of polenta chips, here served with a heavenly black truffle aioli. Pull up a pew at one of the marble-topped sharing table and dig in – oh, don't forget to take a trip to the mirrored, trapped-inside-a-crystal bathrooms, which co-incidentally win our unofficial prize for London's best toilets, too.
nopi-restaurant.com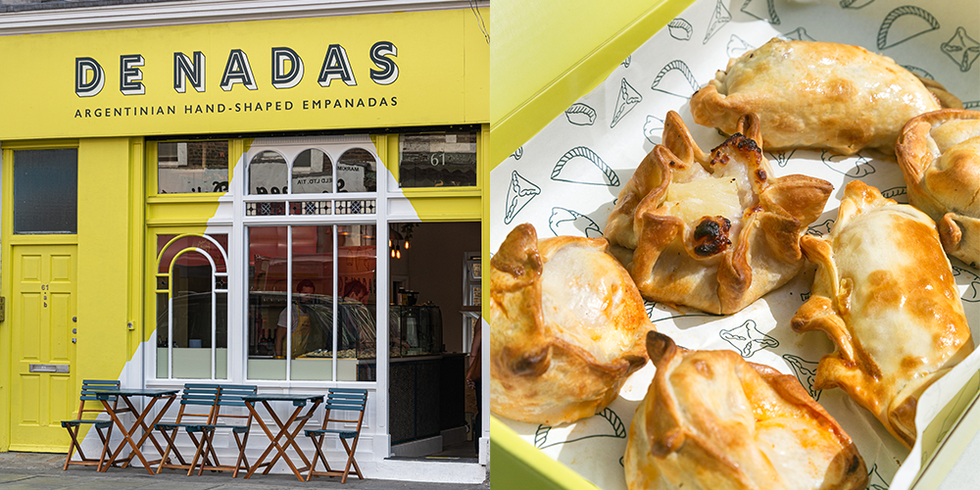 Courtesy
De Nadas
Cuisine: Argentinian
Location: Notting Hill (61 Golborne Rd, W10 5NR)
Price: £
On a lively stretch of the Golborne Road, a glimpse of an earlier, pre-gentrification Notting Hill. Here, where Portuguese bakeries jostle Moroccan coffee shops, and ancient junk shops compete for space with trendy eyewear boutiques, is De Nadas, a new venture with a simple and single-minded mission: to make the best empanadas outside Buenos Aires. These small, light, filled pastries are a staple of the Argentine diet, but hard to find in London, until now. Judging from the queue at De Nadas on a recent Saturday lunchtime, empanadas could be the new bao buns: cheap, snackable, tasty — and endlessly Instagrammable.
De Nadas offers eight veggie varieties, six meat, one vegan, each hand-shaped into a distinctive mini-pasty. In the interests of research, Esquire's trio of intrepid gastronauts sampled each one (yes, we had all the pies), and not a duff puff among them. Highlights? Portobello mushroom with leek, mozzarella and oregano; smoked cheddar, caramelised malbec onion; roast chicken, peppers, spring onion and bechamel; minced lamb, peppers, garlic, paprika, aji molidio; chorizo, cherry tomatoes, mozzarella. Washed down with Quilmes lager and a bottle of Argentine Malbec from De Nadas' excellent selection.
Order at the counter, take a seat at the back, get stuck in.
denadas.co.uk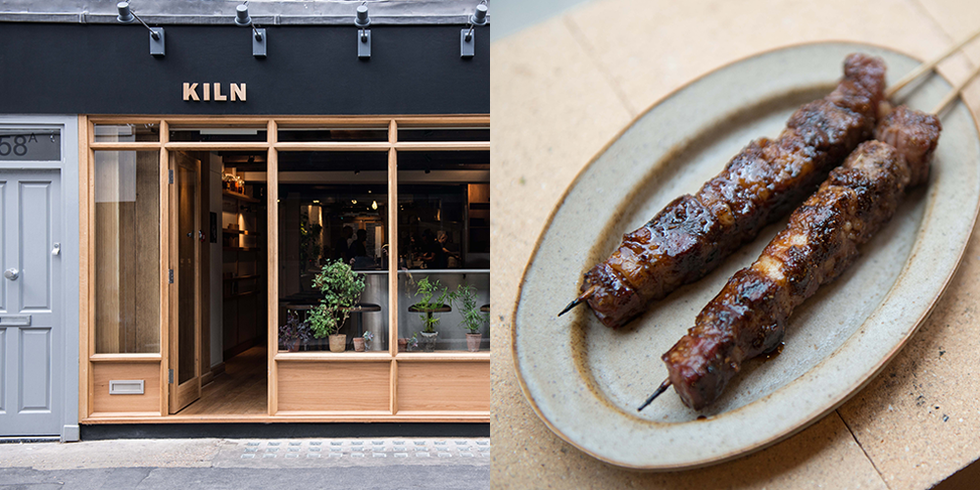 Kiln
Kiln

One of the greatest things about living in a city with around 40,000 restaurants is chance to experience more than just a sweeping generalisation of a nation's cuisine. For Kiln – the buzzy Soho bar, where the seats are set just inches away from the fragrant food being tossed around on smouldering hot coals – the specialty is regional Thai, specifically where the country borders Burma, Laos and Yunna. Kick off with some snacks-on-skewers starters, chunky spiced bites of aged lamb and cumin skewers, or a complex northern Isaan sausage. Chef Ben Chapman sources the best seafood from Cornwall, so popping up on the menu might be a lively turmeric curry of cod, or curried monkfish , but remaining a constant is the already iconic clay pot, which arrives steaming full of glass noodles, with chunks of Tamworth pork and sweet brown crab meat embedded within. That the smell lingers on your clothes afterwards is only a good thing – you'll be dreaming of the noodle dish for days afterwards anyway.
kilnsoho.com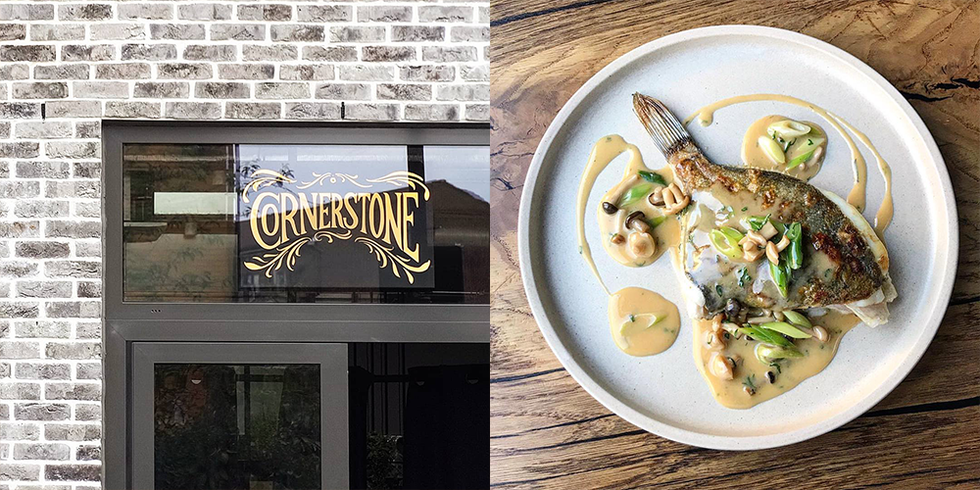 Cornerstone
Cornerstone
Thinking about food and Hackney Wick was only ever likely to throw up the suggestion of beers and pizza by the canal, until 2018, when chef Tom Brown turned up and put the area firmly on the culinary map with his first restaurant, Cornerstone. A protege of Cornwall's Nathan Outlaw, Brown became head chef at his London outpost, Outlaw's at The Capital in 2016, and two years later, Cornerstone opened in an otherwise unremarkable building in the warehouse district. The modern venue is centred around the open kitchen at the heart of the room, and Brown's background in fish and seafood shines through the menu. Always on offer will be a dressed oyster perhaps with a spicy seaweed sauce, or the much-lauded comfort of the crab crumpet rarebit, while the monkfish tail in roast chicken butter is a contender for one of our dishes of the year. The restaurant won AA Restaurant of the Year in 2019, and being catch of the day means Brown can probably expect another haul of awards this year too.
cornerstonehackney.com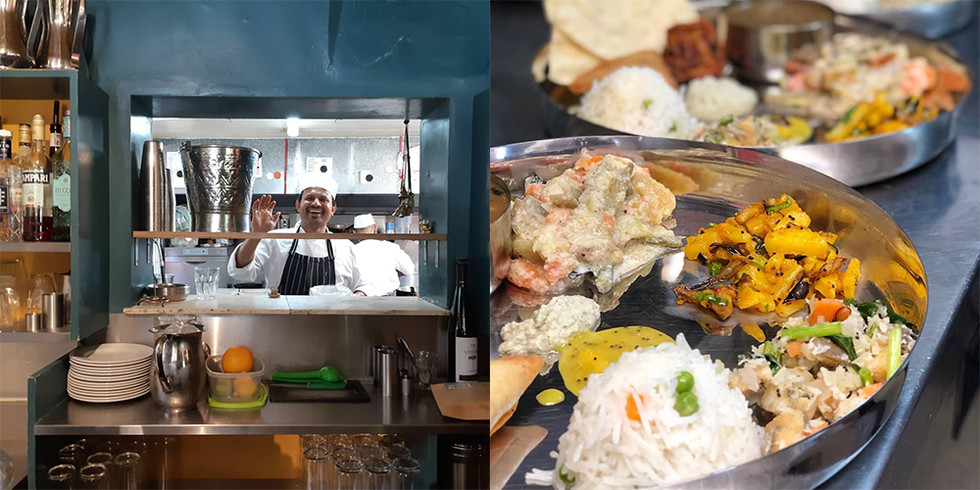 Ganapati
Ganapati
The skill of a small, neighbourhood restaurant truly reveals itself when it manages not only to become a much-loved favourite of locals, but of an entire city as well. Step forward Ganapati, which, over the past 15 years, has established itself through word-of-mouth as the force behind some of the greatest Southern Indian cuisine in the capital. Located off a residential SE15 street, the cafe is a riot of colour, with bright reds, pinks and greens washing the walls and tiled floor, while a giant golden statue of the elephant-headed god Ganesha looks on approvingly. The menu – which changes every eight weeks – is equally vibrant. On a recent visit, a warmly spiced, Attapadi grilled quail with a vivid pink onion chutney put the star into starters, while the fragrant Pondicherry fish curry was enough of a power-punch of flavour to make us start researching flight prices to Chennai. For anyone who suffers from plate envy, the thali is just the ticket, as from just £12.50, it gives a greatest-hits meal of the restaurant, serving up little fiery bowls of dal, pickles, a chilli-infused broth and curry – make sure you order their home-made, lighter-than-clouds Keralan paratha to mop it all up with.
ganapatirestaurant.com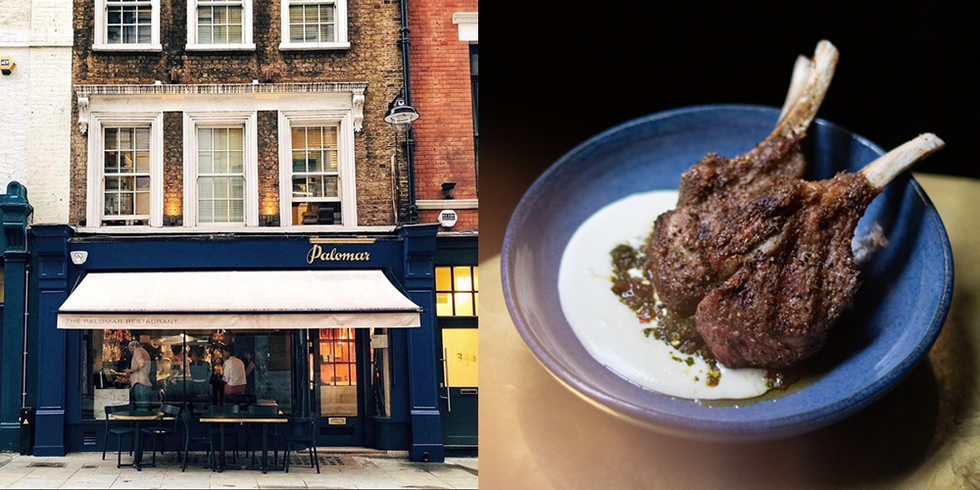 Courtesy
Palomar
A Soho favourite for close to a decade, Palomar made the cuisine of contemporary Jerusalem, served with relish in a noisy, bustling, joyful room just south of Shaftesbury Avenue, into one of the undisputed gems of the London dining scene. This brilliant restaurant recently reopened after a smart and subtle refresh, among the benefits being more space at the bar, long the position of choice for regulars, who will be reassured to know that nothing's changed in terms of the unfailingly hospitable service. The menu, which offers food from the region where the Middle East meets North Africa and Southern Spain (it is both Moorish, and moreish), has also had an upgrade, with new breads and dips, and open fire cooking in a new kitchen: look out for Dover sole with Arak sauce and grilled Turkish peppers.
Since opening Palomar the Paskin family, sister Zoë and brother Layo, have gone on to launch a number of equally excellent places, including The Barbary and The Blue Posts pub, also on Rupert Street, but Palomar remains the original expression of their seductive aesthetic. On a recent drizzly Thursday lunchtime, Esquire took two perches at the bar, started with warming Bumblebees (gin, honey and ginger, lemon), and a selection of Palomar's bread and dips (kubaneh, labneh, hummus), with tangy za'atah chicken schnitzel, followed by glazed octopus, fiery lamb cutlets, skewered vegetables with a date glaze and a carafe of white from a list distinguished by wine from the land, as they put it themselves, of desert and dune: Morocco, Israel, Lebanon.
And, for an hour and a bit, a grey and grimy London day was transformed into a honeyed afternoon in the holy city.
thepalomar.co.uk/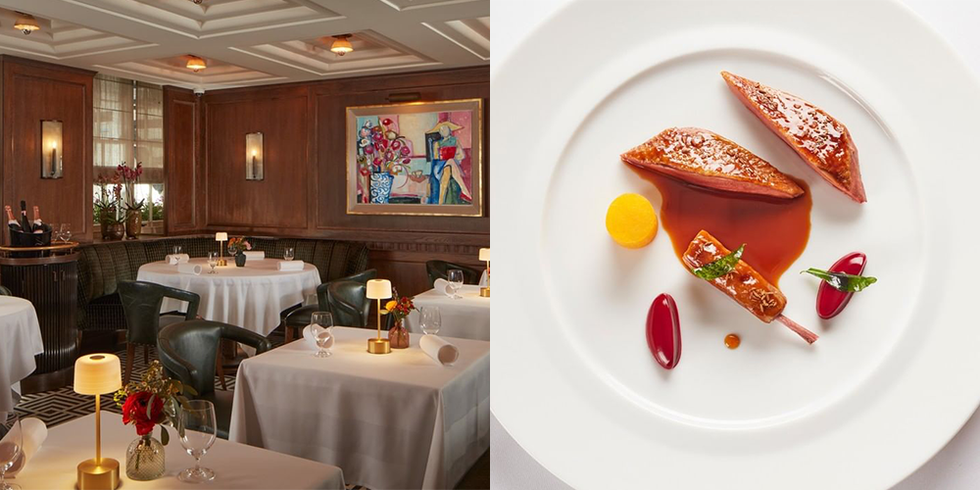 Ormer
Ormer by Sofian
Flemings Mayfair opened its doors in 1851, making it the second-oldest hotel in London. But work your way through the bowels of this stunning Georgian townhouse, around to Manetta's (one of the capital's best in-the-know cocktail bars) and then onto Ormer Mayfair, and you'll instead be transported to the 1930s; the former is opulent and art deco inspired, with Sheraton-style sofas and a glass-fronted, marble-topped bar, while the latter – which opened in 2016 with Michelin-starred chef Shaun Rankin at the helm – is an altogether more classic affair, filled with aged oak panelling and monochrome marble flooring. Last year Sofian Msetfi took over the kitchen, and he quickly introduced five, six and eight-course tasting menus with a focus on locally sourced, seasonal ingredients. Over the past six years Ormer Mayfair has won plaudits for its understatedly inventive approach to fine dining, and Msetfi's beautiful food carries on in that tradition.
flemings-mayfair.co.uk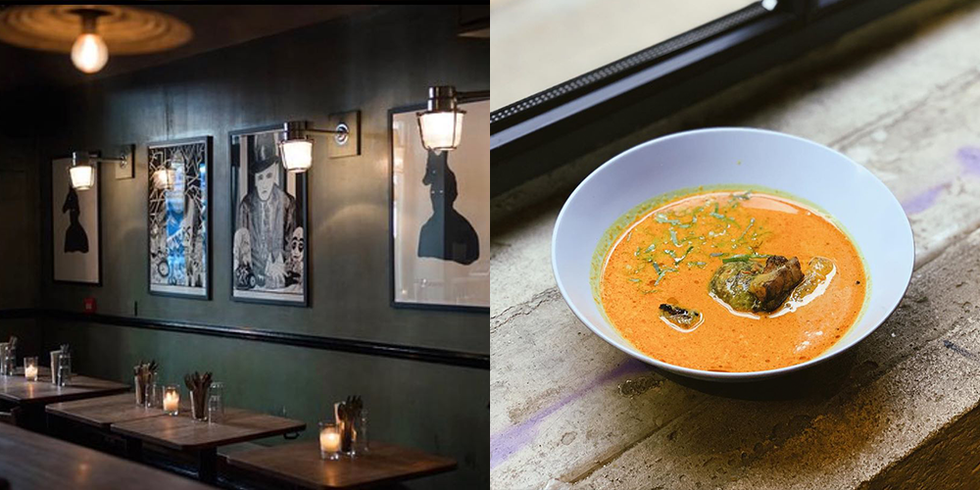 Smoking Goat
Smoking Goat
There's a very strong argument to say that Smoking Goat serves the most authentic Thai food in London. But chef-owner Ben Chapman also makes interesting ingredient swaps, supplementing impossible-to-source South East Asian ingredients with those he can find closer to home for his well-balanced, puckeringly hot plates. Dishes like chilli fish sauce wings that use British fish and a som tum that pairs green papaya and heritage carrot show this neo-fusion technique perfectly.
smokinggoatbar.com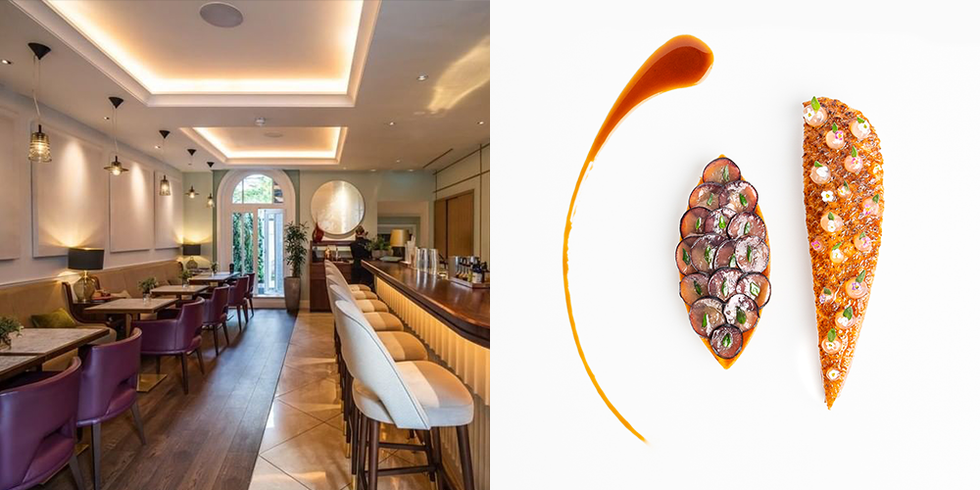 Core
Core by Clare Smyth
When Clare Smyth cut the apron strings after eight years helming Gordon Ramsay's three-star Michelin restaurant, the dining world knew her next move would prove something special. Within several weeks, Core became one of the best restaurants in the capital and has accrued a pair of Michelin stars after just two years in operation. Her style is fine-dining British, but defines luxury in a different way. She elevates humble ingredients, imbuing time and love for plates such as potato and roe, where the basic spud takes centre stage among two types of fish roe (neither of which are caviar).
corebyclaresmyth.com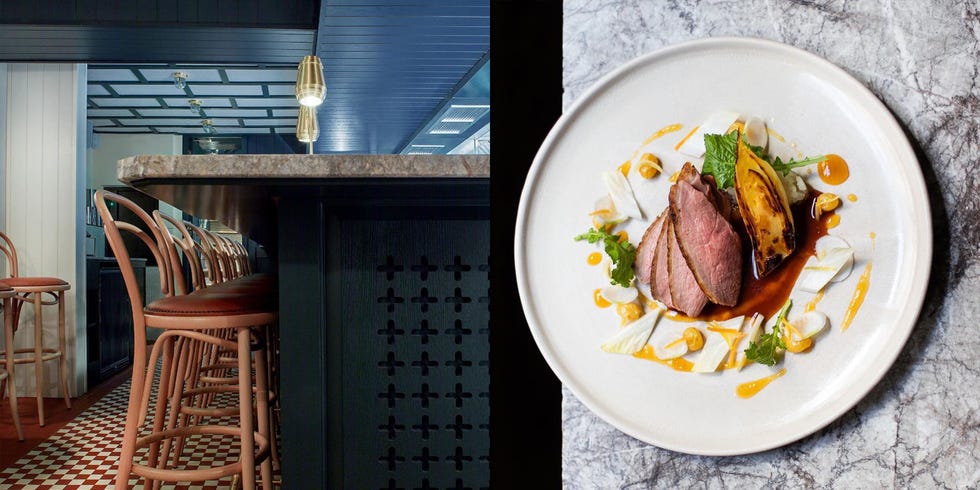 Esquire
Evelyn's Table
Tucked inside the basement of Chinatown's Blue Posts pub, the relative secrecy of Evelyn's Table only adds to its appeal. As soon as you get inside the intimate space, it immediately feels like one of those restaurants that only people in the know take you to. From the same restaurant group as revered eateries The Palomar and The Barbary, Evelyn's Table strays from Middle Eastern cuisine for a fine dining experience which is best enjoyed from their 10-seater counter. Head Chef Luke and his two brothers, Nat and Theo Selby have created a menu which is both innovative and classic, refined but unpretentious, with particular highlights on the changing menu including a tempura oyster made with a zing of fresh wasabi, squid noodles with a mushroom dashi, and a miso tarte tatin packed with umami flavours. The wine list is also excellent, with lots of the most exciting names in natural winemaking featuring prominently. A spot to lose several hours inside and emerge into the world again extremely satisfied.
theblueposts.co.uk/evelyns-table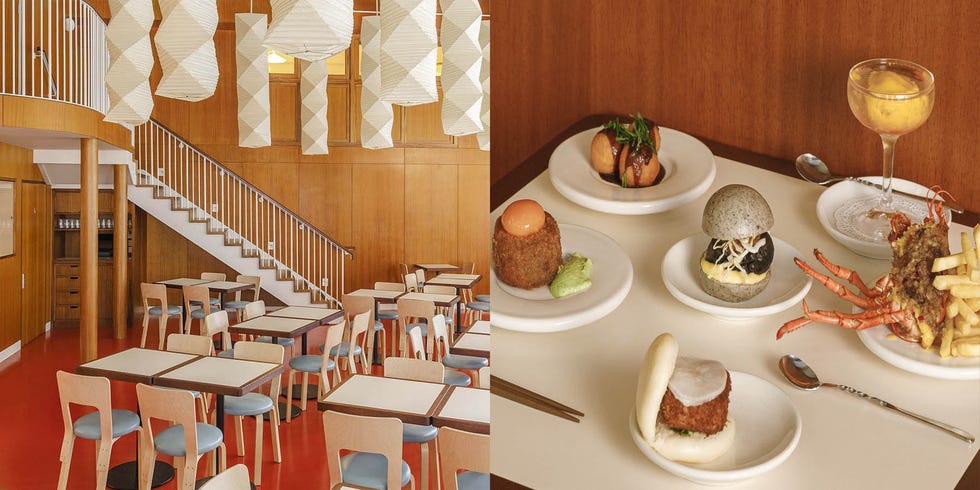 BAO
Café BAO
Few restaurants have been as responsible for bringing a dish so quickly into mainstream restaurant culture in the UK as BAO have with their pillowy namesake. Already boasting locations in Soho and Borough, their latest outpost pays homage to the Western-style cafés of Asia, serving up twists on British classics like the humble pie and chicken and chips, all made with the signature playfulness and flavour of BAO. Don't panic: you can still get your classic pork bao bun, but we really recommend trying out their new lobster bao, which comes in a delicious doughnut-type bun. Elsewhere the chicken kiev, which offers a bomb of oozing garlic butter is a serious step up on the school dinner variety of the dish. Save room for dessert, as this venue features the first BAO Bakery Goods counter, offering delicious options like a salted caramel BAO Cookie or a molten chocolate and cherry BAO.
baolondon.com/restaurant/cafe-bao/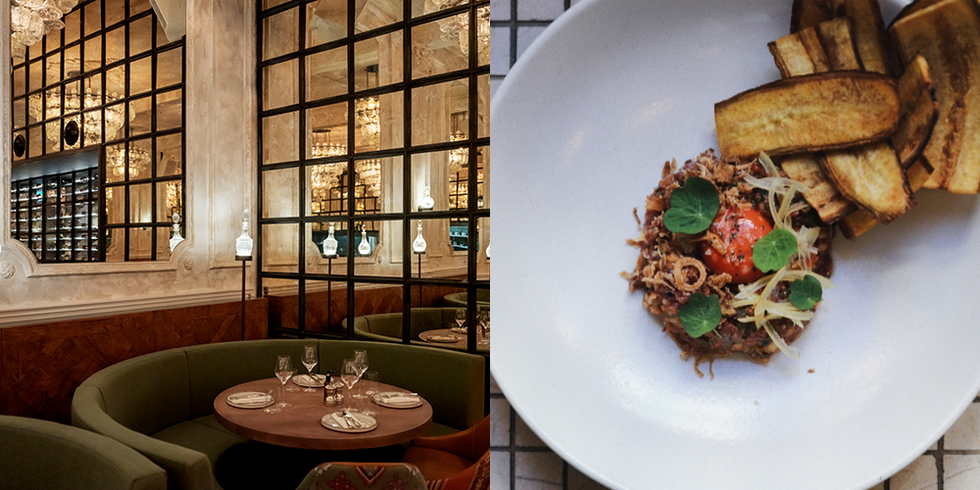 Courtesy
Sucre
The first thing that grabs you when you walk into Sucre is the incredibly opulent dining room: this is a place for celebrations, of which there seem to be several happening in the buzzy venue when we visit. Sucre, London, is the sister restaurant to Sucre, Buenos Aires, and is the brainchild of the renowned chef Fernando Trocca and cocktail don Renato "Tato" Giovannoni. While the original is frequently listed in Latin America's 50 Best Restaurants, it looks like the UK version might just pull off the same accolades on the other side of the Atlantic.
Settle down in a velvet-lined booth, under the antique-mirrored walls and incredible cut-glass decanter chandeliers, and pack your bags for a culinary trip around some of South America's finest flavours; jumping around countries like a backpacker on a coche cama bus. Elevated snacks are the best way of opening up the meal: the warm, stuffed gordal olives are surprisingly buttery and best mopped up in the pleasingly spiky aji verde, while the stone bass sat atop a Peruvian-style blue-corn tostada is surely the best way to ensure not a single drop of the golden leche de tigre juice from the citrus-chilli ceviche is wasted. For mains, we jumped back over to Argentina, digging into a striploin of steak doused in chimichurri, served with grilled gem lettuce and a big old bowl of chips for the table. We stayed put in Buenos Aires for dessert too; a hot, wickedly sweet dulce de leche fondant. As a sharpener, may we suggest a post-meal tipple in the newly-renovated cocktail bar, Alma? Which, as the name suggests, is below the main dining room; the cosy and intimate space making it the perfect place to continue onward with a night of decadence.
sucrerestaurant.com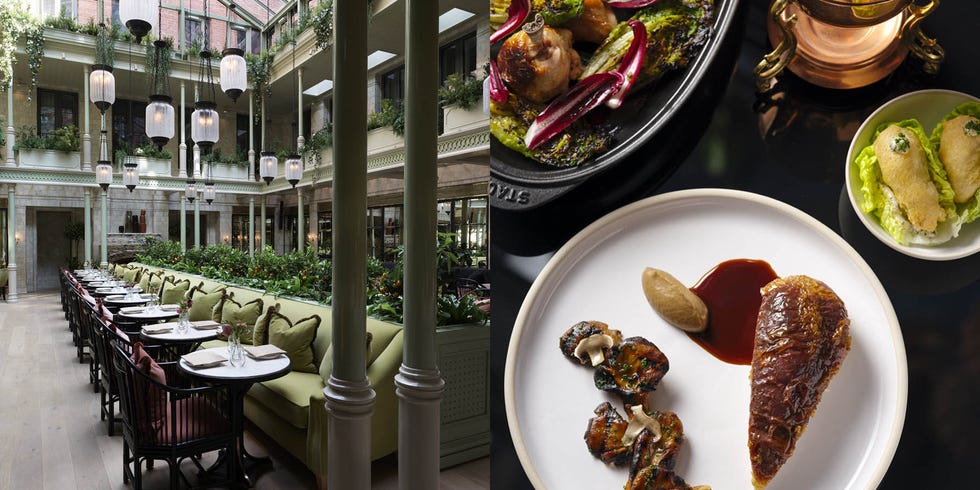 NoMad
The NoMad Restaurant
The arrival of a NoMad hotel in London has brought some excitement to a city in dire need of some fun. The crown jewel of the historic building (within the former Bow Street Magistrates Court) is the glassy box of the atrium where the hotel's main restaurant sits like an Edwardian greenhouse with dramatic hanging lights overhead. Start with a selection of smaller plates, like the venison tartare or a dish of oozing stracciatella cheese and perfectly ripe tomatoes, and you can't go wrong. A wood-burning grill is a main feature of the room, lending smoke and flavour to dishes like the suckling pig, which comes in the form of ribbons of juicy meat and a smoked bacon jam. Executive Chef and NoMad stalwart Ashley Abodeely proceeds over the delicious fare, which is a truly notable addition to the London food scene, importing the hotel's famous menu option of the stuffed chicken dinner for two. Finish the evening with an ice cold negroni while watching the glamorous come and go.
thenomadhotel.com/london/dining