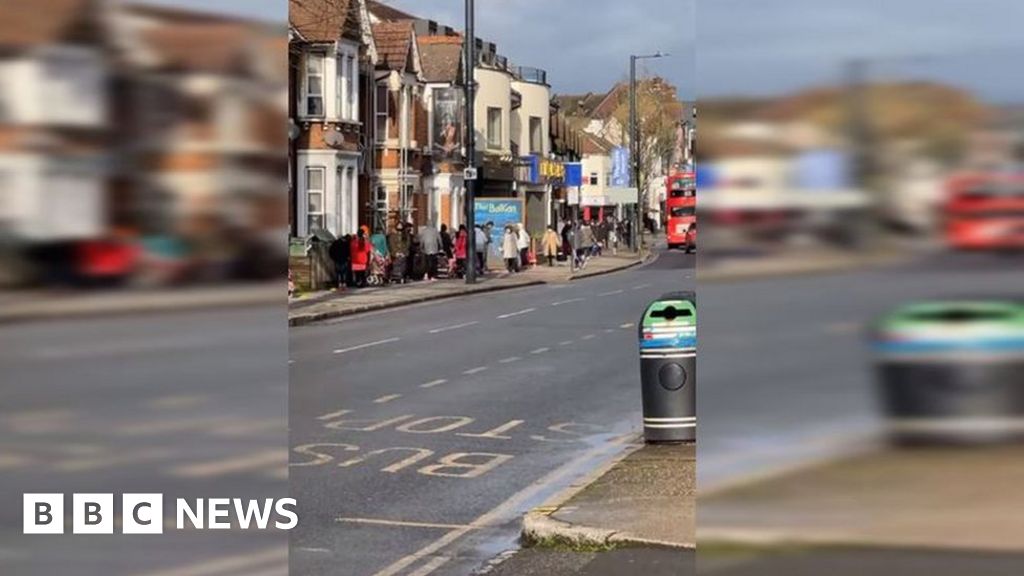 February 12, 2021
video caption,
London's Community Kitchen livestreamed crowds of people queuing outside the blackboard at Wembley
A line for a food bank that stretched down the street was the "biggest queue" a community kitchen has ever encountered, it said.
London's Community Kitchen on Saturday live streamed people queuing two meters apart in front of the blackboard in Wembley, west London.
The organization said the third lockdown has boosted demand.
Public relations chief Afzal Parkar said food poverty was "getting out of control", with similar queues across London.
The queue was filmed at 11:00 GMT as the London Community Kitchen weekly luncheon opened at the Brent Indian Association in Ealing Road.
Mr Parkar said the group gave food for a week to 520 people that day, raising for 2,000 residents.
He said: "This was definitely the biggest queue we've encountered – I've never experienced anything like it.
"Motorists on the road stopped just to enjoy the visual impact of this huge line of people two meters apart.
"It literally meandered all over the Ealing Road."
The recipients of the food were referred to the food bank, which has been in existence for seven years, by local organizations.
The video has since been viewed more than 724,000 times on Facebook.
image source, London's Communal Kitchen
picture description,
Volunteers were seen packing a week's worth of food for the people
"They were already on a low income and the pandemic has literally shut them down," Mr Parkar said.
"They need food. Your children need food.
"They stand in line, even when it's freezing. These people are soaked and soaked from the rain without umbrellas and that doesn't stop them from getting there early and queuing for two to three hours."
In response to a question on the matter, Boris Johnson said in Parliament on Wednesday that the government would continue to "put its arms around the people of the UK" during the pandemic.