Review and photos by Tom O'Hara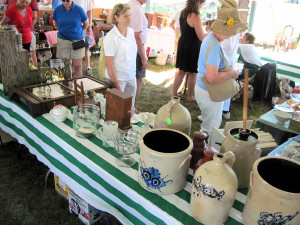 NEW LONDON, NH – Some things just go on in New England and the New London Antique Show and Selling on the Green seems to be one of those wonderful traditions that continues with grace and charm for the 50th consecutive year. Volunteers and many returning traders worked together to have a total of 40 exhibitors here for just six hours on a lovely summer Saturday, July 23rd. The day was shortened by the threat of afternoon storms, but it was still long enough to generate some income for the town's garden club and most of the exhibiting vendors.
The dealers, most of whom had not traveled from afar, offered a limited supply of antique furniture for the early American household, as well as decorative accessories that were easy to carry for this quick show and to display for their time and space. The early unpacking did not affect participation or enthusiasm for the show.
Tom Pirozzoli, Goshen, NH, was here with the latest additions to his inventory, focusing on 18th century American cottage furniture. He offered a New England baker's table, a red washed bottom with a scrubbed top, one sheet just in very good condition; an early Palladio iron window frame, several ceiling boxes, including one in milk blue color; and a wood dryer hanging on the wall.
Joyce Cotter of Concord, New Hampshire, was selling late 19th-century dishes from Europe. She also had a 100 year old wacky quilt that was possibly a raffle quilt made by a group of quilters and given away at a charity event. It was made from all wool and silk fabrics and showed excellent workmanship and condition.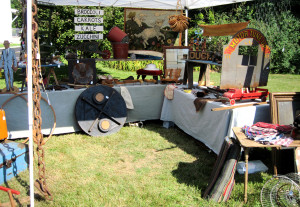 Bonita Story, Meredith, NH, with the help of several generations of her family, sold fine jewelry. Also in her collection were some textiles and quilts. Many, many small pieces of silver such as thimbles and matchboxes, cuddly tea animals and demitasse spoons were the main inventory for Kathleen Zink from Ashby, Mass.
Peter Lombardi came down from Parsonsfield, Maine with interesting and somewhat strange items. Most of its merchandise is bold in color and in many cases it is advertising, but not always. For example, there was the Motor Tune-Up sign that advertises an oil product, the farmers' fruit and vegetable signs, and a little doll that sells something else. There were other items too, like the painted shape, a red wooden truck, painted juice buckets, and a sign that said "Duck" that could have been an advertisement or a warning.
Deb Gott and Ken March, Biddeford, Maine, offered antique Persian rugs along with an Edwardian wicker furniture ensemble in the conservatory.
Lesley Lorant came from Glenham, NY with a collection of odds and ends but was very interested in a sign with raised wooden letters "WINE".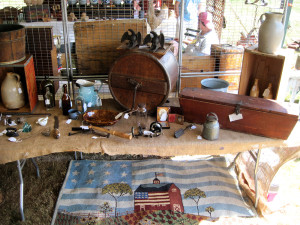 Local on the show is New London's Two Sides of the River. The dealer Mike Pheffer focuses on oak and maple furniture from the 19th century. His sales at this fair are always good to trade with his furniture first and the miniature boxes he specializes in.
Several large tents on the green were filled with vendors selling many small antiques. Natalie Werner of 1843 House in Springfield, Massachusetts sold 18th and 19th century kitchenware, while Second Tyme Around, Alexandria, NH dealt in oil lamps.
Kay Baker, Amherst, Mass., Recently had a buying trip to England where she found many small early antiques that were selling well.
The New London Garden Club, sponsoring and benefiting from this event, also has a large booth called The Attic where members sell donated items. Sales at this stand were brisk, with good antiques like an 18th-century tap table that sold for $ 350 and a tall-case English clock for $ 400.
The show is an annual affair; look for it again next July on the third weekend.
More information is available at www.newlondongardenclub.org.