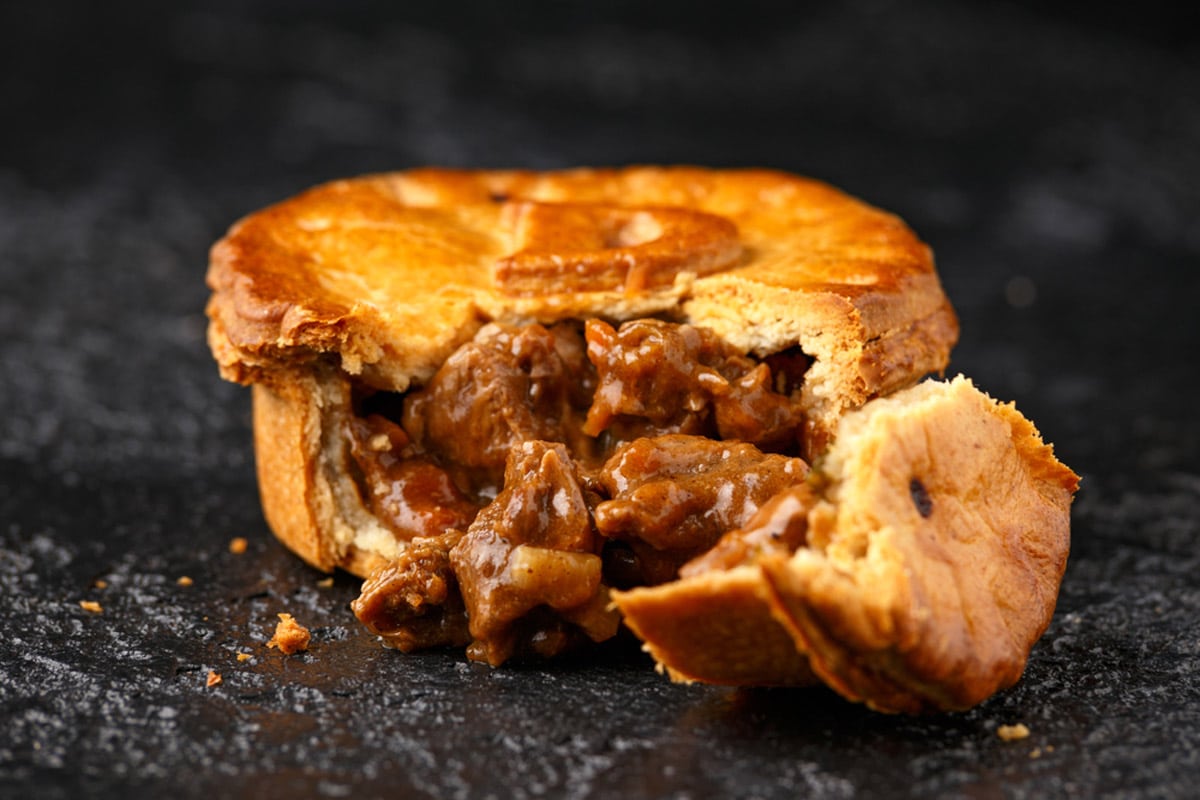 A Guide to London's Pie and Mash Shops. The best spots for traditional cakes, mashed potatoes and liquor.
cake and porridge. An English staple and, specifically for London, an East End tradition.
It all started with a huge working class living in East London in need of cheap food.
What's cheaper than mashed potatoes and meat pie? Well, maybe eel, the other thing many of these places still serve. We still say it because most of the places in our guide have actually been selling the stuff for generations, often passing the business on to younger family members.
If you're in London for any reason, you need to sample some of what may be the city's oldest culinary tradition. Read on for the best pie and mash London has to offer.
The best pie and mash shops in London
G Kelly
arc
G. Kelly was founded in 1939 by East Ender George Kelly. The shop has remained loosely family owned ever since, passing from George to his brother-in-law Bill, then from Bill to his daughter Sue, who now runs the shop with a little help from her son Neil.
This place typifies the type of pie-and-mash shops that East London is known for. You choose a cake or two, they scoop the mush onto your plate, drench it with schnapps—a sauce made with parsley and butter (among other secret things)—and serve it.
It was and still is workers' food. At G. Kelly, this is also reflected in the other dishes on offer: Jellied eel – served in a schnapps stew or simply on its own – and an apple crumble that is nostalgically reminiscent of the school canteen.
Cockney's Pie and Mash
Notting Hill
Some of London's best pie and mash isn't in the East End, it's in the West. To try it you have to go to Cockney's Pie and Mash. You won't find many other places like this in Notting Hill, a neighborhood that's probably better known for its brunch spots and cafes.
Cockney's is so old fashioned it doesn't even have a website. Bringing a sense of home to all East Enders who've found themselves on the wrong side of town, and having a reputation for serving some of the cheapest food in town, is simply a legacy of the neighborhood.
F Cooke
Hoxton
F. Cooke had been in business in various parts of east London since the 1860s. The brand has several branch offices, but the most well-known is probably the Hoxton branch. That might have something to do with the fact that Anthony Bourdain ate there a long time ago when he first started working in TV with A Cook's Tour.
The decor here is broadly the same as in the East End, albeit with a little more adherence to a recipe that's been feeding the hungry for hundreds of years.
The cakes here are light and crunchy and you could probably eat two of them easily. However, be sure to spritz some chili vinegar on top to give it the finishing touch – it's very traditional.
Mr. Manze
Bermondsey
The first thing you'll notice about this place is that pretty much nothing has changed since then, well, when? Good question. The Manze family came from Italy in 1878 and set up their own ice cream business.
It wasn't until 1902 that they made the switch to cake, porridge and eel – but we're glad they made that transition. The tarts are the main attraction here and are prized for the slightly singed dough and tasty filling.
M. Manze also delivers to a fairly large part of the city. So if you feel like exploring the best that London has to offer without leaving your sofa, you can.
Well-known eel and cake house
Leytonstein
The well-known Eel and Pie House started out as a pie and mash shop in east London, but moved to Leytonstone in 1978. They're still doing what they've always done: cooking traditional dishes with their restaurant's name on them, using a method that's almost 100 years old.
The pies here are quite tasty, but unless you're a true North Londoner you'll have a mission to get them. If you do, you'll be rewarded with a very affordable lunch.
It's also one of the few places London can boast of vegan pies and porridge.
Goddard is in Greenwich
welling
AJ Goddard's used to be part of a major cake controversy on the streets of Deptford, whose rival was the Manze family, whose cake shop is mentioned above. However, AJ Goddard is strong as he has been passed through the hands of many family members.
If you make the journey here, you'll be rewarded with delicious cakes that are almost wabi-sabi in shape and topped with Goddard's signature dark green liquor.
As a side note, the mashed potato portions here are probably bigger than anywhere else in our guide, and the whole batch won't cost you more than a tenner.
Maureen's Pie and Mash
poplar
Another East End cake institution is Maureen's. For over 60 years they have been serving what they call "the food of the gods" and, as always, are passing on the family business to the next generation.
Now it's Maureen's son who gets going at 5am and starts baking the cakes for the day. A job you're sure to appreciate when you try a bite of what they have to offer.
The alcohol here is thick and plentiful, but that's just what you need to sip some of Maureen's salty mash. Those of you who crave a pinch of chili vinegar will appreciate plenty here too – Maureen's is one of the spiciest in the game.
BJ's Pie & Mash Shop
Canning Town
BJ's Pie & Mash Shop may look traditional and fit with all the other places in our guide, but they break with tradition in a way that would terrify the likes of Mr. Manza or George Kelly: they offer chips .
The chips are just an alternative – you can still have porridge if you want – but they do an excellent job of soaking up the booze and, more importantly, the gravy that drips from their slightly overcooked pies.
Overcooking is part of the charm here, a Cockney tradition you'll still find in some of the cake shops featured in this guide.
Harrington's
tooting
Harrington's is a cake institution in south London. It was opened in 1908 and is still passed on by the family today. The current owner, Beverly, is the great-granddaughter of founder Bertie. Does it make sense to keep the letter "B" in the family?
You'll find a lot to love about the traditional pie and mash here. It has everything you would expect from such a venue. However, what really sets Harrington's apart from the competition is its apple pies.
These are made with the same filling as the meat pies you'll be eating as a main course, and then served smothered in custard (if you like – and you should). They might just be the highlight of the meal.
The Windmill
Mayfair
A top pick for us when it comes to London Pie and Mash is The Windmill. Sure, it's not a traditional East End spot for pies, mash and spirits, but this Mayfair pub has its own Pie Room and regularly takes home gold and silver medals from the British Pie Awards (yes, that's a real thing). home.
In the cake room, you'll be treated to tasty portions, served with mashed potatoes and cabbage, and a healthy helping of gravy to accompany it. You can smell how good these cakes taste as soon as you cut them, but good cooking doesn't stop there.
The menu of traditional British starters and desserts is also worth trying if you have space.
Handy tips for exploring the best pie and mash places in London
Many of these patisseries offer a fairly standard offering. Unless you've decided on a specific pastry shop, it may be best to visit your local bakery. We've tried to include a good selection of these – although of course East London has a lot more to offer.
These places are great options for a good, fun meal when you're dead broke. It might be worth saving your pie-and-mash expedition until the end of the month if you've used up your last tenner.
You don't have to book any of these places. They're basically all walk-ins. The service is fast and so is the turnover. You will most likely get on and off within half an hour.
London's Best Pie and Mash: Map
Read more London food guides