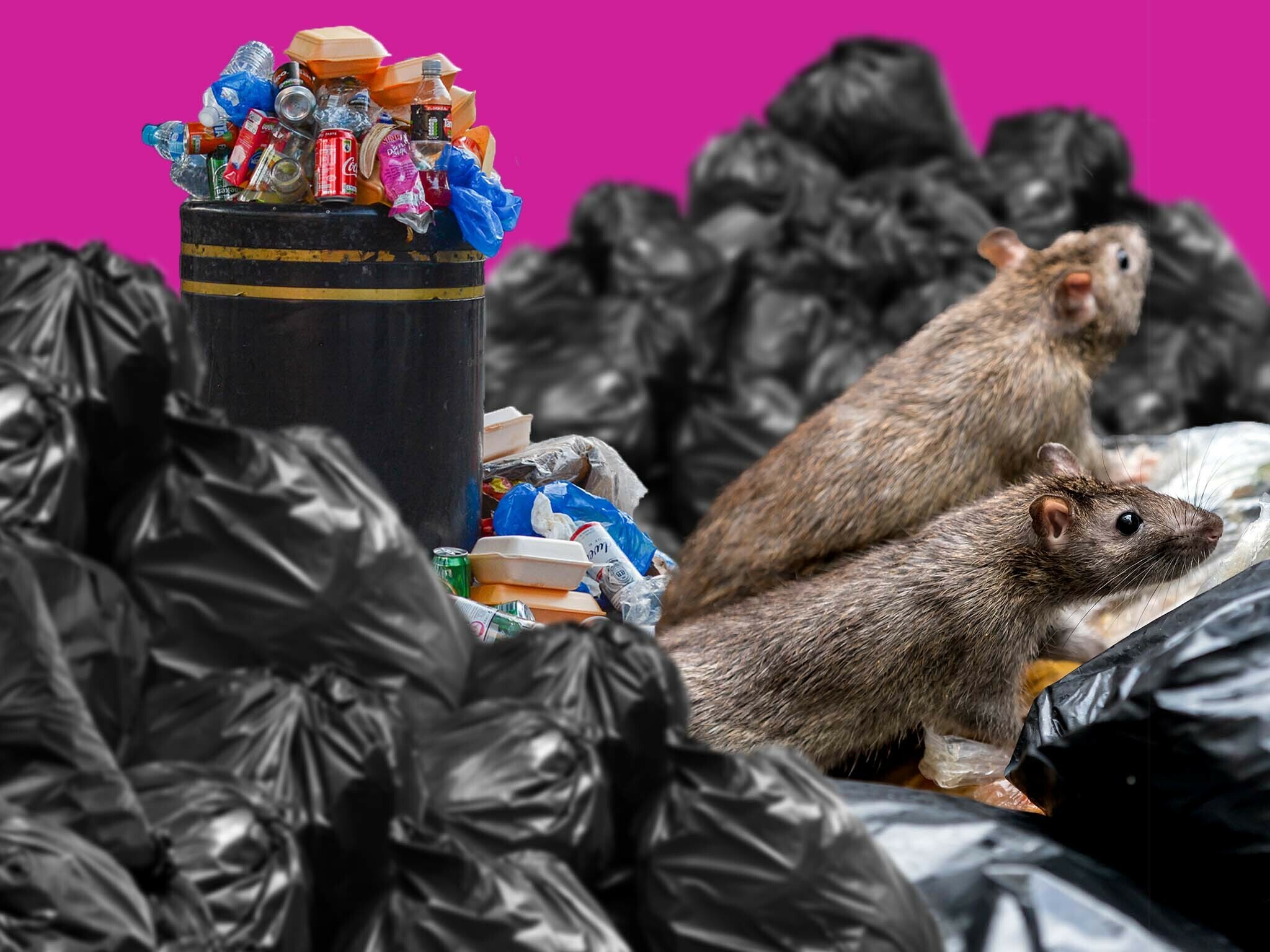 "This rat just threw himself out of the garbage bag and jumped really high," says Oliver of the Instagram account Rats out of SE5. "It looked huge, so at first I was like, 'Oh my god, did someone put a kitten in a bag?' But then I realized it was a rat. I was disgusted.'
Oliver, who prefers to remain anonymous because of his job, has lived next door to Camberwell Green for three years. As the summer progressed, he noticed an insurgency of vermin rampaging around the area. "It just went crazy all of a sudden," he says. "I walk across the green and notice about 16 rats. People don't hang around there much anymore. It feels like it's been given to the rats."
Oliver can hear the cheered up bugs coming from his apartment at night, as if they were taunting him from a restful sleep. In addition to giant flying rats, he has also "seen 20 rats all on top of each other eating a piece of moldy bread". Incredibly, some locals have even started feeding them. "There's a lot more junk and I feel like it had a ripple effect," he says.
The rats seem to have a problem: overflowing mountains of garbage.
A rising tide of garbage
It's a London rite of passage to go through rubbish bin related trauma. Whether it's being woken up by roaring garbage trucks in the morning, foxes ripping up your bags and leaving days of festering garbage outside your window, or tipping over the decrepit IKEA furniture your landlord just can't get rid of, no one is spared the Kafkaesque nightmare that lives in a city in who inexplicably has almost no trash cans, trying to figure out where to put his trash. And with 40C summers becoming the norm, we have one more reason to worry about smelly piles of baking waste taking over the streets.
Cathy Swift is the leader of the litter collection group Litter Action Group for Ealing Residents, also known as LAGER Can. According to Swift, London's litter problem stems from a conflation of problems: We have too many people, the councilors don't have enough money, and we're consuming a lot more than we used to, including lots of eating out and drinking (thanks to all those hungover katsu curries, we've all heaps of old Waga packaging at home). Additionally, homes that were once large family homes are now being converted into apartment buildings, and landlords (don't they just love them?) don't always provide residents with proper trash cans or even information on what to do with their trash.
"There just aren't enough trash cans, and the trash cans that we have aren't emptied often enough," Swift says. "And I think it's only going to get worse."
According to DEFRA statistics, there were an average of 20 fly-tipping incidents per 1,000 inhabitants in England in 2020/21. London had nearly double that, at 43 per 1,000 people. For the year ended March 2021, there were 384,834 cases of fly dumping recorded in the city, which equates to a whopping 44 dumps every hour.
There just aren't enough trash cans and the trash cans we have aren't emptied often enough
Flytipping isn't just throwing away a dirty old mattress on the street. It actually means leaving any kind of trash in a place that is not a trash can. It is a serious offense punishable by a fine of up to £50,000. And Londoners will skim everything. In her five years as a garbage collector, Swift has collected stuffed animals, guns, knives and even a canoe.
Photo: Shutterstock
Meanwhile, rubbish collectors are on strike as London's vast piles of rubbish swell. And to stop people throwing crap in the streets, city councilors have come up with all sorts of outlandish solutions. In Hackney, to encourage recycling, they changed garbage collection from once a week to every two weeks. It did not work. "People literally don't have room in their house to store junk for two weeks at a time," Swift says.
In other boroughs, including Ealing, the council has actually tried to take away some of the rubbish bins to stop fly tipping. Of course, this experiment was a lot of, um, trash, because fewer trash cans meant people just tossed their trash on the floor instead, while the scheme was designed to encourage them to take it home.
am wars
For Marcus, 25, who prefers not to reveal his full name for his trash can-related crimes, he got in trouble with the law over his trash issues. He was recently fined £95 for tipping flies after his new landlord failed to tell him what to do with his rubbish.
"I moved into this flat and they didn't tell me where my bins went, so I put them on the street, like in my old flat in Westminster," he says. "These people knocked on my door and it was really scary because they looked like cops and I didn't know what went wrong.
"I spent an hour walking around trying to figure out where to put my rubbish because there aren't any large bins near me." After a few minutes of begging, he was finally released with the £95 fine, but he was still waiting to hear from his landlord to find out exactly what to do with his bins.
"For the past three weeks, I've been secretly picking up my trash at night and throwing it in other people's trash cans. I burn off my tags so they can't trace it back to me if they go through the bins again," he admits.
Lydia Wozniak also struggled when she moved into a new house in Haringey. "We are in a 'new' property with no room for a dustbin [she lives in a converted garage], while the other houses on my street have garbage cans, so they just ignored our garbage," she says. "The foxes would reach it and I would have to go out and get all the garbage they strewn on the street."
After two months of worrying, Wozniak finally filed a formal complaint and their issues were resolved. But some Londoners weren't so lucky, others told Time Out they had to ask the council for recycling bins for their 40-apartment building, which had none, and one nearly sued his local authority over rubbish heaps and rat infestations in the area.
The future of London infrastructure
So what's the solution? Organizations like LAGER Can already collect between 2,000 and 5,000 garbage bags a month, while municipalities are understaffed and underfunded. Swift suggests initiatives like bottle deposit schemes that could be successful and would put the responsibility on the companies that make the packaging, rather than individuals and communities. Supposedly the government is investigating this, but we have no idea if or when it might actually happen.
"In the short term, there needs to be more adequate infrastructure," Swift says. "More bins, emptied more frequently." Meanwhile, all Londoners would do well to channel the spirit of LAGER Can and Swift, who say, "We all hate litter, we all love the environment, we all care enough to actually do something about it."
Where's all the cheese? How London's vegetarian restaurants all went vegan.
"I want to do crazy shit. But I will also help people." Our interview with Anne Marie.